Dolocan® is specialized in the application of cannabinoids and stands for a new kind of natural wellness and beauty products that focus on holistic wellbeing. Through innovative and high-quality ingredients, Dolocan® supports healthy and balanced skin. All of the products are exclusively made in Switzerland and are subject to the highest quality standards. With continuous scientific research and innovation, the brand ensures relevance and benefit to today's and tomorrow's consumers. All Dolocan® products are vegan, dermatologically tested and contain only the finest natural CBD. With its skin-soothing and skin-caring active ingredients, the CBD skincare line is ideal for sensitive skin, but provides effective benefits for all skin types. Dolocan® – Good Skin, Good Mood, Good Day.
THE BRAND
CANWAY Schweiz GmbH is an internationally aligned cannabis company headquartered in Zürich, Switzerland. It specializes in the holistic application of cannabinoids and is at the forefront of the Swiss CBD Industry since 2016. The purpose of the company is to improve people's quality of life with a broad range of cannabis-based products. As a vertically integrated company, CANWAY Schweiz GmbH breeds, cultivates, develops, processes, produces and distributes cannabis and derivative products. It controls the entire value chain from seed to sale and strives to launch qualitative products with innovative ingredients that reflect Swiss quality without exception.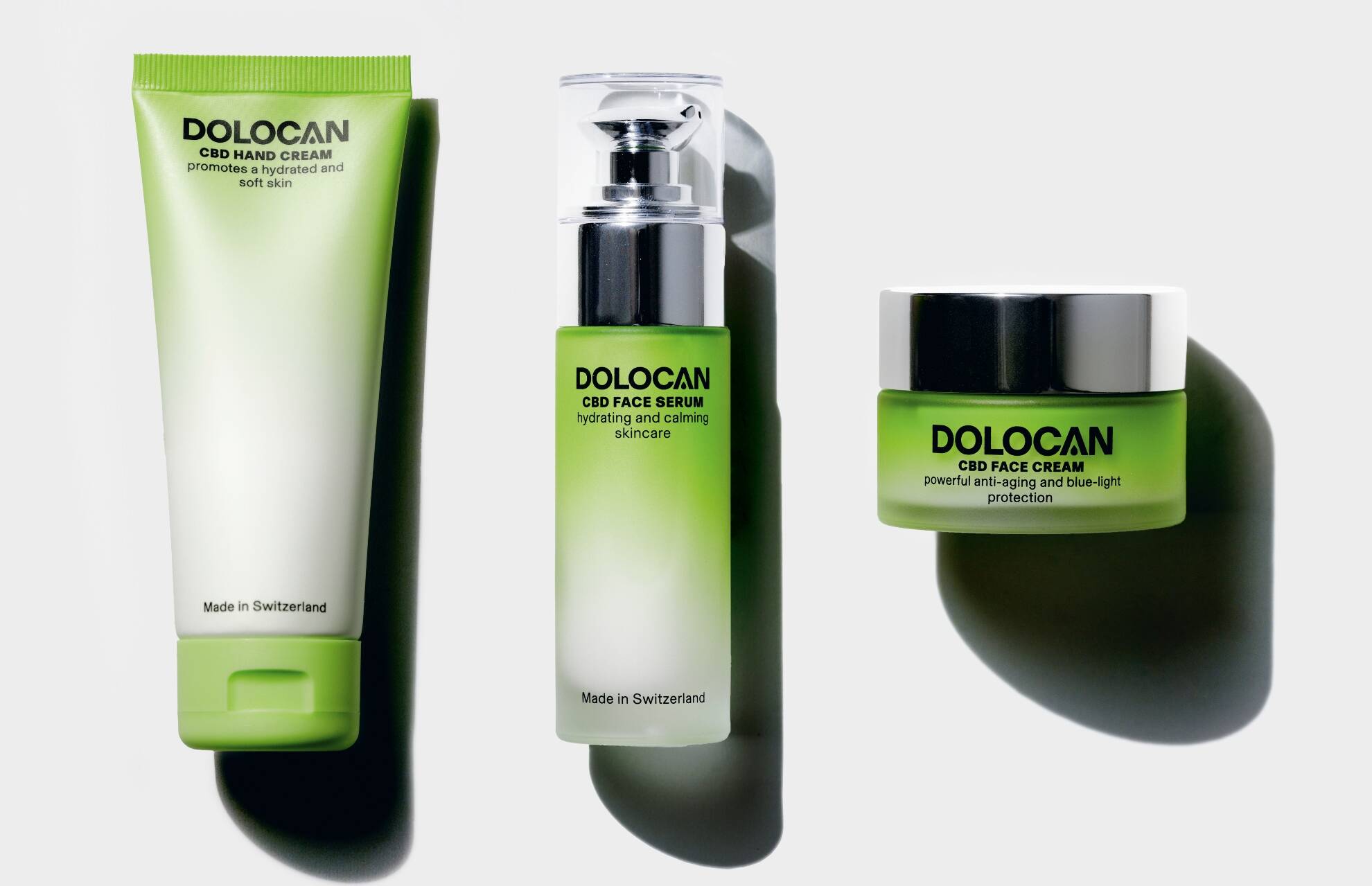 The skincare and wellness line Dolocan® has been reformulated and rebranded in 2021 and is produced and manufactured exclusively in Switzerland. It supports a healthy and balanced skin with Cannabidiol as a key ingredient. CBD, short for Cannabidiol, is a non-psychoactive and natural compound derived from the Cannabis sativa plant with antioxidant, anti-sebum, skin protecting and conditioning benefits.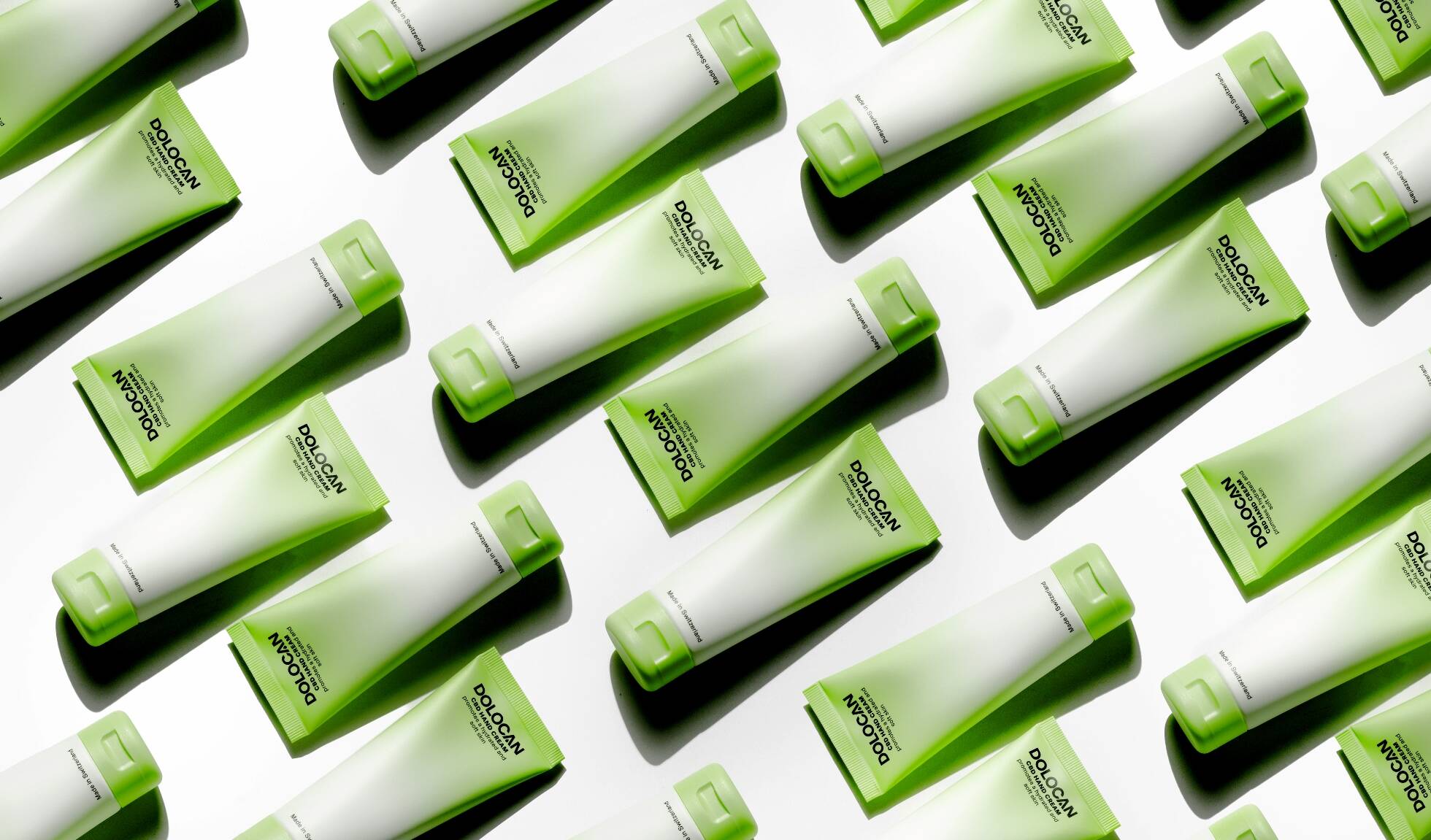 PRODUCTS & PRICES
CBD Hand Cream – promotes a hydrated and soft skin
The CBD Hand Cream is enriched with sunflower seed oil that has high concentrations of vitamin C and valuable oleic acid and linoleic acid oils, that improve overall skin hydration and also provide antioxidant protection. The linoleic acid present in sunflower oil reinforces the skin barrier which helps reduce moisture loss and therefore improves overall hydration. Vitamin C on the other side helps neutralize free-radicals that are present in the environment with its antioxidant benefits. To fight dryness and improve skin texture Allantoin sloughs away dead skin cells with its exfoliating properties. This not only results in smooth skin but also supports a faster cell-turnover.
Key Ingredients: Cannabidiol, Helianthus Annuus (Sunflower) Seed Oil, Allantoin
Properties: 
Non-sticky and fast absorbing formulation
Hydrating, smoothing, antioxidant
Size: 75ml                                        Suggested Retail Price: € 19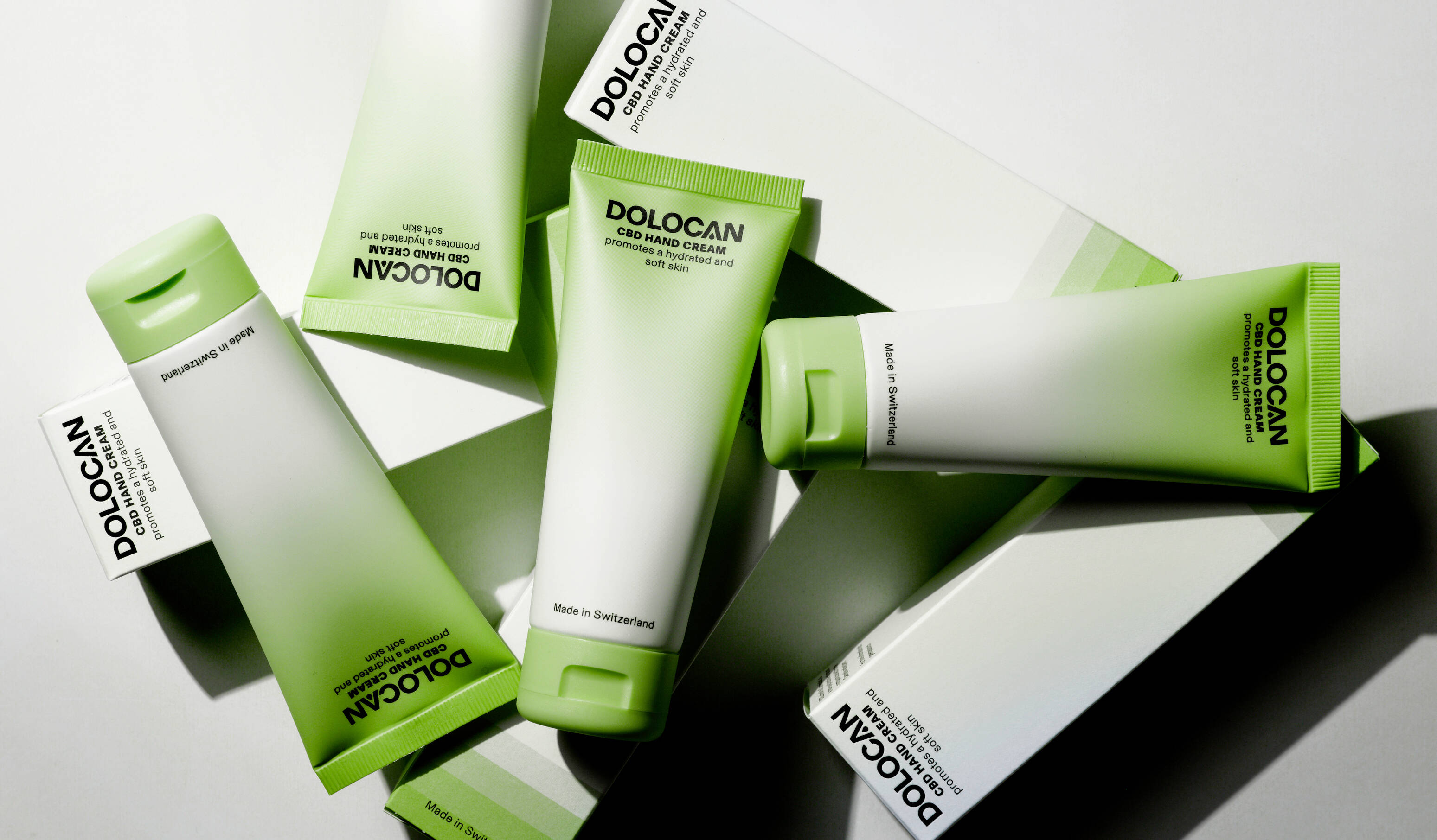 CBD Face Serum – hydrating and calming skincare
The CBD Face Serum has been specially formulated for sensitive and easily irritated skin. In addition to the calming properties of CBD, Aloe Vera optimally moisturizes and soothes irritated skin. With its emollient, anti-inflammatory and antibacterial benefits, Aloe Vera also supports overall skin regeneration and provides hydrating and balancing advantages for all skin types, including dry, sensitive and oily skin.
Application: Apply to the face and neck in the morning and evening after cleansing and toning
Key Ingredients: Cannabidiol, Aloe Vera
Properties: Hydrating, Calming, Balancing/Anti-sebum
Size: 30ml                                        Suggested Retail Price: € 59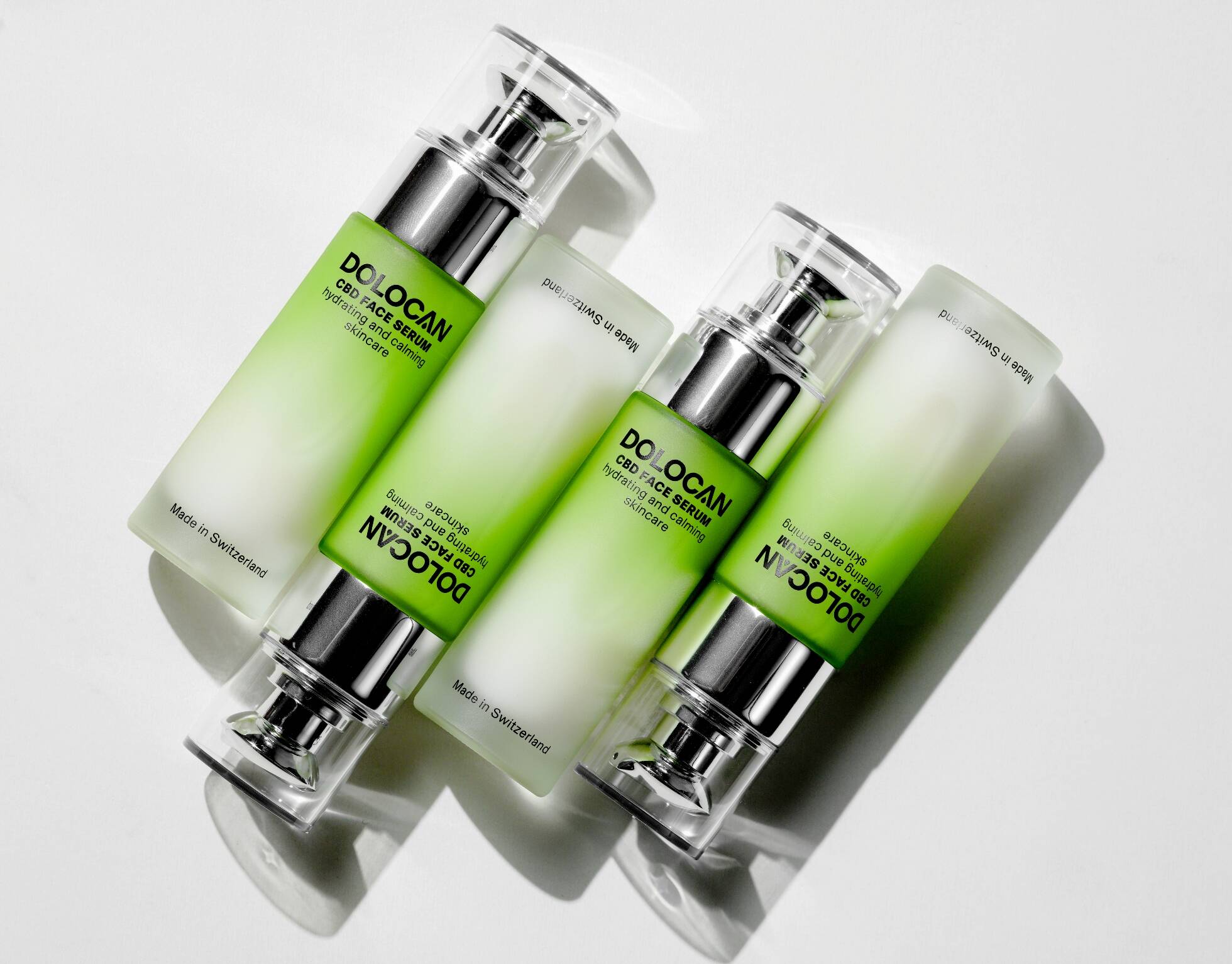 CBD Face Cream – powerful anti-aging and blue-light protection
Soliberine counteracts the negative impacts of light radiation on our skin. It delays the ageing onset and slows down the structural and visual appearance of skin photoaging with time through the neutralization of this ROS overproduction induced by light radiations. By protecting from UV, IR, and HEV radiations and their detrimental effects on the skin, Soliberine works as a global photo-protector while shea butter acts as an emollient and moisturizer to repair skin and combat wrinkles and fine lines.
Key Ingredients: Cannabidol, Butyrospermum Parkii (Shea) Butter, Soliberine
Properties: Hydrating, Anti-aging, Blue-light protection, Soothing
Size: 50ml                                        Suggested Retail Price: € 49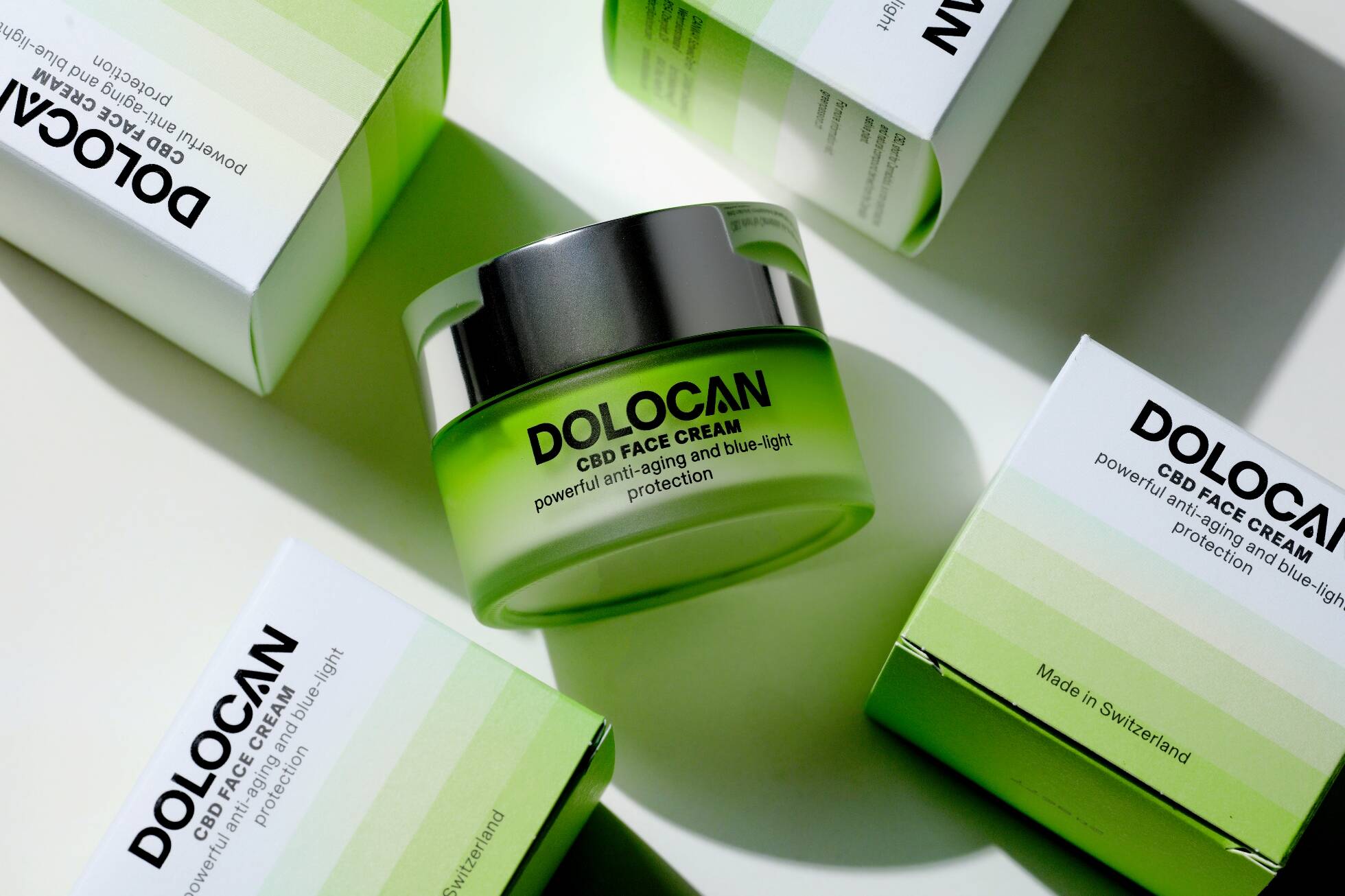 BRANDING & DESIGN
The name Dolocan® aims to highlight the positive correlation between cannabinoids and any occurring inflammation. The green colour symbolizes the natural ingredients and the calming and balancing qualities of the natural compound Cannabidiol.
The modern and contemporary design targets the premium skincare market and intents to destigmatize products made from the Cannabis sativa plant or contain any compounds derived from it. The mixture between clear, bold black fonts and delicate materials like glass and silver-coloured elements embrace contrasts. At the same time, the contrasting design elements strive to attract and showcase the different kind of consumers and generations Dolocan® skincare targets.
The packaging used for this skincare line is convenient, functional and easy to use, carefully chosen to preserve the quality of our formulas. The formulas are contained in durable, recyclable glass dispensers and recyclable synthetic materials sold in fitted uncoated high-quality paper boxes. The grasp and coating of the foldable cardboard boxes underline Dolocan®'s approach to source effective, raw and natural active ingredients.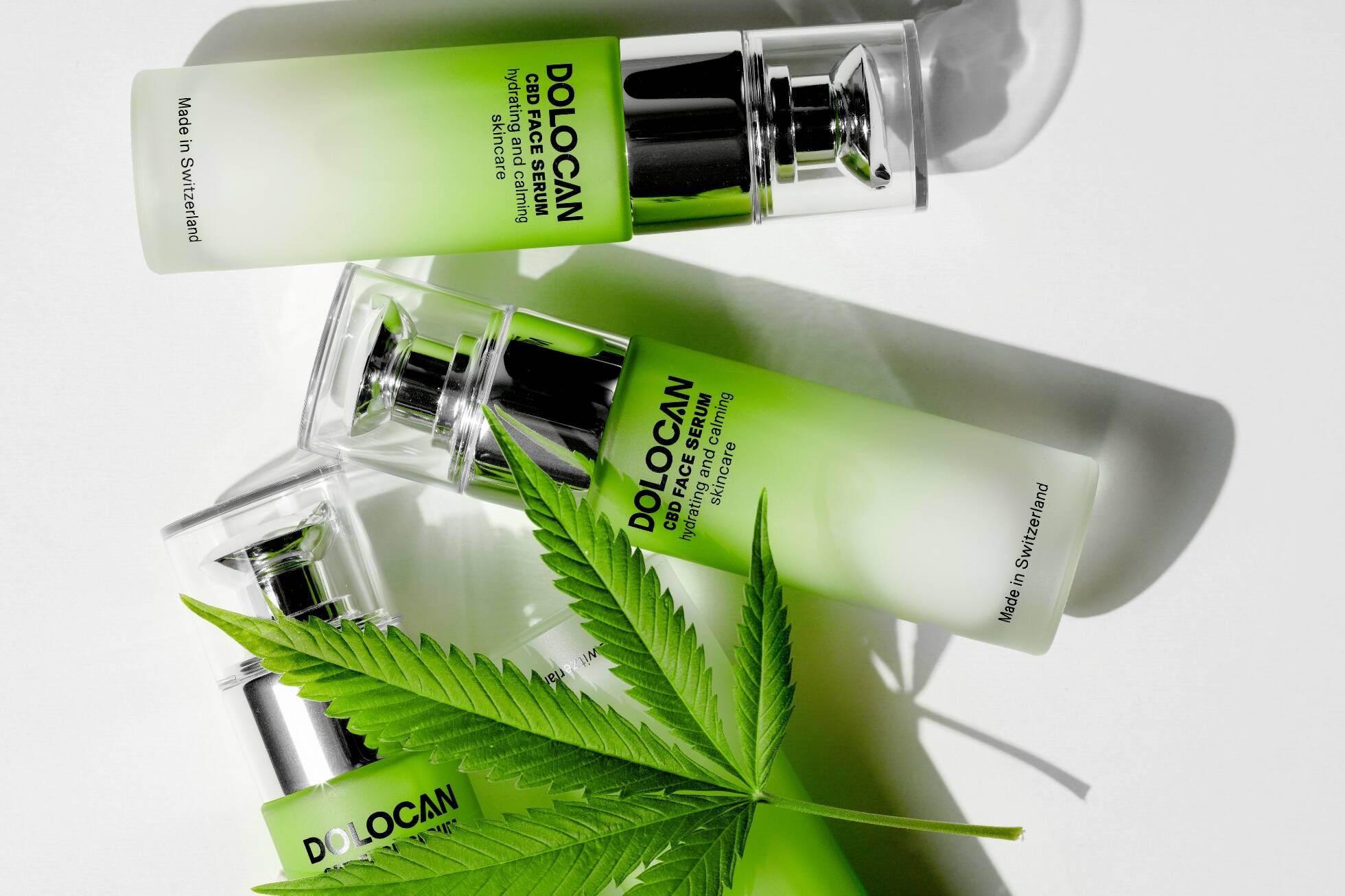 MARKETING & SALES
Relaunched in 2021, the Swiss made skincare & wellness brand Dolocan® is now available in all EU member states and continues to grow its distribution channels rapidly. As of spring 2022, all Dolocan® skincare products are also available at the Swiss online beauty retailer haar-shop.ch.
Dolocan® has its own social media platforms where it continues to reach and extend CBD skincare fans worldwide. In Switzerland, the brand is at the forefront of the CBD skincare industry and its products are synonymous with the next generation of its kind.
To increase brand visibility and sales, there have been continuous marketing and promotional activities. Beyond the digital online advertisements, some of the brand activations include:
Print advertisements in leading lifestyle magazines;
Online retargeting campaigns;
Interactive posts on Instagram and other social media;
Influencer marketing and social media marketing;
Product sampling and participation in trade shows.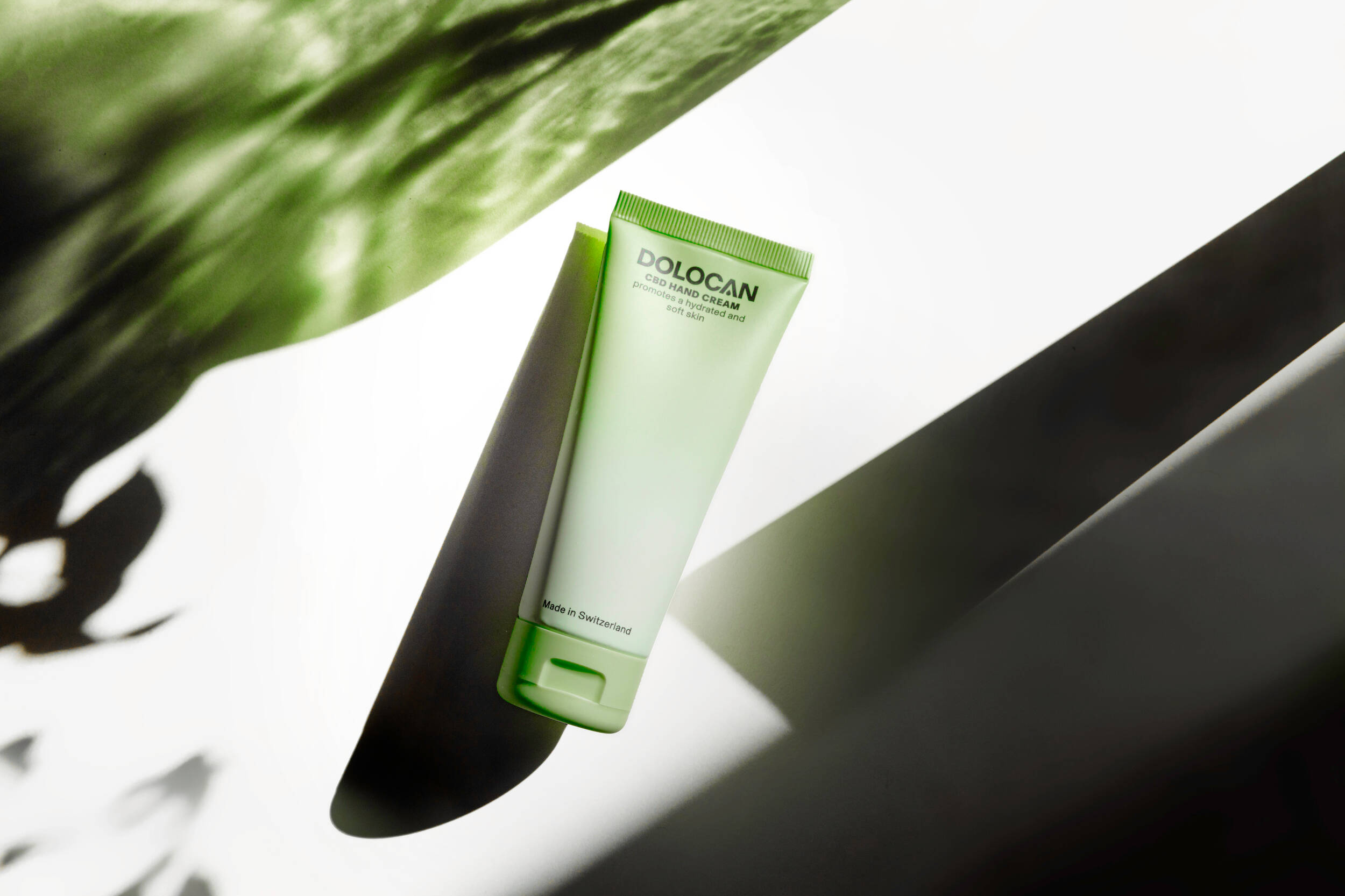 MEDIA