The dream was to develop a skincare product that would only consist of ingredients respecting the skin's needs, protecting and caring for it. After years of applied testing, the dream became a reality and Dr. E.Voss Professional Care was born. Dr. Eckart Voss and the team are fortifying this by striving to offer very good customer care and consultation a logical complement to high-end professional products. Today, after years of success since 2011, Dr. E. Voss offers reliable skincare products which customers can trust because they see that they really work right in their mirror!
The Founders
Dr. Voss has been involved with cosmetics already for 40 years as the head of development at international companies and the most recently as a management consultant. In 2011 he founded the brand "Dr. E. Voss Professional Care" together with his wife Britta Schüler-Voss.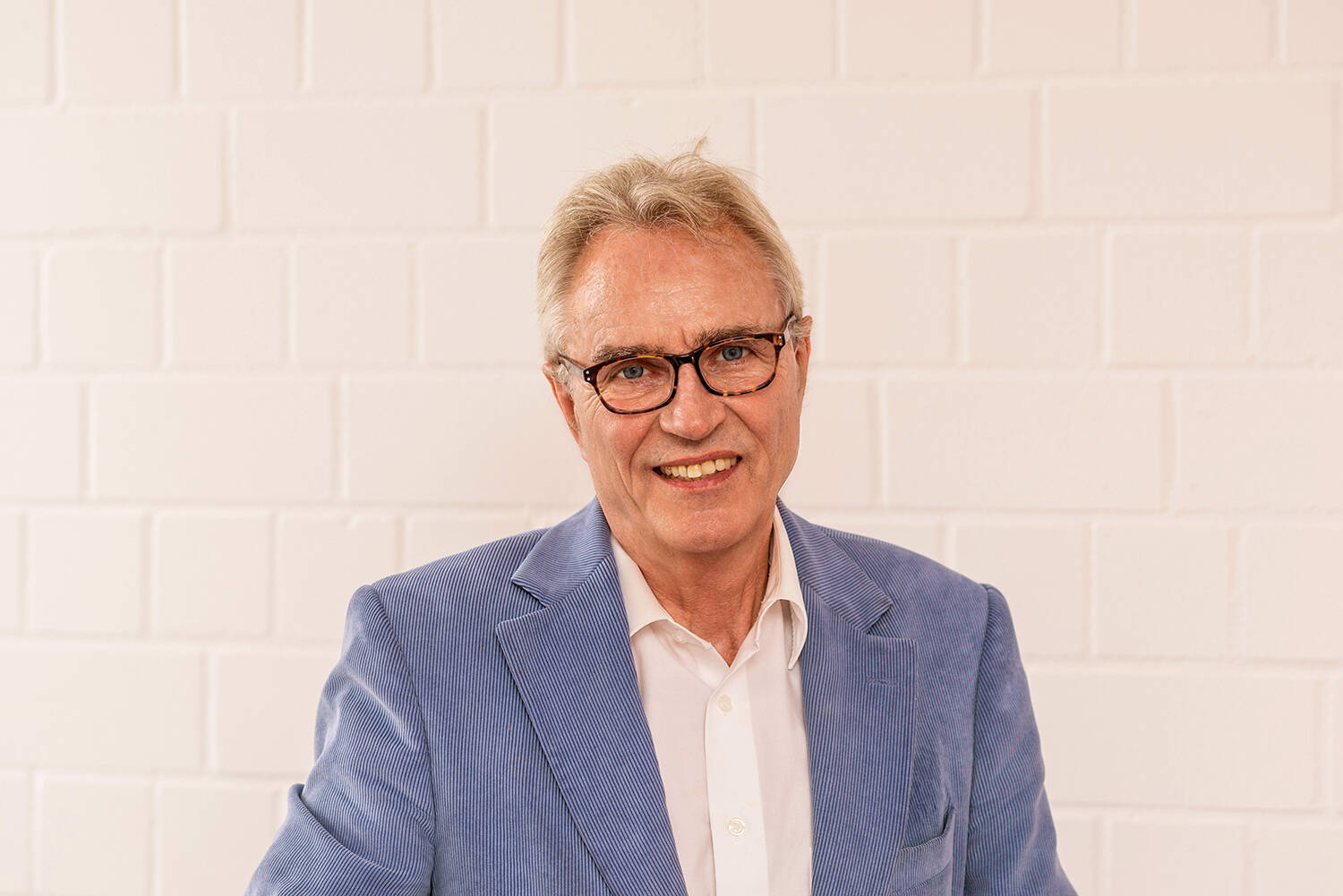 The Milestones of Dr. Eckart Voss that has led to the establishment of the brand:
20 years at Bayer as Head of Consumer Products Research (Satina, Delial, Quenty, Baygon, Autan, Natreen);
Focus: Light and skin;
6 years as head of development at a US group in the Netherlands;
5 years as development manager Maxim (discount brands, Aldi, Lidl, DM, Rossmann, Plus, etc.);
2007: Foundation of the Bel Etage cosmetic studio - in Leverkusen, together with Britta Schüler-Voss;
Goal: Developing ideal cosmetics yourself;
2009: Foundation EVBC GmbH;
2011: Foundation Dr. E. Voss Line;
2012: Sale of first Dr. E. Voss cosmetic products.
The Products
The brand applies a unique Dual Lift® System that is a result of 40 years of research and development. The Dual Lift® System is a skincare technique that assumes optimal results by separating the function of the products in order to specifically address the different skin layers (dermis & epidermis). This separation ensures efficient delivery of deeply penetrating active repair substances to the dermis on the one hand, and of protective repair creams remaining in upper epidermal skin layers, on the other hand. Both approaches are incredibly straightforward and also extremely effective because each skin layer gets exactly what it needs according to their specific function.
​Repair of deeper skin layers with HYA 4 gels with hyaluron and protection and care of the upper skin layer with LIA (light-induced ageing) creams. The concept is ideal for our skin's biology. The products are without preservatives, emulsifiers, paraffin, silicones and ethoxylates and thus often correspond to the desire for skin-harmonic treatment. However, the company does not work with homoeopathic doses, but on the contrary with high active ingredient concentrations and a multi-path strategy, in which a single product uses several ways to target the problem, in order to increase the overall success. Naturally not tested on animals and free of microplastics. In all products, Dr. E.Voss uses both effective ingredients of natural origin, not animal-based, thus the range can be called "Vegan"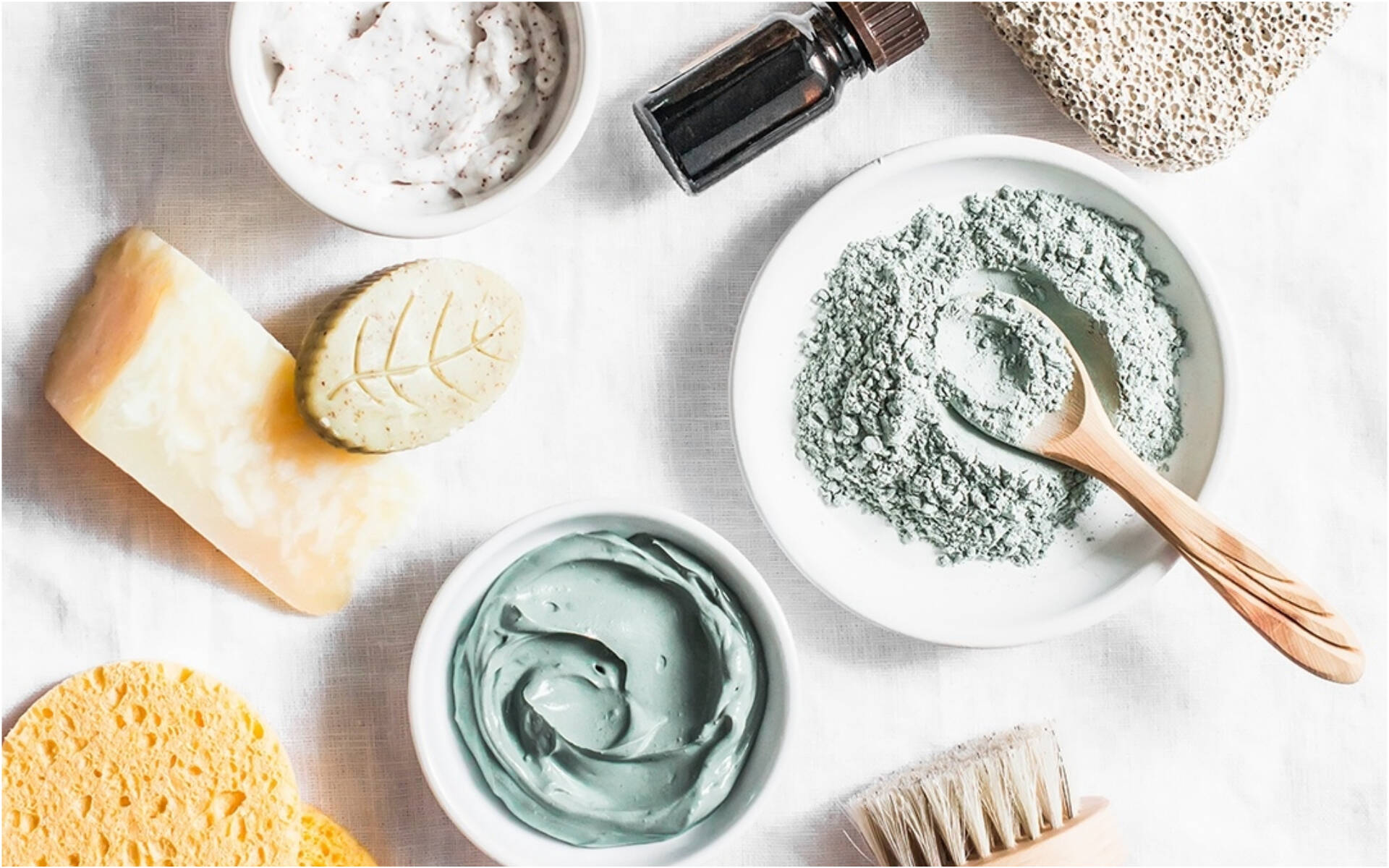 All unisex
HYA 4 GELS (SERUM)
The gels are active products which are aimed at the following targets:  wrinkles, capillary damage (spider veins, rosacea, dark circles around the eyes), acne, desensitization, and eyelash extension. All gels are emulsifier-free active ingredient carriers and are based on 4 types of hyaluron, which cover the entire range from short- to long-chain hyaluron. Through the 4 hyaluron fractions, the contained active agents are transported deep into the skin, as especially the short-chained hya's have a distinctive vehicle (transport) function.
Hya 4 Deep Lift Q10 - against wrinkles
HYA 4 & 2 collagen boosters of the signal peptide type, 2 of the carbohydrate type, as well as an additional signal peptide especially for the stimulation of elastin synthesis aim at the build-up of the supporting fibres. Because without their support and structuring, even the best hyaluronan skeleton has no chance. 2 signal peptides of the "Botox" type are used for rapid wrinkle-smoothing via muscle relaxation. A very special success has now been achieved by adding a special edelweiss extract produced using sustainable stem cell technology. Especially hanging wrinkles in the neck area respond excellently to this. As before with Q10 in high concentration in a deeply penetrating liposome preparation to stimulate the skin metabolism in the mitochondria.
Hya 4 Revicell - call activating / against wrinkles
Revicell targets the cell ballast accumulated over time and helps to eliminate it. Freshness and vitality are regained. The active ingredient TTP-2 is 20 times more effective than the "red wine substance" resveratrol and ensures that elasticity and firmness increase. Thus the Matrixyl collagen booster, which is also present, can work even more efficiently. In Dr. E.Voss proven 4x hyaluron gel and together with the collagen activator madecassoside and a highly efficient deep-acting radical scavenger, this formula is our top product alongside Hya 4 Deep Lift Q10. Target group: Mature skin >50 years. Below that (35-50 years) rather take Hya 4 Deep Lift Q10, or both alternately, as the mechanisms complement each other.
Hya 4 Pure - pure moisture
Intensive moisturizing treatment for skin over 20 years old, through all skin layers. Furthermore, short-chain hyaluronic acids in particular are known to activate numerous metabolic processes in the skin, to have radical scavengers as well as procollagen-forming and thus skin tightening properties.
Hya 4 Quattrox - mimic wrinkle relaxation
This is a quadruple combination of the latest Botox analog signal peptides. You already know two of them from Dr. E.Voss Deep Lift Q10. The two new active ingredients strengthen and supplement the effect via an additional mechanism. This formula therefore contains four hyalurones and four Botox analogue signal peptides, i.e. 4+4, hence the name Quattrox.
Hya 4 Aknex - against blemishes / pimples
More is not possible: this preservative-free hyaluron gel tackles the problem from all sides simultaneously: The alpha-dehydrogenase inhibitor oleanolic acid improves the hormonal skin balance together with three bioflavonoids, NDGA reduces excessive keratinocyte production.
Sebustatically, high-dose vitamin B3 (niacinamide) has an additional anti-inflammatory effect.  Similarly, provitamin B5 (panthenol), the madecassoside (pure, from tiger grass), as well as a very effective calming agent from oats have a similar effect. Dead keratinocytes, which block the follicle exit and are thus responsible for inflammatory pimples, are "digested" by a modern high-tech protease enzyme. In this way, Dr. E.Voss targets all causes of acne simultaneously and add up the potentials of each individual principle.
Hya 4 Capimed - capillary strengthening
The aim is to improve the sealing and regeneration of brittle capillaries that have "sacked out" and are therefore visible, resulting in undesirable red coloration. An extract from a laurel bush (Tambourissa T.) contains 2 rutin derivatives whose effect on rosacea and couperose has been tested. Madecassoside also helps by its anti-inflammatory effect.
Hya 4 Bright Eyes 360 - against wrinkles, rings and bags under the eyes
An intensive all-round care for the eye. A mixture of signal peptides and plant extracts, which show sensational results in the alleviation of drooping eyelids. Against bags under the eyes and dark circles, 3 more active ingredients are contained, a combination that is hard to beat.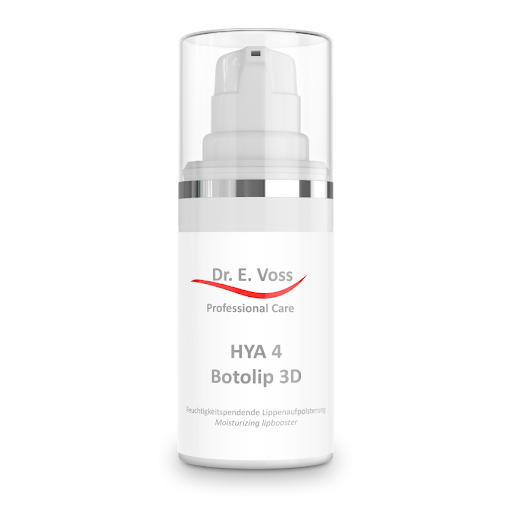 Hya 4 Botolip 3D - boost your lips
Everything the lips need! Today's Botolip feels, tastes and works better! It contains Dr. E.Voss two "Botox"- analogue active ingredients in high concentration, but in addition, there are two lipo-boosters, substances that stimulate natural fat production. A full cream-gel, with 4 times hyaluron plus high LMS concentration. So goodbye to pleated wrinkles! And of course suitable for customers with preservative intolerance.
Hya 4 Long Lashes - lash-eyebrow growth enhancer
Dr. E.Voss has combined 3 modern high tech signal peptides, all leaders in eyelash growth + eyebrow growth, with biotin, niacinamide (Vit. B3), liposomal Q10 and a strong dose of caffeine to an incomparable formula.         
Hya 4 White Plus - skin lightening
The natural skin pigmentation takes place in several steps. In accordance with Dr. E. Voss's "multi-way strategy", HYA 4 White Plus has six brightening ingredients that not only interrupt this reaction chain at several points but also eliminate existing pigments and pigment precursors. Hya 4 White Plus is optimally adjusted for combination with LIA C 6® Sensi Care LPF 30 and you should get visible skin whitening results in just a few weeks.
Hya 4 Lipofill - lipofilling cream gel for the face 
In addition to collagen, it also stimulates lipid synthesis of the subcutaneous tissue and thus replenishes wrinkles of customers with lean / skinny facial contours. New with 2 lipid boosters for double success.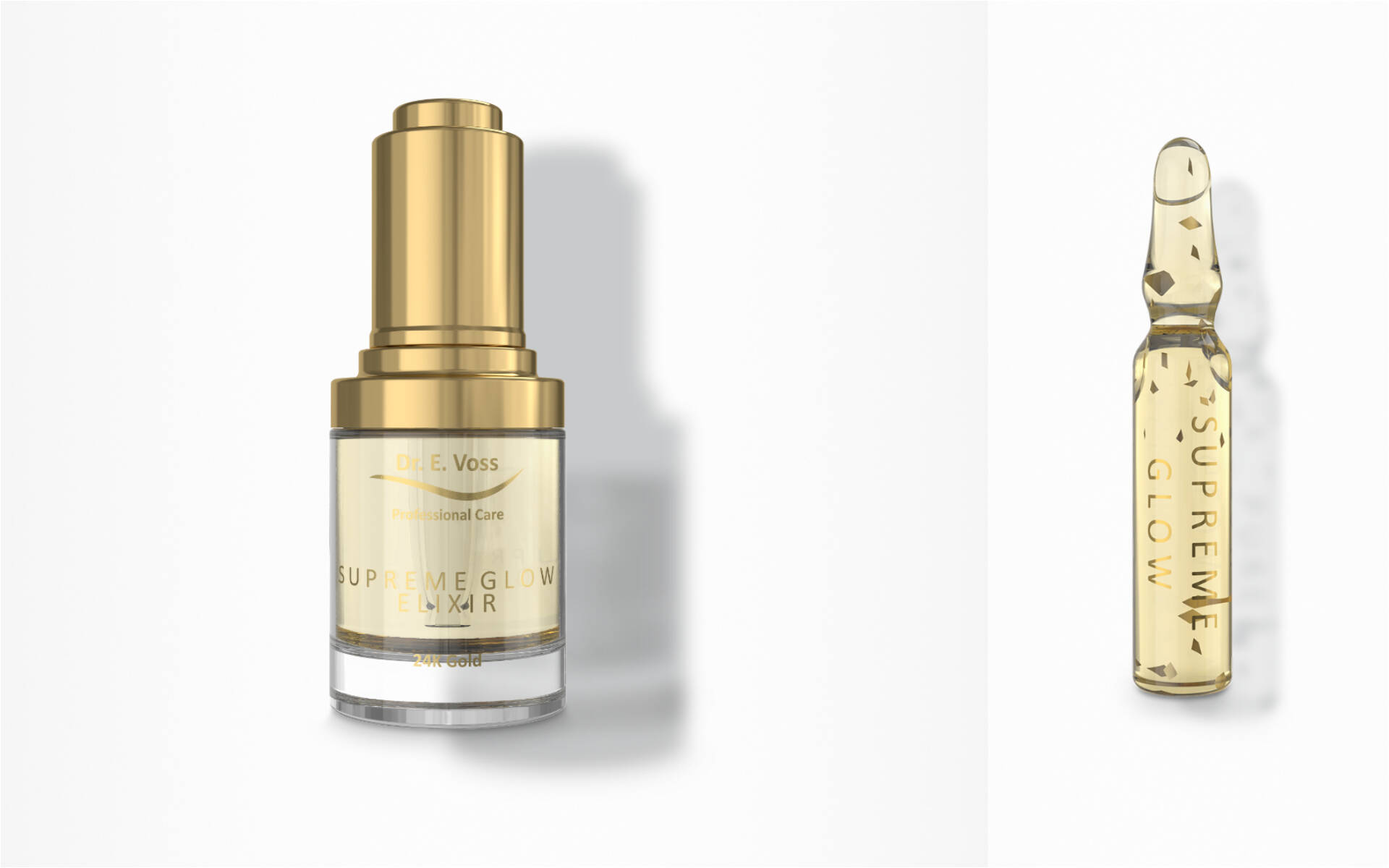 ELIXIRS
Pure Glow Elixir (NEW in 2020) - a luxurious moisturizing elixir for radiant skin
Bring your skin to radiance with this luxurious elixir, both internally and externally! With low-molecular hyaluronic acid and 24K Gold. Hyaluron is mainly responsible for the elasticity of our skin. Together with collagen and elastin, it creates the plump cushion structure of youthful skin. Gold is the best known infrared reflector, providing additional protection against IR induced radicals and giving your skin a radiant glow!
Supreme Glow Elixir (NEW in 2020) - a luxurious high-performance elixir against wrinkles
To bring the aging process to a more youthful and radiant level, Dr. E.Voss has developed this luxurious hyaluronic serum. It combines the synergies of 13 potent active ingredients to quickly and visibly reduce wrinkles.
Hyaluronic acid: is mainly responsible for the elasticity of our skin. Together with collagen and elastin, it creates the firm cushion structure of youthful skin. 4 x signal peptides with Botox effect: Relaxes the wrinkle muscles and makes expression lines less prominent. The effect increasingly takes effect after one to two weeks. 3 x collagen booster: Of the type signal peptide, beta-glutane and a plant extract. All three stimulate the synthesis of collagen in different ways. Elastinbooster Idealift: This signal peptide stimulates the skin's own elastin synthesis. Stem cell-produced extract from the edelweiss plant. Demonstrably strengthens the connective tissue. Signal peptide Progeline™: clears away age-related cell deposits and thereby improves the visible signs of sagging associated with skin elasticity loss. Troxerutin: A plant-based radical scavenger, more potent than vitamin C. Gold: Gold is the best known infrared reflector, providing additional protection against IR-induced radicals and giving your skin a radiant glow!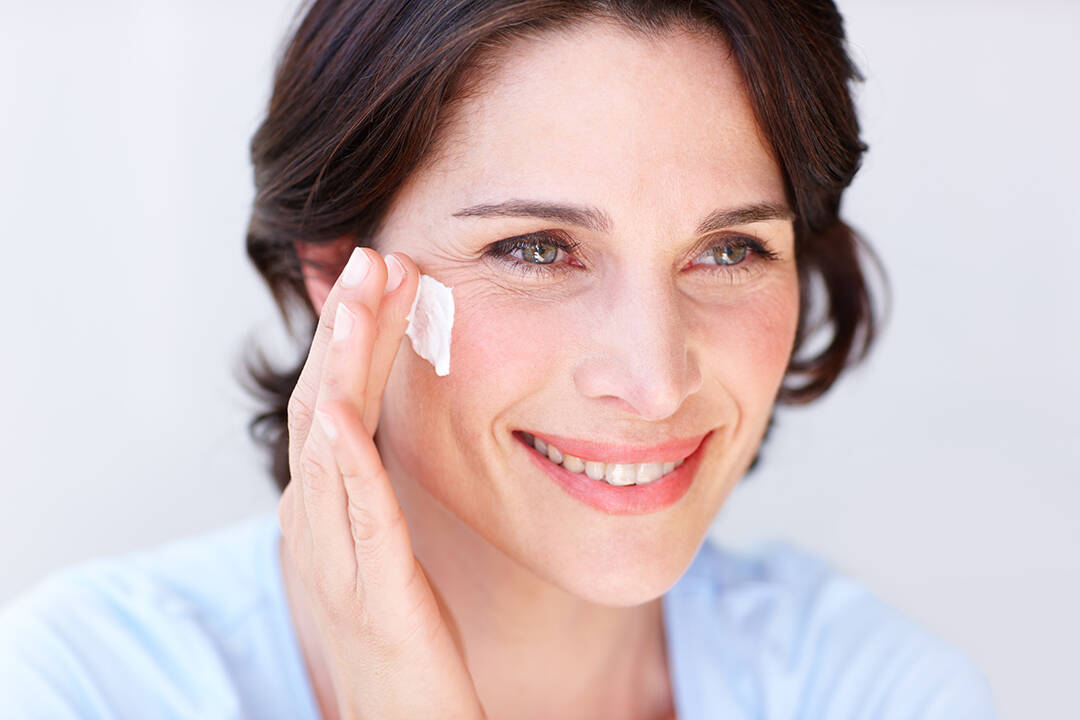 LIA C 6 CREAMS
All creams are activation and protection products, which are aimed at the following main areas:
Prevent wrinkles through LIA protection (LIA=light-induced ageing)
Transform the horny layer into a strong protective shield through LMS and light filters
Reduce wrinkles with collagen booster 
All creams are emulsifier-free and based on LMS (Lamellar Matrix System). LMS is the ideal basis for the basic prophylaxis & improvement of dry skin and wrinkles, because LMS is dermotropic, i.e. similar to the skin's structure, and is immediately recognised and incorporated by the lipid layers of the skin. With emulsifiers this is different: the skin's own lipids can be washed out by emulsifiers.
All day care products (day cream, fluid cream, eye cream, body lotion, etc.) are equipped with the patented LIA system with high UVA protection and low UVB protection, which ensures that skin aging is reduced by more than 50% from now on.
LIA C 6 24 K Gold Daycream - for dry and sensible skin  NEW in 2020
This Dr. E. Voss LIA C6 Daycream contains all the elements of a strong anti-wrinkle cream to reduce existing deficits and largely prevent future aging processes. LIA (Light Induced Aging): Light has by far the greatest influence on skin aging (60-70%). Thanks to a highly developed system of UV filters and radical scavengers, the LIA C6 series can almost completely block this light-induced aging. Thanks to a special technique, these filters always remain in the horny layer and do not penetrate. LMS (Lamellar Matrix System): emulsifier-free lamellar cream matrix (LMS), due to its similarity to the natural skin lipids, ensures a causal elimination of skin dryness and at the same time causes an even release of the contained modern signal peptides for wrinkle smoothing. Suitable for persons with sensitivity to preservatives and perfume components. Gold: In addition to the LIA triple filter, this cream contains 24 K Gold, the best-infrared reflector. At the same time, it gives your skin a radiant shine.
LIA C 6 Fluidcream - for normal and combination skin     
LIA protection;
LMS cream base;
Anti Age active ingredients;
More fluid consistency also ideal for neck and décolleté.
LIA C 6 Daycream Elegance - for normal and dry skin
LIA protection;
LMS cream base;
Anti Age active ingredients.
LIA C 6 Daycream - for dry skin
LIA protection;
LMS cream base; 
Anti Age active ingredients.
LIA C 6 Daycream Sensitive - for dry and sensible skin
LIA protection;
LMS cream base;  
Anti Age active ingredients; 
Fragrance-free.
LIA C 6 Daycream Rich - for very dry skin
LIA protection;
LMS cream base;
Anti Age active ingredients.
LIA C 6 Nightcream Elegance - Nightcare for normal skin
Radical scavenger
LMS cream base
Anti-age active ingredients + modern vitamin A analogue, an extract from sea fennel (aroleat samphira), for stimulating nocturnal skin repair processes.
LIA C 6  Nightcream - Nightcare for dry skin
radical scavenger 
LMS cream base 
anti-age active ingredients + modern vitamin A analogue, an extract from sea fennel (aroleat samphira), for stimulating nocturnal skin repair processes.
LIA C 6 Nachtcreme Sensitive - Nightcare for sensible and dry skin
radical scavenger
LMS cream base
anti-age active ingredients + modern vitamin A analogue, an extract from sea fennel (aroleat samphira), for stimulating nocturnal skin repair processes.
Fragrance free.
LIA C 6 Eyecream    
LIA protection
LMS cream base - active ingredients for the eye area.
Fragrance-free.
With "Eyeseryl®" against dark circles and puffiness as well as an active ingredient that shows sensational results in the reduction of drooping eyelids/slipping eyelids.
Apply in the morning, preferably after Hya 4 Deep Lift Q10, gently massage in around the eye area. Cares for you all day long.
LIA C 6 Daycream Young -  for young and normal           
LIA protection
LMS cream base
very light cream.
LIA C 6 24 Hour Cream - for normal skin   
LIA protection
LMS cream base 
Very light cream.
The evening application already builds up a protective depot, which is intensified in the morning.
LIA C 6 24 Hour Cream Sensitive - for young and sensible skin
LIA protection 
LMS cream base 
Very light cream.
Fragrance free.
The evening application already builds up a protective depot, which is intensified in the morning.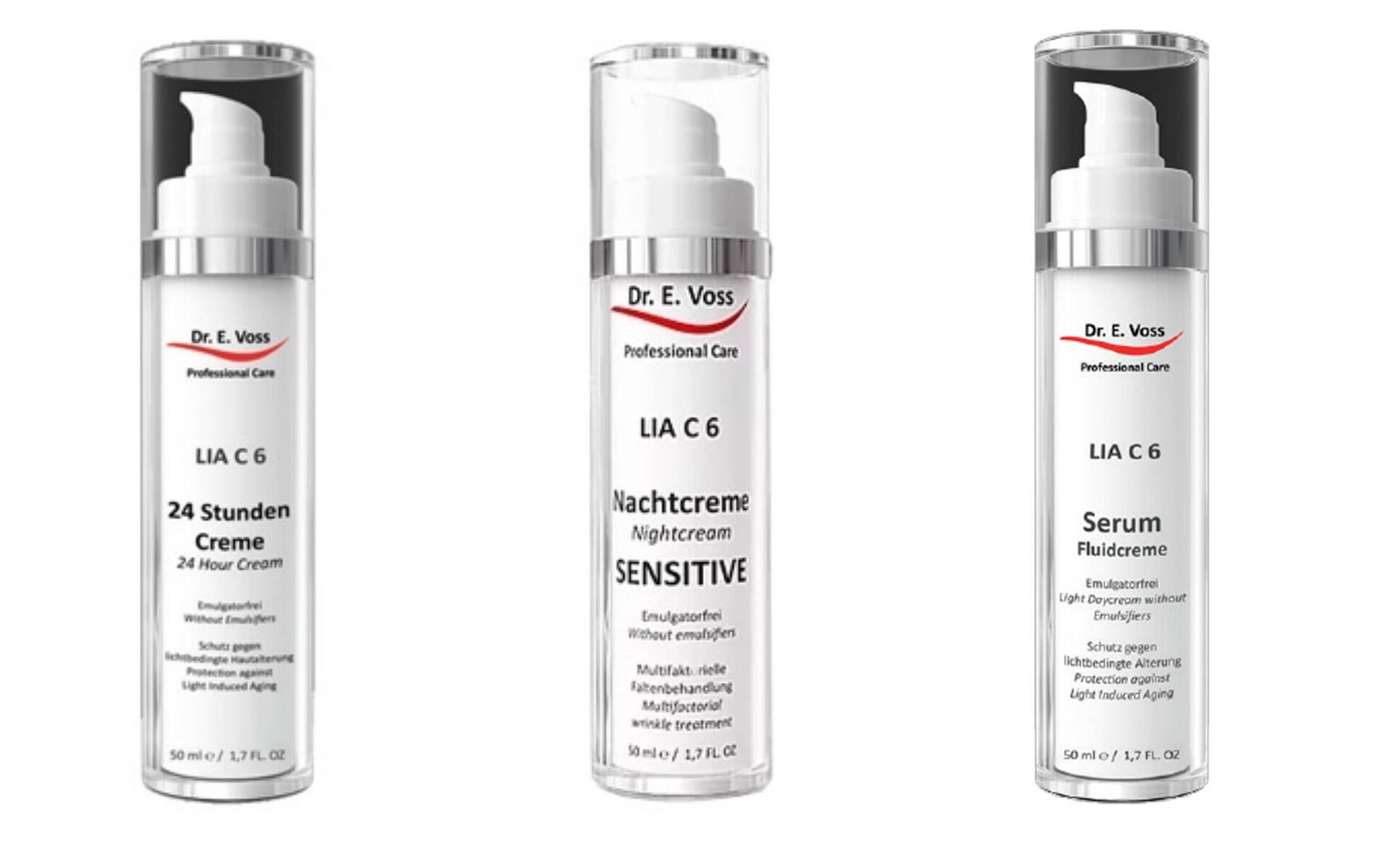 LIA C 6 Sensi Care SPF 30
Emulsifier and perfume-free LMS - sun protection cream with the highest protection class! For consciously strong sun exposure even in southern latitudes and for sensitive skin against sunburn and light-induced skin aging. Also ideal for babies and children. Absorbs quickly, does not grease. Application: Spread SENSI-CARE LIGHT PROTECTION CREAM SPF 30 evenly on the skin before sun exposure. The SPF 30 indicates that your self-protection time is now extended by a factor of 30 if applied abundantly and evenly and reapplied repeatedly after washing and drying. Nevertheless, avoid the intensive midday sun and never expose infants and babies to direct sunlight. Apply in good time before exposure to the sun. SPF 30, UVA-PF 14.4 (93%).
LIA C 6 Bodylotion - for normal skin
LIA protection
LMS cream base 
A light formula against the less dry parts of the skin, for the whole body.
LIA C 6 Handcream
LIA protection
LMS cream base
Strong protection against age spots.
Apply generously and repeatedly on the outside of the hand. Repeat after washing and especially if expose to light is expected.
Vitamin Bodycream – NEW in 2020
In contrast to the face, the body is less exposed to daily light-induced skin aging (LIA). That is why Dr.E.Voss has dispensed the UV filters in this product and focused on moisturizing and care effects. The emulsifier-free Vitamin Bodycream by Dr.E.Voss impresses with its quadruple active ingredient complex and wonderfully creamy texture.  Bio-Hyaluron tightens the skin and substitutes the natural age-related loss of hyaluronic acid. LMS optimizes the skin's protective barrier and thus creates a lasting moisture reservoir. This is the basic prerequisite for all other elements of the horny layer to function optimally. Super radical scavenger HDBM quenches aggressive "external attacks" before they could become dangerous, for example, to the sensitive ceramide structures of the epidermis. A high concentration of the "skin vitamin" niacinamide (vitamin B3) stimulates collagen synthesis, has an anti-inflammatory effect, strengthens the natural skin barrier, and optimizes sebum production. It has a positive effect on impure skin and even on capillary damage!
Skin Soothing - For very dry skin with Hyaderm N and LIA C 6 Soothing Cream
When a young epidermal cell migrates up from the germinal layer to the horny layer during 28 days, the skin cell is gutted and drained: the bulging round living cell turns into a dry flat and dead horny cell, which is then rejected. This process is called differentiation. The exterior of the cell also changes in the process: while the young cells in the lower part of the epidermis are bulging and close together like honeycombs, the horny cells are surrounded by a thick lipid mantle, which makes the horny layer an almost impenetrable protective shield against the outside world.
In chronically dry skin, the differentiation process is disturbed and the protective layer is poorly formed. For example with atopics, neurodermatitis and psoriatics. There are cracks and leaks, the skin dries out and bacteria and harmful substances can penetrate from the outside. Dry skin stretches, itches, hurts, burns, and can lead to open wounds.
Measures
Most Dr.E.Voss products have a long term perspective of efficacy. For issues that have to be addressed immediately, Dr. E.Voss has designed a special Hyaderm-Gel precisely for this purpose: 8 different active ingredients in high concentrations in a hyaluron gel matrix do the following...
Symptoms
Itch: Important to avoid re-scratching wounds. Dr. E.Voss uses several substances, mostly based on plant extracts, which reduce itching.
Support repair processes of the skin: these are almost always associated with the rebuilding of collagen. Here, too, several paths are taken in parallel.
Conclusion
By applying the Hyaderm gel, the healing process is promoted and can proceed undisturbed. Both products are suitable for consumers with preservative intolerances.
Hya 4 Hyaderm N - Skinsoothing cream gel
HYADERM N not only reduces the irritation of most unpleasant skin reactions such as redness, burning, itching, but also accelerates the restoration of soothed and flawless skin. Apply the gel liberally, possibly again after a few minutes. The symptoms of the above reactions will now subside quickly. Attention: Symptomatic applications do not treat the causes! Ideally, the treated area is then shielded with LIA C6 cream. The formula is free of dyes and emulsifiers. Suitable in case of intolerance to preservatives. 
LIA C 6 Soothing Cream - for very dry skin
Dr. E.Voss top care for very demanding dry skin. We have combined LIA protection with a very extensive LMS base. Perfume-free. Highest level of protection and repair! Combine with Hyaderm N. This is also the optimal combination for people with neurodermatitis and atopic dermatitis.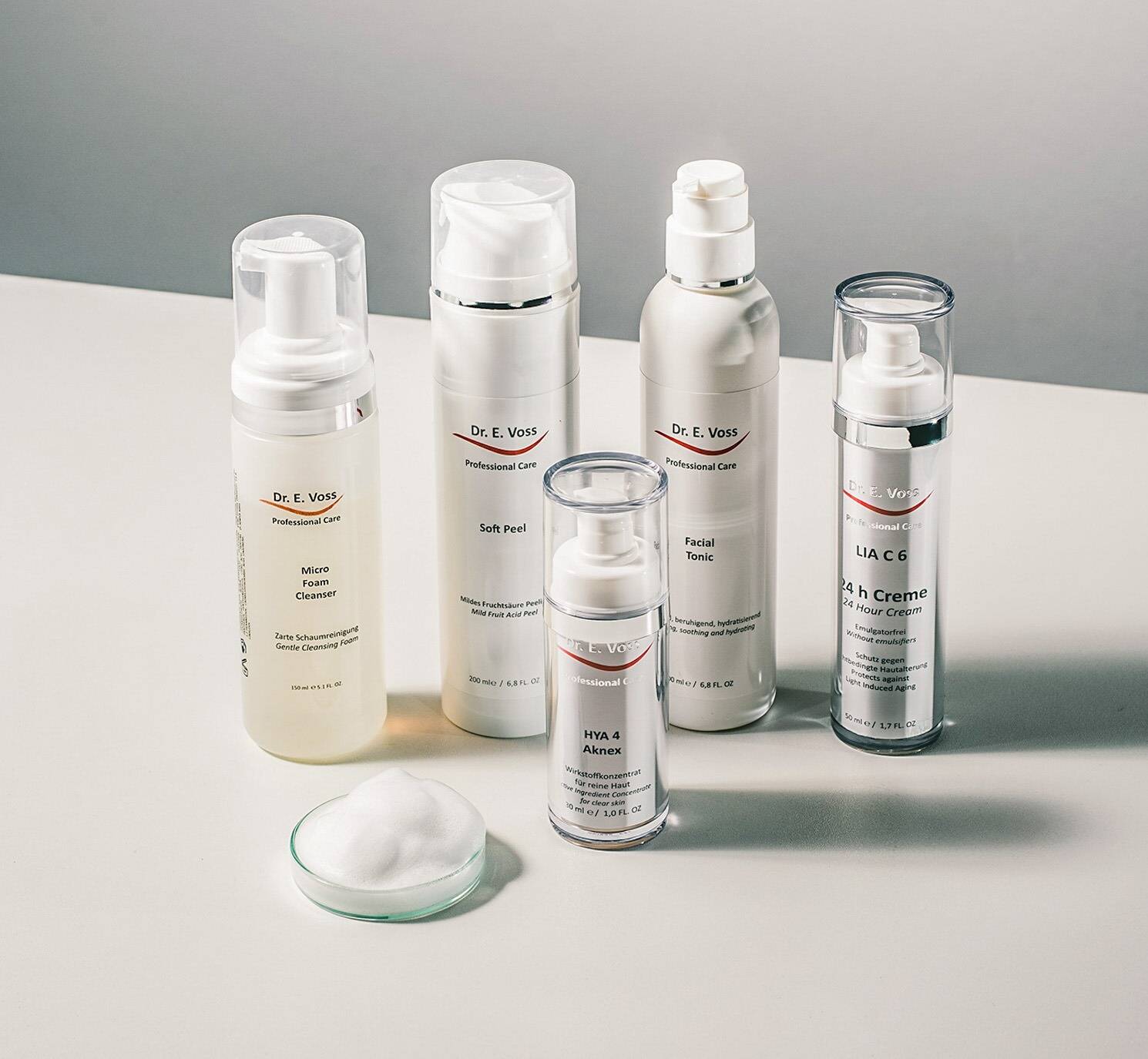 CLEANSING PRODUCTS    
The best mild and highly efficient care can lose part of its effect through incorrect cleaning. That is why Dr. E.Voss only has selected articles in all assortment that are matched to the HYA / LIA products.
Soft Peel (Fruitacid basis) - against a thickened horny layer
Highly effective, yet mild fruit acid peeling for regular home use with skin-soothing plant extracts, witch hazel and allantoin.
Micro Foam Cleanser - gentle cleansing foam
The special foam pump turns the mild cleaning fluid into an extremely delicate cleaning foam. With aloe vera and panthenol.
Gentle Cleansing Milk -  powerful cleaning, also removes waterproof make-up
This cleansing milk is powerful and also thoroughly removes grease and oily residues such as lipstick and waterproof mascara. Nevertheless, due to witch hazel, allantoin, provitamin B5 and almond oil, it is mild, gentle and fully compatible with Dr. E.Voss emulsifier-free care products.
Gentle Cleansing Milk Sensitive - powerful cleaning, also removes waterproof make-up      
Have a look at the "Gentle Cleansing Milk" description. Same formula, except for this version being fragrance-free.
Facial Tonic - refreshing facial water
The skin is refreshed and prepared by aloe, and vitamin B5 for the absorption of the active ingredients, thus improving the success of the treatment.
Facial Tonic Sensitive - refreshing facial water 
Have a look at the "Facial Tonic" description. Same formula, except for this version being fragrance-free.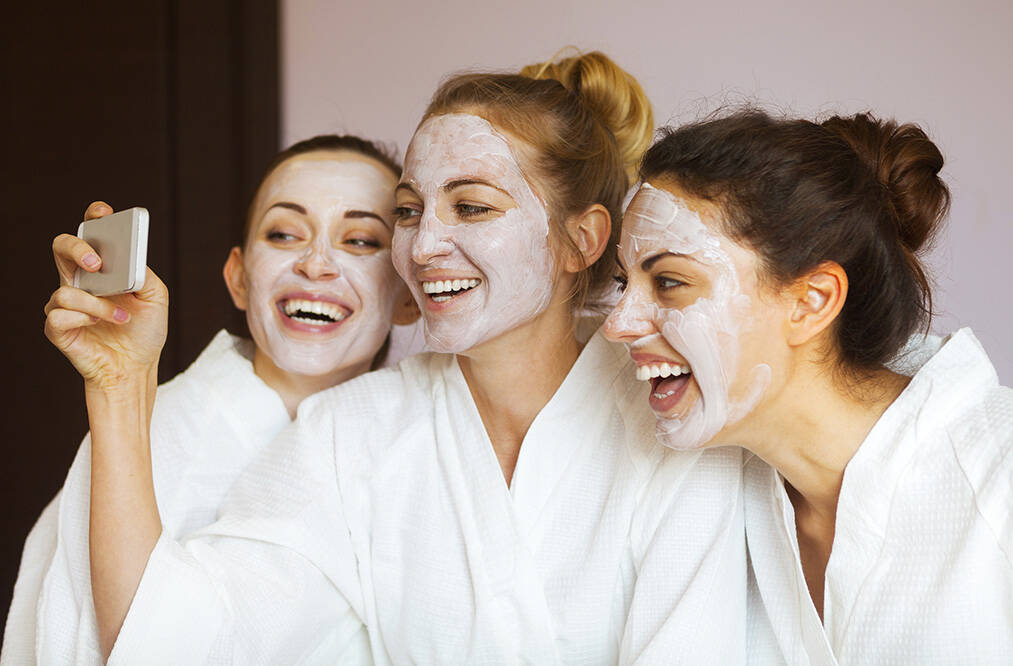 MASKS
Dr. E.Voss carries a wide assortment of different facial masks for the professional studio and at home. A variety of algae powder masks, LMS cream masks, and different carrier masks (silk, hydrogel, collagen, bio cellulose)
Natural Silk Mask - against wrinkles and skin soothing (Silk Tissue Mask)
The silk mask is soaked with a mixture of wrinkle-reducing and skin-soothing active ingredients. A signal peptide and hyaluronic acid for wrinkle reduction. An extract of oats and centella asiatica to soothe the skin. Treat yourself to an extra kick of radical protection and lifting power with this special cloth mask!  Dr. E.Voss recommends regular use in combination with your matching HYA 4 gel and LIA C 6 cream.
Lifting Eye Mask -skin tightening eye mask with hyaluron and natural algae-mineral complex
This eye mask with hyaluronic acid and algae-mineral complex provides an immediate lifting effect in the eye area. Small wrinkles and lines are smoothed and the skin is intensively moisturized.  - Revitalizes the eye area - Smoothes wrinkles and lines (plumping effect) - Supplies the skin with valuable natural nutrients. Dermatologically and ophthalmologically tested.
Dermotropic Repair Mask - moisturizing and structure enhancing  cream mask (LMS Cream Mask)
This is the first mask on an emulsifier-free basis, which combats the cause of dry skin and improves the lipid structure of the skin. Due to the perfume and preservative-free formulation, this mask is also suitable for very sensitive skins. Can also be used very well for the neck and décolleté.
Cool Clay Mineral Mask - pore refining & cooling cream mask (LMS Cream Mask)
This cream mask is especially good for stressed mixed skins. It supplies the skin with minerals and improves the lipid structure thanks to an emulsifier-free base. A menthol derivative noticeably refreshes and refines the pores. Perfume- and preservative-free, therefore also suitable for very sensitive skins.
Moisture Glow Mask - innovative formula for glowing skin (Hydrogel Mask)
Moisture Glow Mask helps to protect the skin from the bad environmental influences and to strengthen its barrier function! With a cocktail of highly efficient active ingredients. Hyaluronic acid: is a biological component of our dermis and, together with collagen and elastin, ensures plump smooth skin. Sea buckthorn oil: the combination of vitamin E and provitamin A contained in it binds free radicals and protects dry skin against bad environmental influences. The oil supports the regeneration of the skin and also provides more moisture. Citystem™: An award-winning active ingredient! This natural ingredient offers a new approach to the effects of pollution on the skin with visible proven results: The complexion appears refreshed and cleansed. Maritime Collagen: along with hyaluronic acid and elastin, is the main component of the dermis and keeps the skin firm and elastic. Ginseng: is rich in vitamin B1, B2, B12 and oligo-elements. These support the resistance of the skin. Vitamin C: is a classic radical scavenger and protects the skin from negative environmental influences.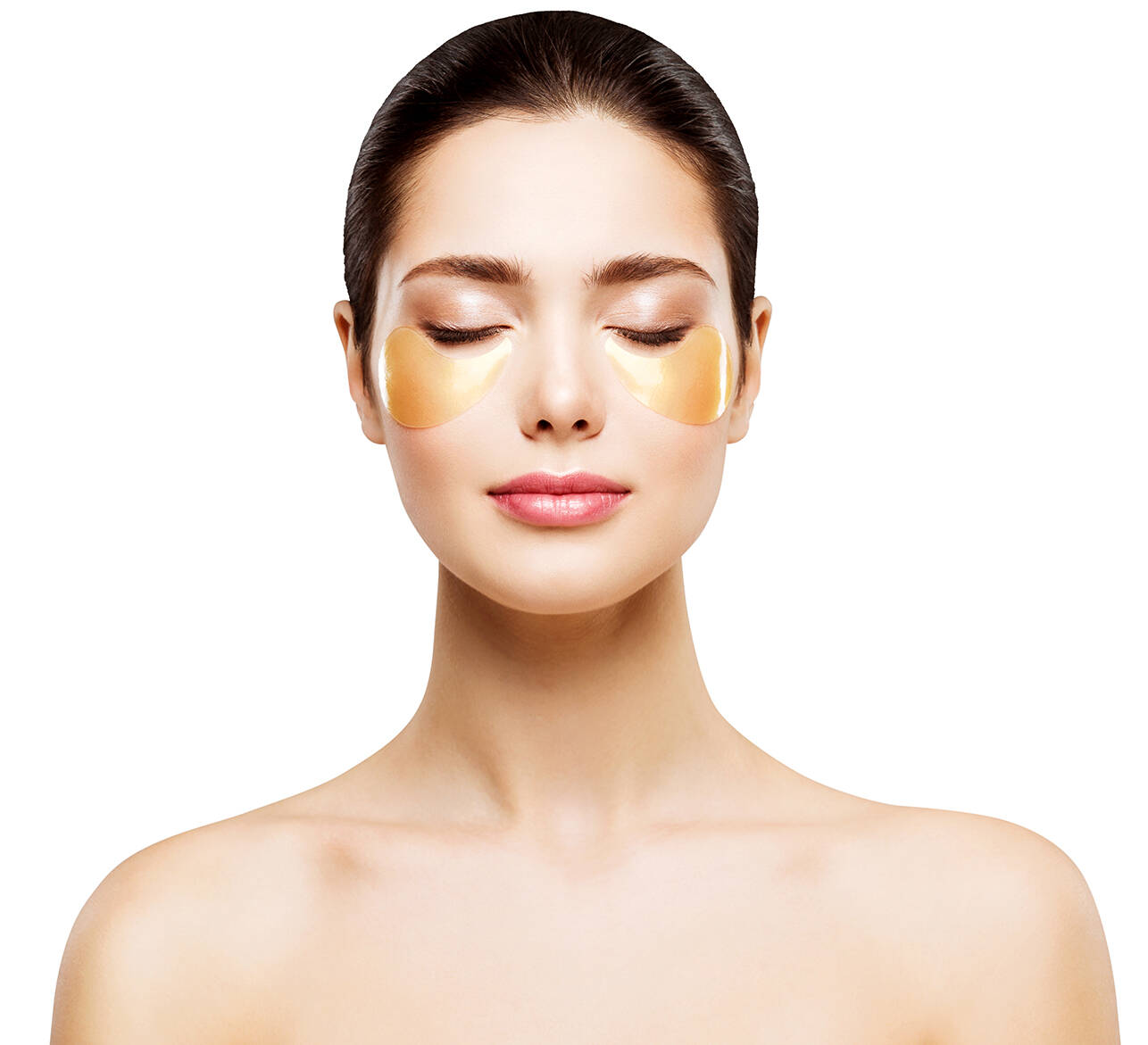 Moisture Glow Eye Masks (Hydrogel Mask) NEW in 2020
Fatigue, skin aging, nutrition and stress are often reflected in your eye area. In order to regain radiance, Dr. E.Voss has developed a hydrogel eye mask that provides intensive moisture and counteracts skin aging with a peptide complex. Hyaluronic acid lifts and as a special kick natural gold-coloured pigments make your eye area sparkle.
Collagen Lip Masks (Collagen Masks) NEW in 2020 
Indulge your delicate lips regularly with this Dr. E. Voss Professional Care Mask to get well-nourished and smooth lips. In addition to the moisturizing effect, this mask stimulates the blood circulation of the lips, which provides a seductive pink-red color. Hyaluronic Acid: Hyaluronic acid is a biological component of our dermis and together with collagen and elastin, ensures that your skin is perfectly smooth. It is known for its moisturizing and lifting effect. Maritime collagen: In addition to hyaluronic acid and elastin, collagen is the main constituent of the dermis and keeps the skin firm and elastic. NMF 24 (Natural Moisturizing Factor): This moisturizing complex combines several synergistic components to best replicate the skin's natural moisture factor over a period of 24 hours. Honey Extract: Honey has been known since antiquity for its moisturizing and nourishing properties. It improves the suppleness, firmness and velvety of the skin. Peppermint oil: Peppermint oil has a calming and gently cooling effect. Provitamin B5: Provitamin B5 stabilizes the skin barrier, reduces the loss of water and thus helps to improve skin softness and elasticity.
Vitamin Water Mask – Bio Cellulose Mask NEW in 2020
Well cared for and moisturized skin looks fresher and friendlier. This 5-fold formula refills your skin's water reserves and provides additional lifting. The 3D membrane of the Bio - Cellulose Mask adapts to your skin pores and supports water absorption, for the icing on the cake of your skin care routine! Niacinamide / Vitamin B3: Vitamin B3 is a multifunctional skin vitamin. It has collagen stimulating and anti-inflammatory properties. It strengthens the natural skin barrier and makes the skin more resistant. It also balances the skin's own sebum production. Panthenol / Vitamin B5: Vitamin B5, also known as panthenol, is a classic in skin care cosmetics. It soothes the skin and provides long-lasting moisture. Hyaluronic acid: Hyaluronic acid is a biological component of our dermis and, together with collagen and elastin, provides for plump and smooth skin. It is known for its moisturizing and lifting effect.  Maritime Collagen: Collagen is, next to hyaluronic acid and elastin, the main component of the dermis and keeps the skin firm and elastic. Allantoin: This moisturizing factor soothes and protects the skin. Allantoin also moisturizes and keeps the skin supple.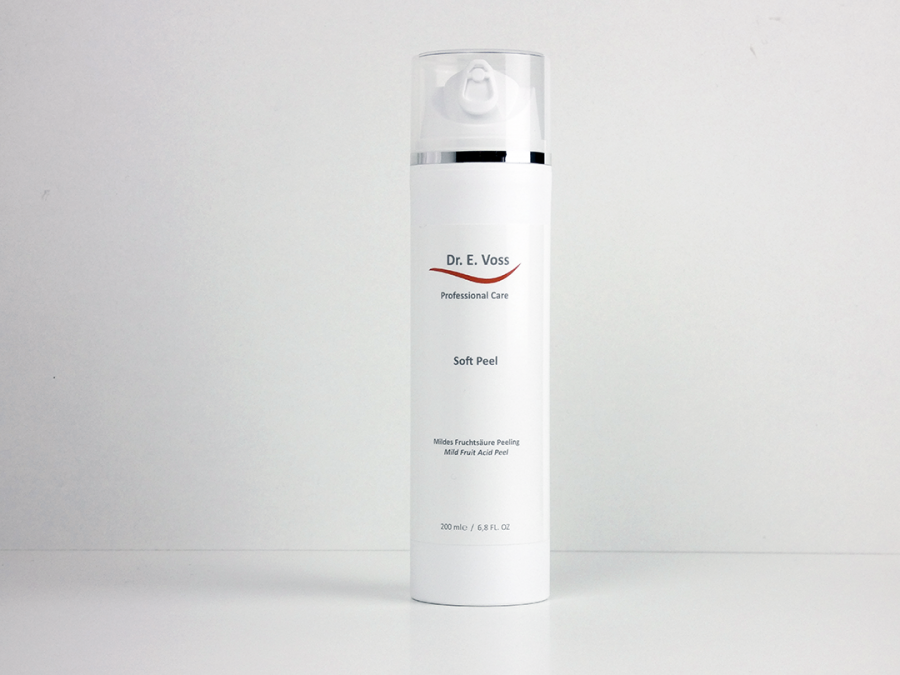 PEELING AND FUNCTIONAL SPECIALS
Dr. E.Voss offers a range of higher % Fruit Acids for professional Use – 10 and 20%. Thicker Collagen Masks with three different formulas as well (Anti Age, Soothing, and against Blemishes "Clear Up".) As well as 5 different Algae Masks for professional Use (Anti Age, Cooling, against Couperose "Sensitive", against Blemishes "Tea Tree", and a Wellness and Anti Age Version "Lavender". The following are also available for sale to the end client.
Hya 4 Bio Clear -  leave on Enzympeeling
This enzyme peeling leaves the skin soft, refined and radiant, because it gently dissolves the old horny cells. The active ingredient is a peptide bound to a long polymer that remains on the skin. There it dissolves old skin cells overnight. It can, but does not have to be washed off.
Coconut Peeling - skinfriendly abrasive creampeeling
The first peeling on an emulsifier-free basis, which has an abrasive effect due to coconut shell particles and gently removes dry skin flakes. The perfume- and preservative-free formula makes this peeling also suitable for very sensitive skins. Works great on the whole body and also cares for it!
Clear Face - roll on serum for blemish-free skin
11 active ingredients against all aspects of skin impurity at the same time: oleanolic acid and 3 bioflavonoids for a favourable hormonal balance in the area around the hair follicle, vitamin B3 together with NDGH for sebum reduction, a special enzyme against hyperkeratosis and madecassosides (pure from tiger grass) against inflammation. A radical scavenger protects against environmental influences and a menthol derivative cools and clarifies the skin. All in all a very strong formulation, embedded in biohyaluron.
Fresh Eyes - roll on serum for sparkling  eyes
A total of 8 active ingredients against all problems around the eye: 2 signal peptides as well as a modern Centella Asiatica extract to reduce the appearance of puffiness and dark circles under the eyes. An extract from the silk tree for sensational lifting results and a high concentration of vitamin B3 to improve the skin barrier. All embedded in Biohyaluron. The radical scavenger troxerutin has a capillary-strengthening effect and a menthol derivative provides immediate and long-lasting cooling and freshness.
TOPPEEL SYSTEM PEELING -  a totally natural alternative way of peeling: unique and exclusive to Dr. E.Voss brand 
A wide range of problem-solving: from Acne treatment support to removal of unsightly warts and age spots. The before- and after-effects are incredible!
Treatment objectives:     
pigmentation disorders (age spots, age warts, sun damage)       
large pored, seborrhoic, impure skin          
wrinkles
Mechanism: Toppeel's active ingredient is CSS, which differs fundamentally from conventional peelings in that it is not water-soluble and therefore cannot be washed off the skin. This results in significantly improved properties. Targeted and very clean separation of the upper horny layer. Like mowing the lawn instead of scarifying, layer by layer removal of the horny cells. As a result, there are no clusters that are not removed in some cases, as with other acid peelings, but the skin is completely smooth after the treatment. The reason for this is that the active ingredient specifically dissolves the natural connection between the corneocytes and does not attack the epidermis unselectively as in acid peeling.
CSS is, therefore, a very clean, natural and above all safety measure that achieves the following goals:
renewal of the upper corneal layer
stimulation of the natural skin renewal rhythm to younger renewal rates
stratum corneum is strengthened, is more flexible and less prone to wrinkles
antibacterial, anti-inflammatory, antifungal
Due to its lipophilicity, CSS penetrates especially well into hair follicles (acne!) and into deeper skin layers, therefore strongly comedolytic, pore-refining, pH is skin neutral, therefore does not require neutralization. Dr. E.Voss has observed that CSS removes age spots, age warts and many other skin irregularities in an unproblematic way in addition to the above-mentioned goals.
Depending on the skin problem, a cabin treatment/or cure is recommended. Further home care will be explained to you and noted on a care plan. Available in three intensities – Toppeel Home Use 2%, Toppeel Cream 5% and Toppeel Serum 10%. Extra Information required.
Skin Refining Beauty Products – with pigmentation
LIA C 6 Daycream ColorCorrection - in three shades      
A skin refining LIA day cream. In three different shades for the natural correction of small skin blemishes. In addition to the proven advantages of the day cream (LIA protection, LMS base and anti-age active ingredients), this CC cream conjures up an absolutely perfect skin.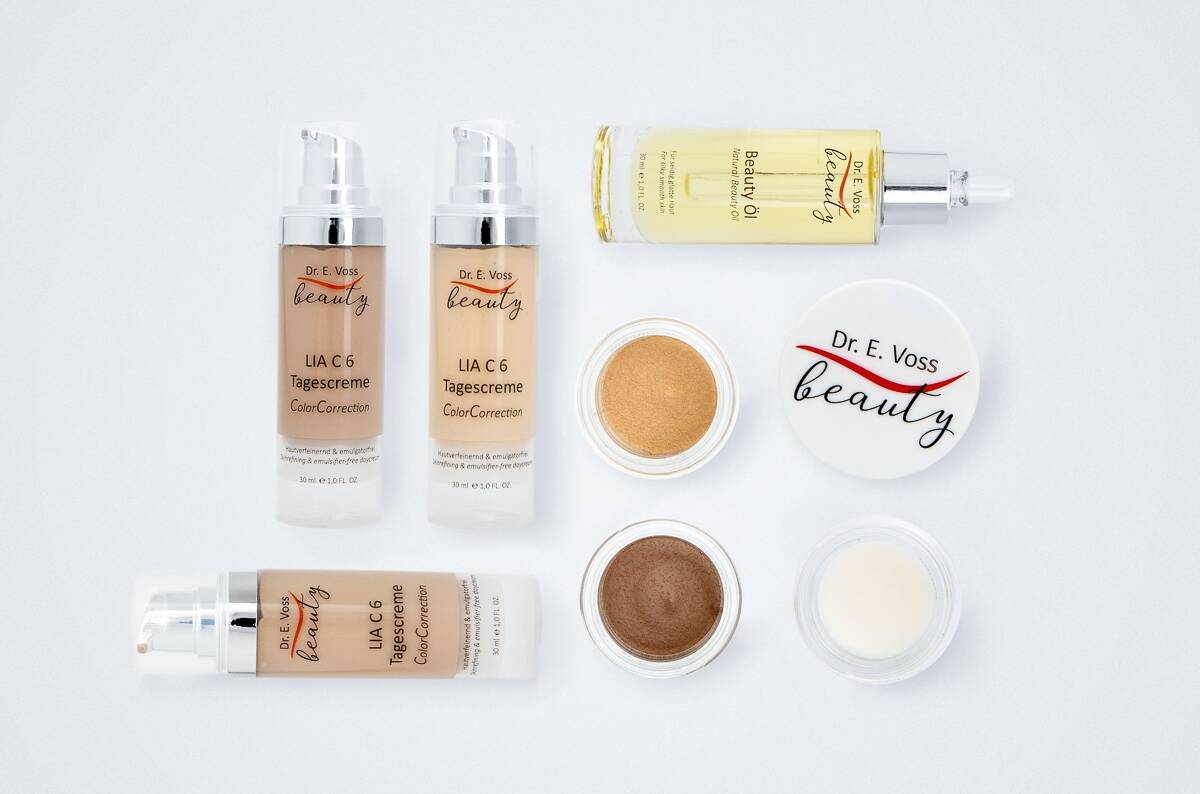 Pure Mineral Powder
For those who like it matt, there is a colourless transparent powder to match the LIA CC Cream and the concealer. Especially fine it creates a silky skin surface. Incl. powder sponge. On the basis of the finest silica.
Natural Concealer Cream - in three shades
A concentrated concealer cream to conceal dark circles under the eyes, redness, impurities and other skin blemishes. Available in three different shades for precise correction. Based on shea butter, mango butter and pure coconut oil.
Beauty Oil
For silky smooth skin and that extra luxury on the face. This non-occlusive facial oil combines the properties of three precious oils (meadowfoam seed, argan and black cumin oil). Has a moisture-retaining and cell-stimulating effect.
Natural Lip Balm
A powerfully nourishing balm based on shea and mango butter with an extra charge of LMS. For long-lasting soft and well cared for lips.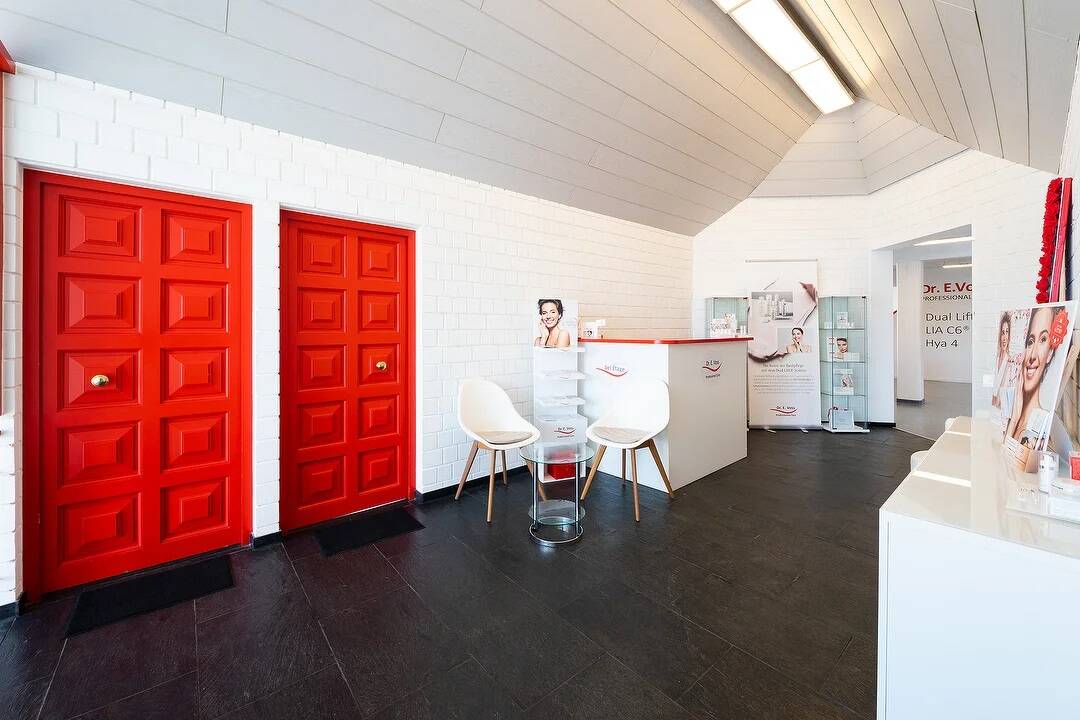 Innovations
Dr. E.Voss is always actively improving existing formulas to fit the state-of-the-art while preserving Dr. E.Voss' philosophy of clean inci and skin biological compositions. Every year Dr. E.Voss adds new products to the range. Coming up is a big innovation concerning the Microbiome of the skin!
Branding and Design
It is minimalistic and with a medical feel. Only two main shades of black and red, in combination with white. For the more playful attention seekers, Dr. E.Voss also dared to use more colors, always matching its spectrum.  However, it is planned a larger re-branding of the main packaging system in early 2021! It will be a beautifully orchestrated re-branding campaign – visually true to the original concept of minimalistic and medical – with luxurious textures, originality while minimalizing the ecological footprint.
In general: Dr. E. Voss can provide a complete product handbook, sales brochures about products and the Dual Lift System. Posters, Flyers, etc. The company produces short product application Tipps and share a Google Drive with Social Media Images. Every Innovation is previously announced to B2B Partners and samples are distributed free of charge. Dr. E.Voss also offers seminars on every topic involving the products – theoretical, as well as practical.