Elysius Naturkosmetik is a manufacturer of The Elysius Aloe Vera Gel. Elysius has opened a new era of exceptional cosmetics combining externally luxury, elegance and grace with ecological purity of Aloe natural extract. It is a perfect combination of miracle plant properties with a high-quality glass bottle and stylish packaging. The Aloe Vera Gel contains 99,3% of real Aloe vera leaf juice ecologically grown in the Canary Islands, with more than 200 active ingredients, without any powder extract. Based on the anti-bactericidal properties of this unique plant, Aloe Vera Gel provides skin cleansing and regeneration, fights with acne and other skin problems. It perfectly cares the skin during sunbathing or can be applied as healing after sunburns. The scientists have proven that Aloe vera leaf juice has anti-ageing properties and fights with wrinkles, crow's feet, and baggy eyes, removing swelling caused by an excess of water between the layers of the skin. It could be also used to resume hair growth.
THE IDEA OF PRODUCT CREATION
Elysius Naturkosmetik everyday work is to provide the best and purest quality Aloe Vera Gel in the market and combine it with a premium glass bottle and packing design. The company offers its customers the power of nature and with such concept, it is able to show the possibilities of nature application. Aloe vera plant has more than 200 active ingredients which can be used for Face, Hair, Hands and Body application. The leaves and stem of Aloe contain allantoin, natural antioxidants in the form of the vitamins B complex, C and E vitamins, as well as beta-carotene, which in the body turns into vitamin A. The healing properties of Aloe, according to the preserved written sources, have been known already more than three thousand years ago. Nature is a gift for all the humanity and the Elysius' vision is to show all mankind its power and usability.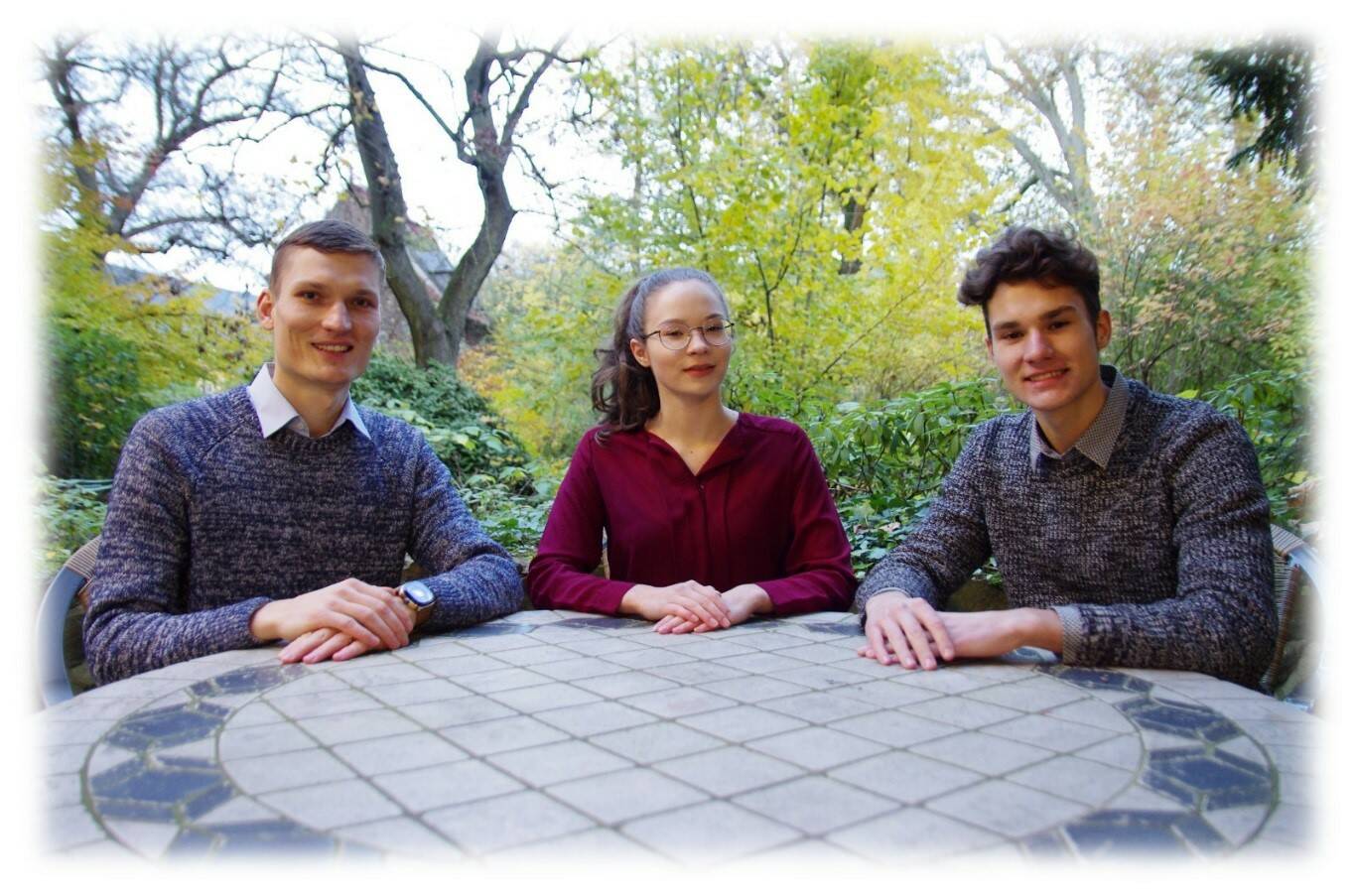 PRODUCT USP
With 2884ppm aloeverosis/acemannan the highest quality Aloe Vera is growing on the Canary Islands. That's why only these plants are used for Elysius premium Aloe Vera Gel.
The plantations are ecologically grown and bio certified with the EU organic directive ES-ECO-014-IC.
The real leaf filet juice without the green leaf skin is used for gel production; the company does not use Aloe Vera powder extract, which is strongly denatured.
A premium glass bottle is used to protect Elysius gel.
With each Aloe Vera product, the company provides an application booklet to show the customer how to apply and use the power of nature.
For every first order, the company provides a free Premium LED Counter-Top Display.
99,3% bio Aloe Vera Gel is used for face, hair and body multi-application.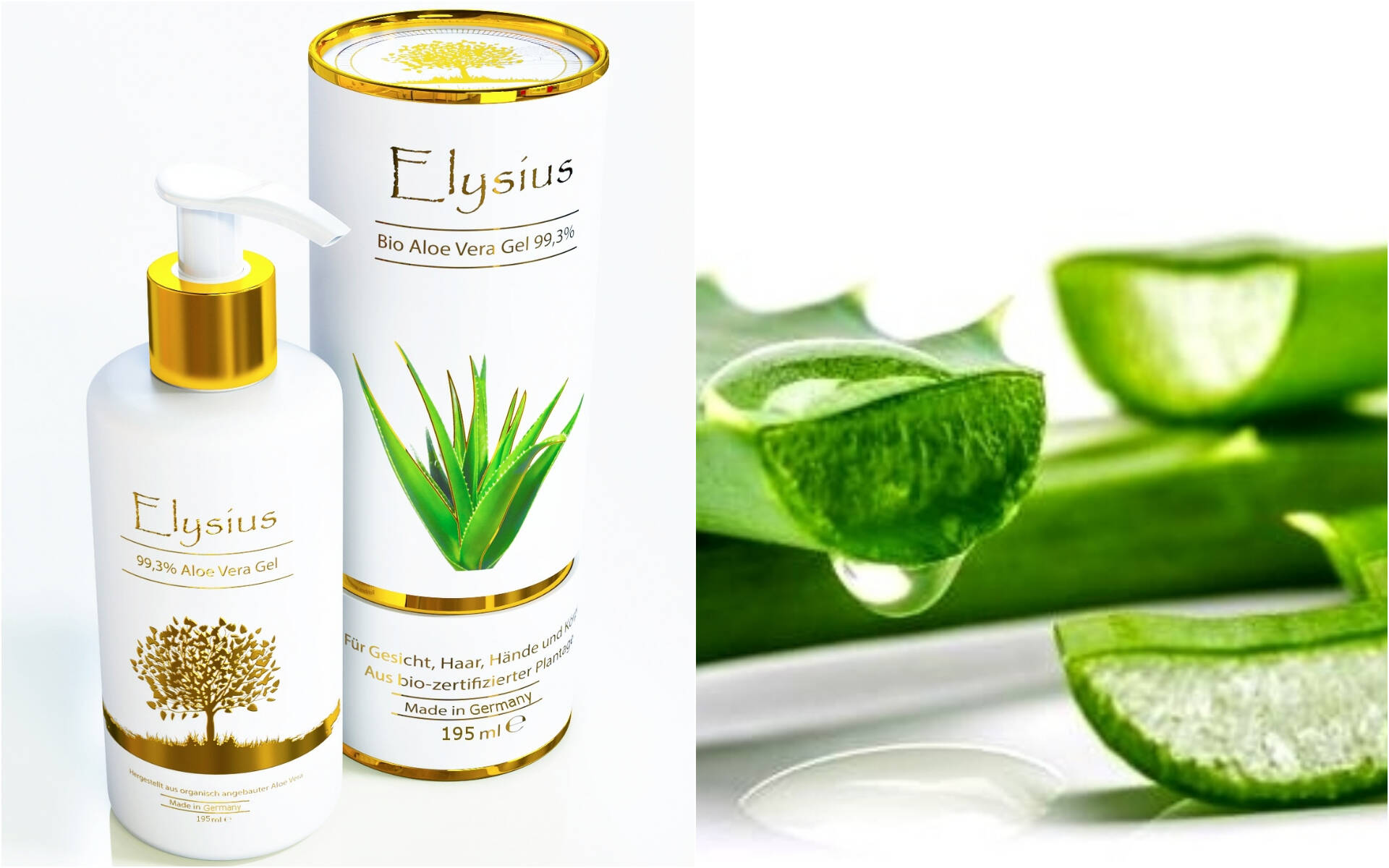 THE STORY. BEHIND THE SCENES
"It all started with our mother giving us, siblings, after getting injured while playing together, first aid with her Aloe vera plant at home. When we were children, we got in touch with the beauty and the elemental power of nature. We believe that all people are connected to nature, as well we draw power and strength from nature. Everyone, who once rested under a tree knows that. We are all part of nature and with this conviction, we created this product."
Rudolf Pusch, the Founder of Elysius Naturkosmetik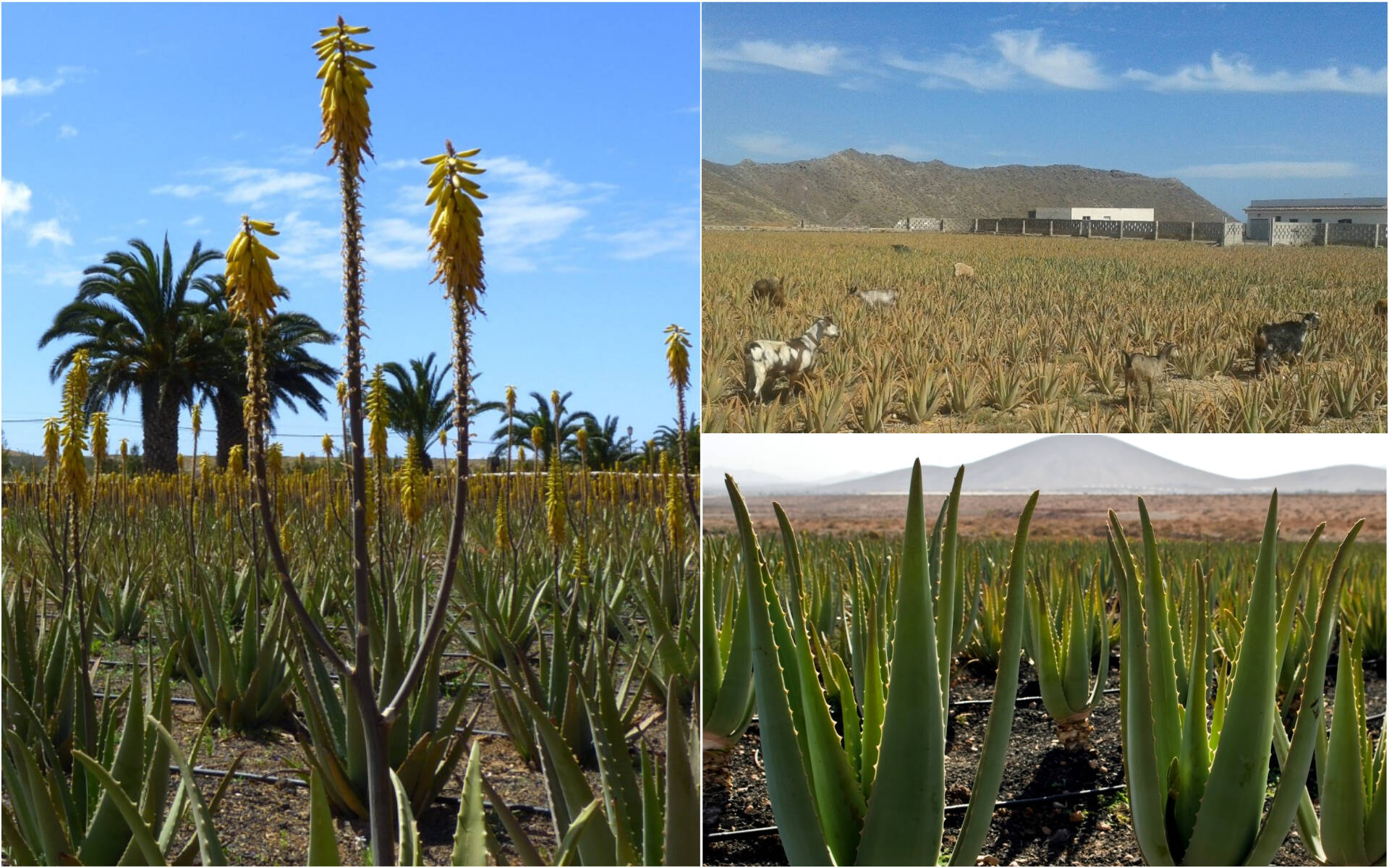 The Elysius Aloe Vera Gel contains organically grown Aloe vera plants (ES-ECO-014-IC Bio Guideline) and is grown without synthetic fertilizers, pesticides and fungicides. Instead, the manufacturer relies on goats to kill the weeds. 
The plants grow under ideal environmental conditions. The sunny weather in the south of the Canary Islands, the ideal height above sea level and irrigation with the groundwater of the island ensure the best conditions and an ideal foundation for the product. Elysius only use plants from 4 to 10 years old, because at this age the Aloe vera plant has the highest concentration of active ingredients.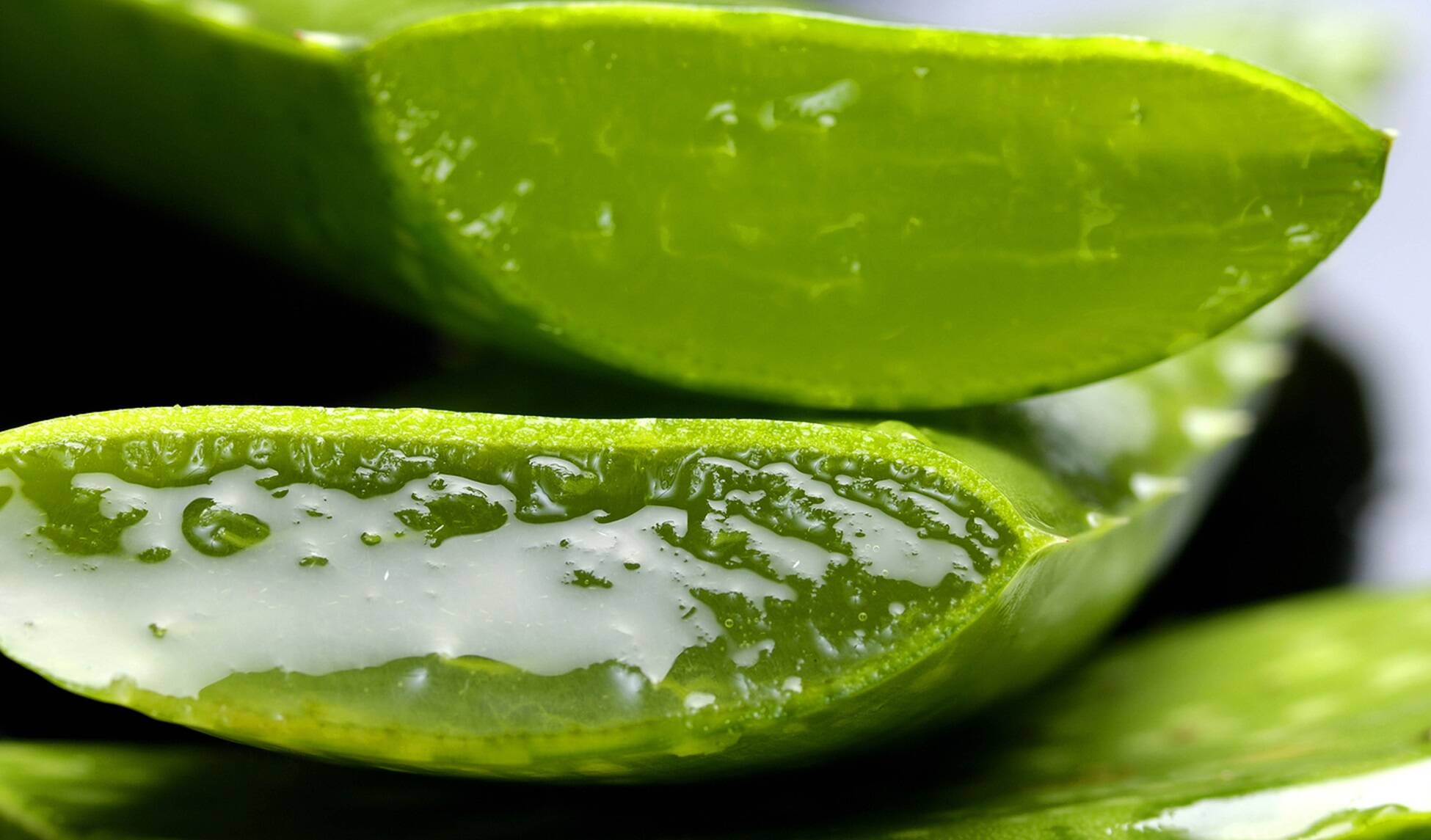 The manufacturer processes and stabilizes Aloe vera using gentle processes without generating heat. No physicochemical treatments are carried out. As a result, the active ingredients and the benefits of Aloe vera leaf gel are retained. Almost all Aloe products on the market do contain an aloe vera powder extract, which you can recognize by the additive "Aqua" (water) in the ingredients. Elysius refrains from using aloe vera powder extracts because studies show that they can have up to 90% less aloeverosis.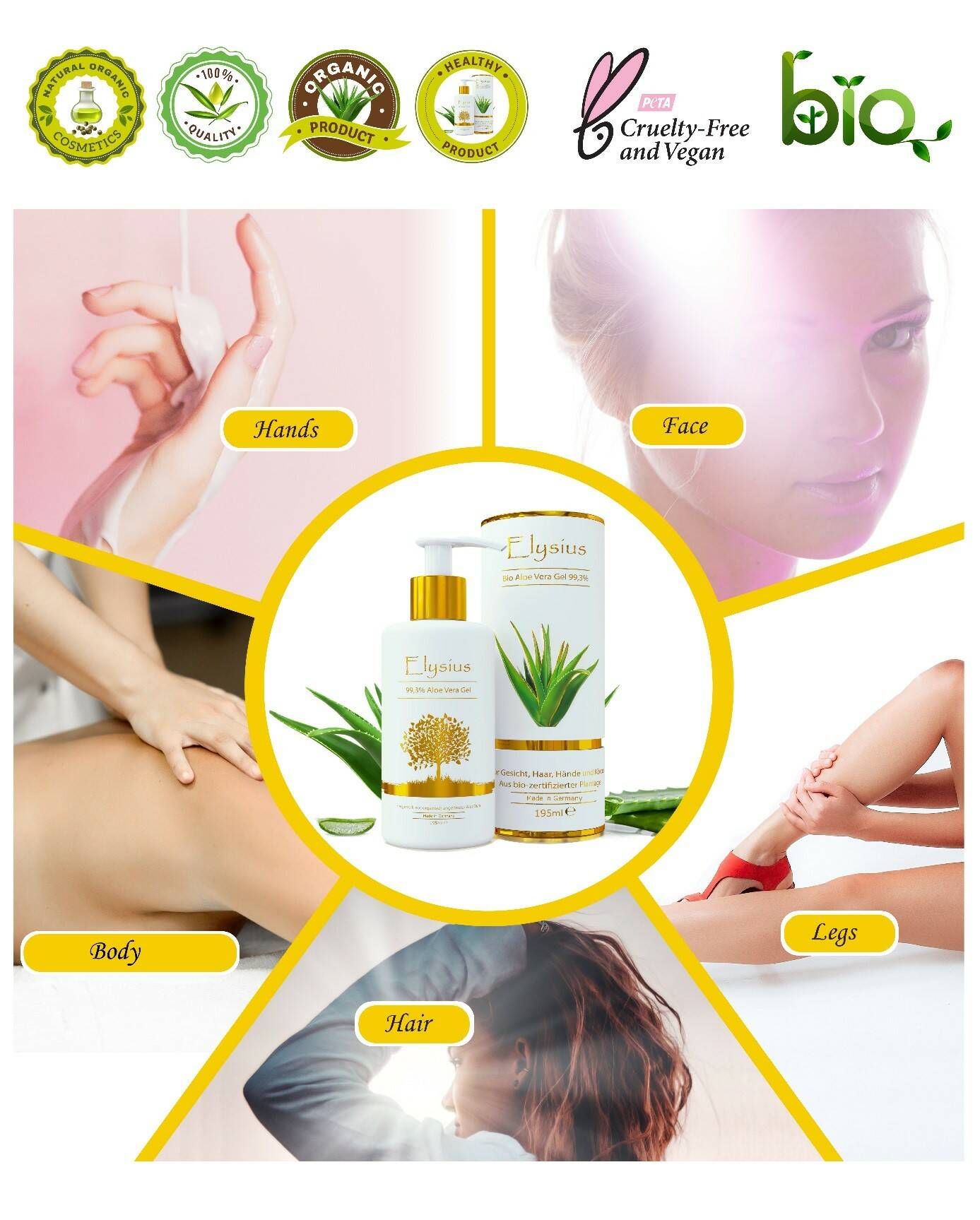 PRODUCTS & PRICES
99,3% Bio Aloe Vera Gel is the main product of the brand. 
Aloe Vera is known as the most effective and most variable product of nature.
It's one of the most interesting and fascinating plants with variable areas of application.
This is what we communicate and show with great feedback and most satisfaction of our customers.
Elysius Aloe Vera Gel 99,3 % is packed into 195 ml Glass Bottle and Carton Tube. It's RRP for Germany incl. VAT is 29,95€. The MOQ is 12 pcs. and includes free LED hologram display for the first order. Order steps are 12units/ 24units/ 36units/ 48units etc.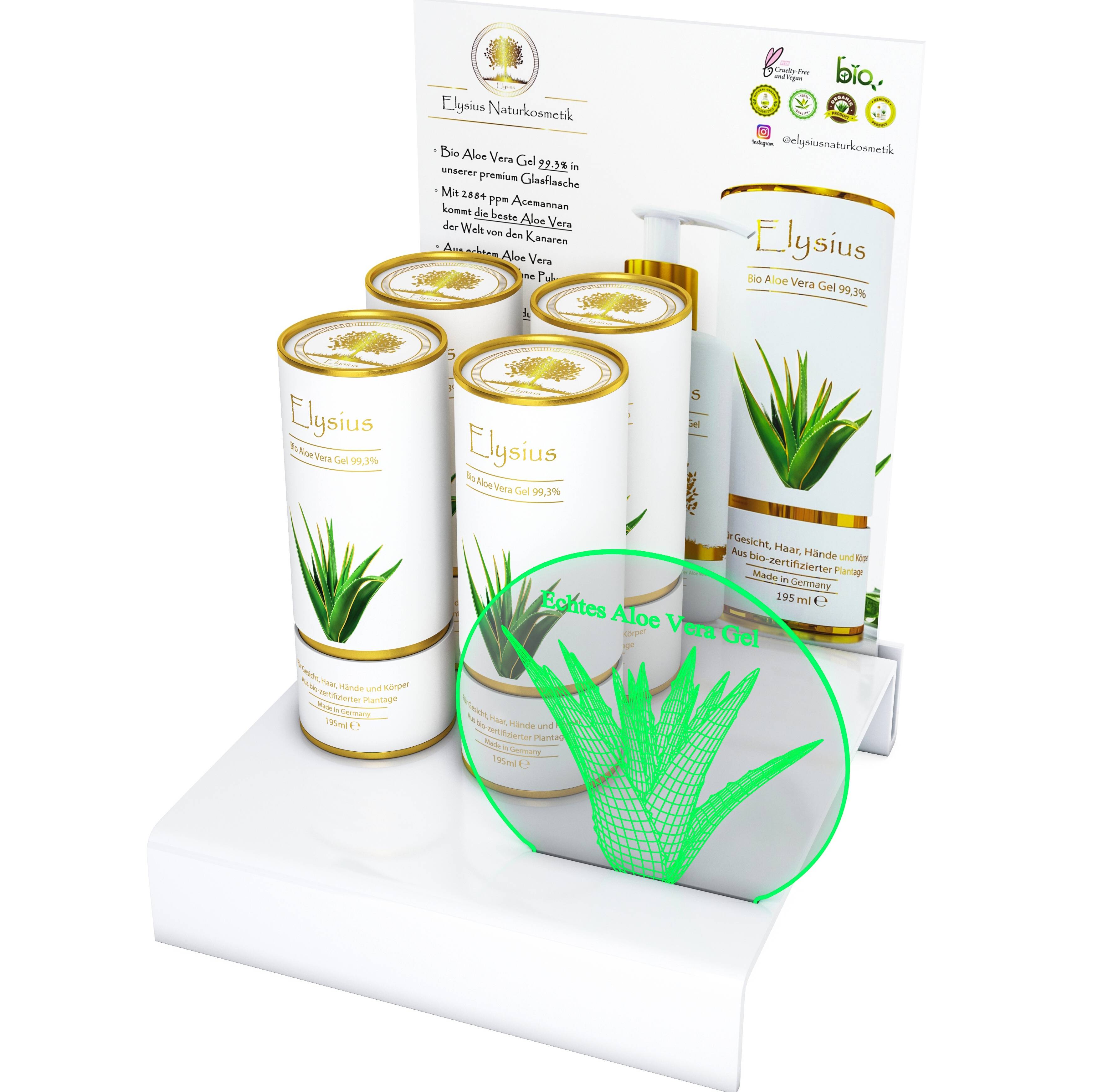 The free "application book" that is included in the packing features: 
Over 20 DIY recipes and application tips for at home;
Tips for all areas of application (hair, face, hands and body);
Free encore;
Available locally printed in every packing;
Nature-based preparation;
All information compact and simple.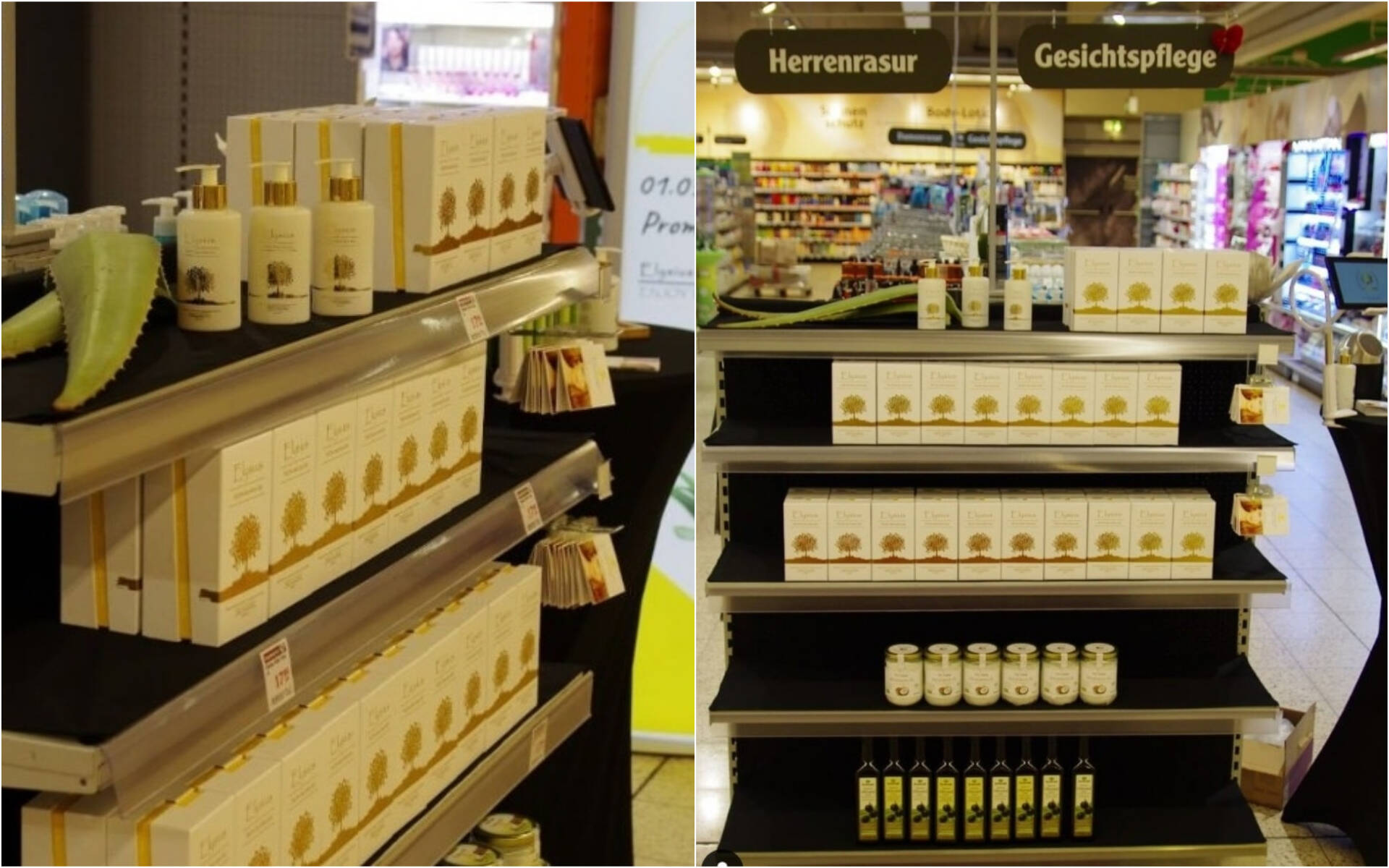 BRANDING & DESIGN
Premium nature cosmetics - that's what we live and what we are working for every day. Nature is much more than a walking tour outside. Nature is power, health and beauty all together. And we created a product that brings this in an elegant way to the customers home. For more brand and product information, please look at the company's official webpage and Instagram page.
MARKETING & SALES
The brand is committed to supporting any new market with promotions and marketing activities, mutually agreed between the parties. It may include in-social media promotions, advertising or marketing material. The manufacturer can also translate the booklet and display into the language of the new market.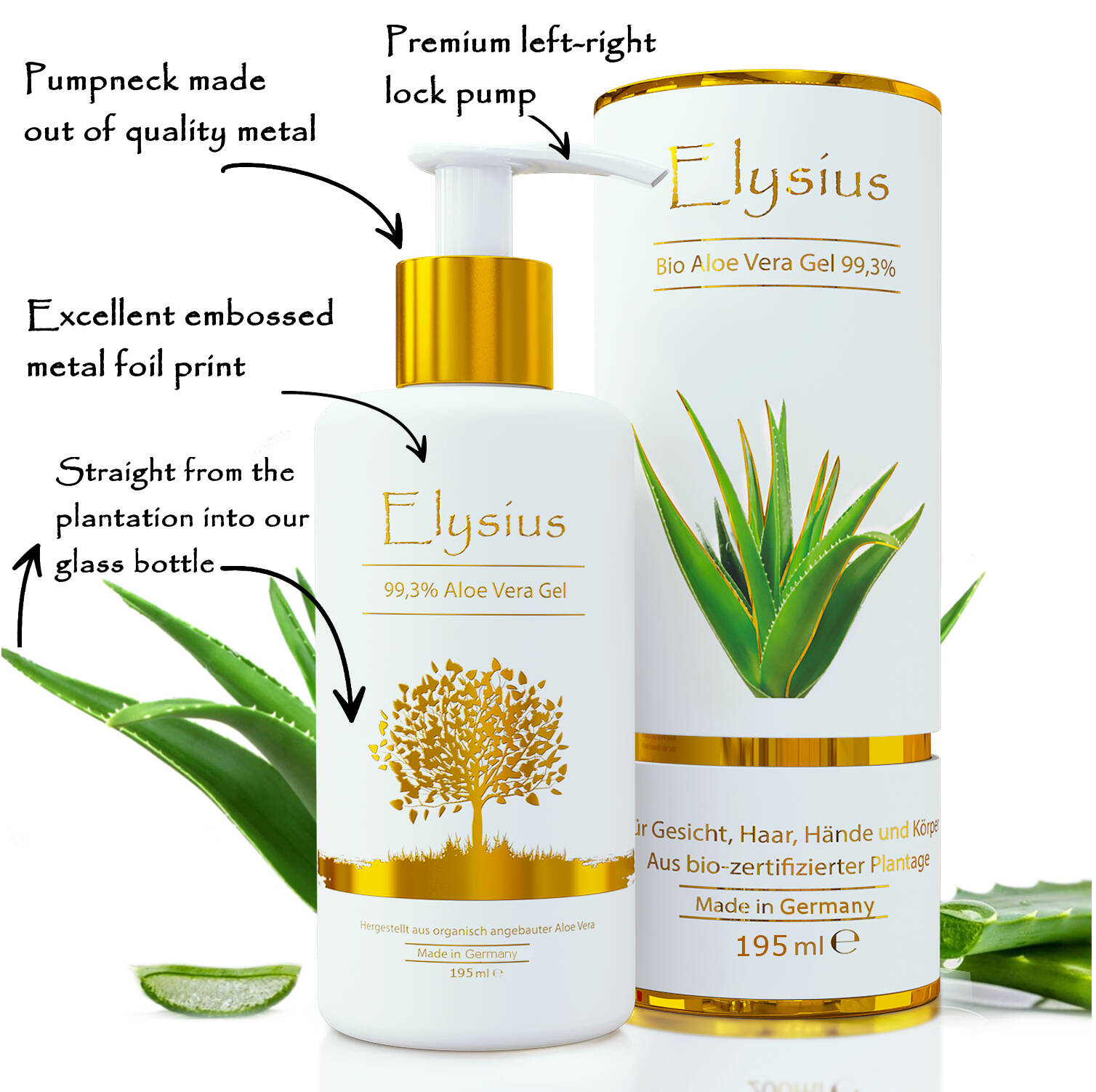 MEDIA & AWARDS
After a short time on the market, Elysius Naturkosmetik could wind many clients like Pharmacies, Cosmetic Saloons, Bio Markets and natural hair stylists. Besides that, the company has won several organic awards, including the selection of young innovative companies made in Germany and attended the biggest Nature Cosmetics Fair in Europe Biofach VIVANESS 2020 and got to the official website of the exhibition into the news section called "Five Questions to Rudolf Pusch from Elysius Natural Cosmetics".

Currently, the company is rapidly growing internationally and had cooperation requests from "BUNTE.de", "Welt der Wunder" and other big media platforms in Germany aiming its target group.