Forlle'd is an elite cosmetics collection from Japan. Forlle'd laboratory designed a globally patented manufacturing process to develop low molecular substances. The technology is based on the discoveries of Nobel Prize winner Koichi Tanaka. Founded in 2004, Forlle'd become a pioneer in developing and producing low molecular substances which are able to cross skin barrier and regenerate skin at dermal level.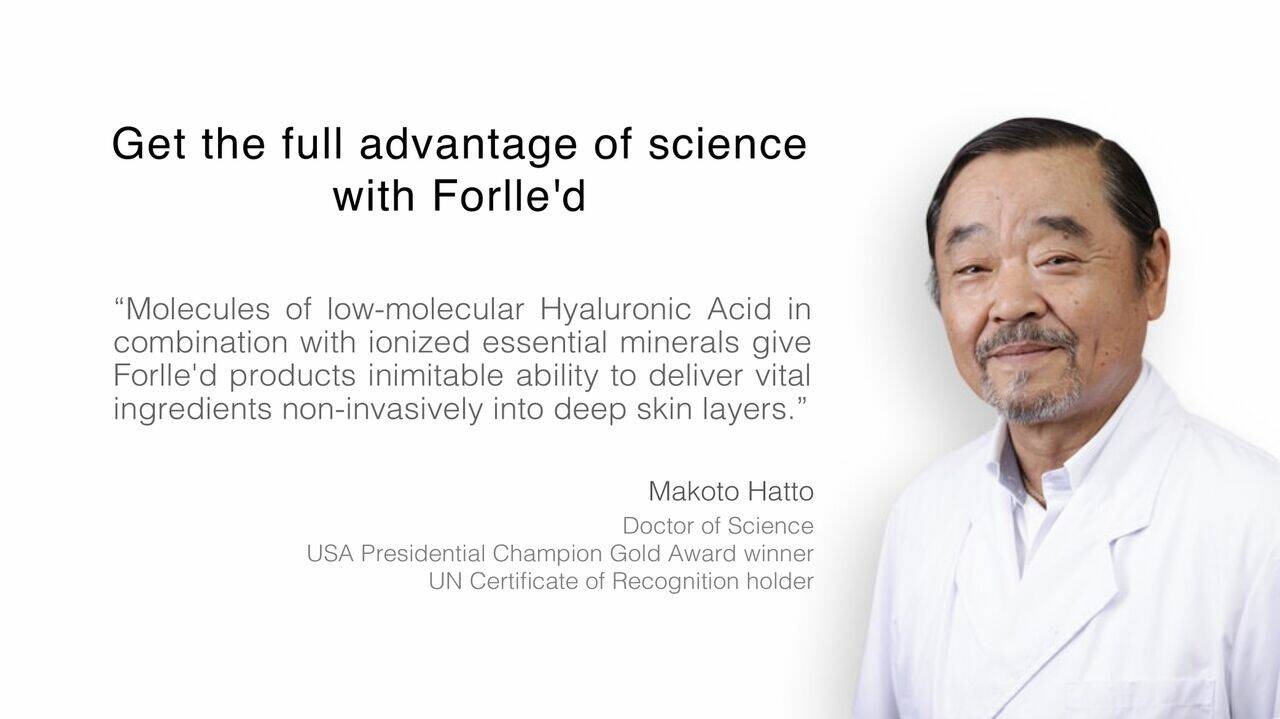 The story of Forlle'd began with the creation of the first Forlle'd product – Hyalogy P-effect Essence. High concentration of patented low-molecular ionized hyaluronic acid lies at the heart of this serum, making it the strongest anti-ageing serum with pronounced bio-stimulating effect. Low-molecular hydrolyzed Eggshell Membrane provides perfect complexion and evens the skin tone. Pearl protein saturates the skin with amino acids and ionized minerals, regulates metabolic processes and strengthens the skin's structure.
Hyalogy P-effect Essence laid the foundation of the whole Forlle'd basic Hyalogy P-effect line. Due to its unique technology all products of the basic line possess excellent potential for stimulation, moisturizing and regeneration being very physiological at the same time. Company's next challenge was to find a component to defend the skin against the assault of free radicals on healthy cells and prevent premature ageing. This component had to be very anti-oxidant, to work on a wide range of free radicals and not to lose its activity quickly. Platinum meets these conditions perfectly. This is how Hyalogy Platinum Line was developed to work successfully against photo damage, pigmentation and loss of skin elasticity.
In 2008 Forlle'd specialists created a unique series of products - Biopure for Professional - a group of powerful serums 50% more concentrated than other products. Biopure serums are designed to mix and match, they give the skin therapist the opportunity to take the initiative and prepare a special blend using proper ingredients and concentration that suits the client, according to the skin type, condition and age. This innovative approach immediately became amazingly popular among skin care professionals and brought us to the whole new stage of development.
In 2012 Forlle'd Men Series came out consisting of Hyalogy Lotion and Hyalogy Emulsion for men. The high technology formula makes Forlle'd products indispensable for daily care of men of all ages, it has a rapid healing, regenerating and prolonged protective effect.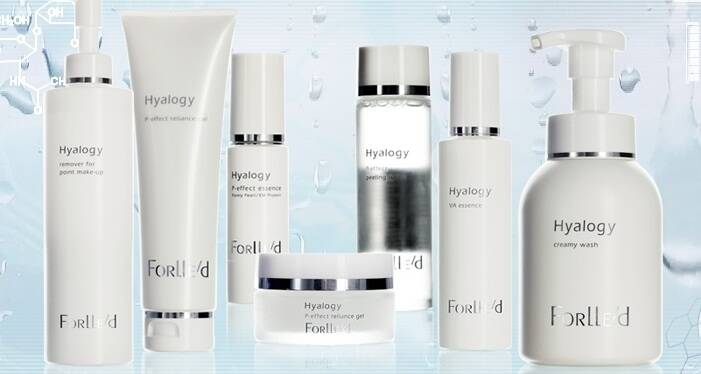 Over the years the main goal has been to provide the most efficient noninvasive solutions to prevent skin ageing and rejuvenate it at cellular level. «We are, who work at Forlle'd, dedicated to implement the latest scientific discoveries into production of new revolutionary products to slow down skin ageing and help each person keep skin healthy and beautiful» says Takemi Imanaka, president of the company. Low molecular hyaluronic acid Hyalogy is one of the basic components of Forlle'd skincare. Hyaluronic acid plays a vital role in metabolic processes such as cell interaction and synthesis. It helps protect cell immunity and helps preventing infections.
One of its most important properties is its ability to retain moisture – up to 6000 times the weight of the acid itself. Natural repair of skin cells is directly dependent on levels of hyaluronic acid, which, unfortunately, decline as you age. This leaves skin more susceptible to toxins and all processes that require hyaluronic acid deteriorate. That's why it's so important for anti-ageing formulas to include hyaluronic acid. The problem with absorbing conventional hyaluronic acid is that its molecules are 3000 nanometers in diamater whereas intercellular space is only 15-50 nanometers, and just 6-10 nanometers at the hyaline membrane. This makes it impossible for molecules to penetrate to deeper levels of the skin. Until now it has only been possible with direct injection of acid. "Molecules of low-molecular hyaluronic acid in combination with ionized essential minerals give Forlle'd products inimitable ability to deliver vital ingredients non-invasively into deep skin layers", says Dr. Makoto Hatto, founder of Forlle'd.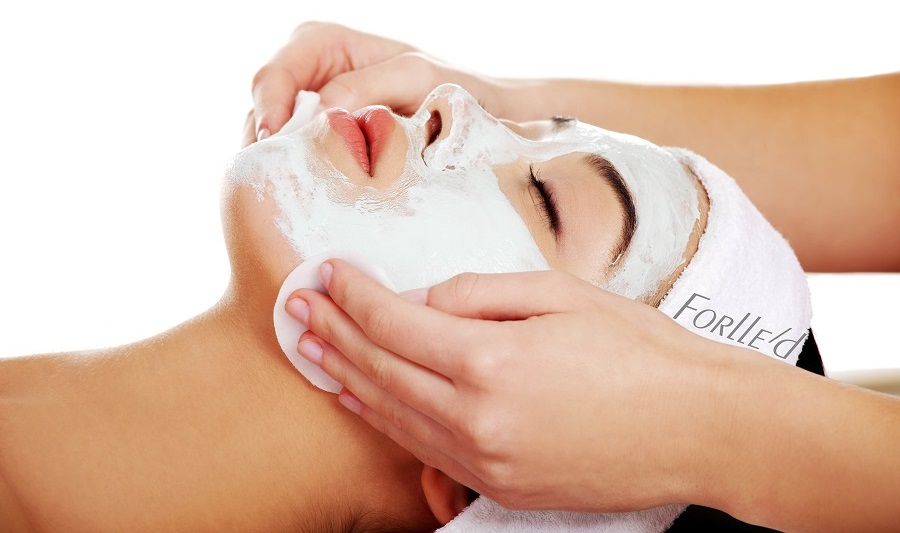 Japanese scientists in the Forlle'd laboratory have managed to develop low molecular hyaluronic acid with molecules only 5 nanometers wide with high ionization levels as well, which means it can reach deep into the skin without the need for injection. Forlle'd is the only one company in the world which has patented the production of nano-particles of hyaluronic acid of such size!
Forlle'd is a high technology cosmeceutical with immediate and visible effects. Special formulas provide outstanding results due to unique combination of components. Forlle'd is made in Japanese pharmaceutical factories using state-of-the-art technology to ensure the highest levels of safety.
The Hyalogy Total Skin Care Line is designed to provide deep skin hydration that is more effective and longer lasting than other skin moisturizers. Highly concentrated formulas are extremely economical and last 3 times longer than ordinary cosmeceuticals. Forlle'd applique treatments are a substitute for biorevitalisation injection procedures and mesotherapeutic procedures.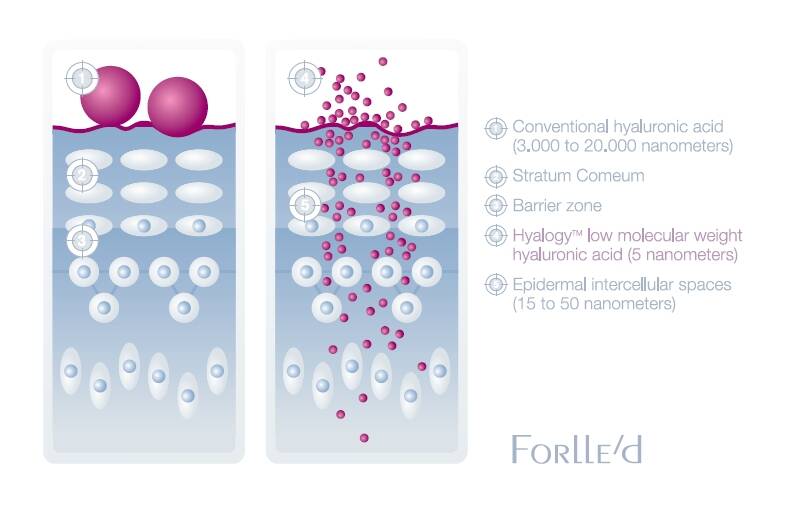 Ideal pre- and post-operative solution for aesthetic surgeons. Product efficiency tests were carried in an independent laboratory in Germany. The test included assessment of erythema level, wrinkles three dimensional structure, skin hydration and elasticity. Measurement of skin hydration was carried with Corneometer and it increased throughout the study up to 96% in comparison to control group and reached its maximum on day 57. Wrinkles roughness was assessed with DermaTOP by capturing three dimensional structure of the investigated skin. Wrinkles were significantly reduced on day 15 after product application and remained on comparable level throughout the study. After 57 days of daily application the depth of wrinkles reduced up to 40% in comparison to day 1. Skin firmness or elasticity were measured with Cutometer and showed an improvement of the skin after product application up to 55% on day 57. Redness of the skin erythema was measured with Chromameter and its value was reduced up to 35% after product application in comparison to untreated area.
Currently Forlle'd offers a line 60 extremely-effective products. Forlle'd luxury skincare products are intended only for professional use and are only available in leading beauty salons, spas and clinics. Currently Forlle'd cosmetics is represented in 12 countries: USA, Japan, China, Kazakhstan, Azerbaijan, Germany, Switzerland, Finland, Estonia, Spain, Russia, and Ukraine.