GO FOODS is a company dedicated to the production of healthy high-quality wholesome food. The company has been on the market since 2017. At the moment, the company is a manufacturer of 2 trademarks. Granolife, a cereal baked with honey with the addition of nuts, dried fruits and freeze-dried berries, presented in 4 flavors. OCTA is a nutritious drink based on New Zealand protein and milk, one serving of which replaces a full meal. Formulated using only high-quality ingredients from New Zealand, Germany and France. Our own production facility, located in the Kaluga Region, ensures maximum efficiency, the necessary flexibility and continuity of all work processes. During its work, the company managed to acquire a number of large and reliable local partners, including X5 Retail Group, Magnit, Dixy Group, Lenta, Okey, Billa, Azbuka Vkusa, Miratorg and others. The company is highly competitive in terms of price and quality of products and is ready to conquer the global retail of healthy food.
THE STORY
Until 2017, OCTA nutritional drink and Granolife healthy granola companies and products existed as 2 separate businesses. Acquaintance and partnership between future co-founders of GO FOODS arose after the participation of both teams in the corporate accelerator PEPSICO that selects the most promising food projects in Russia and the CIS countries. Both projects successfully completed the acceleration after which they decided to continue the partnership, but in a new format by combining 2 teams into one and organize a joint production and company.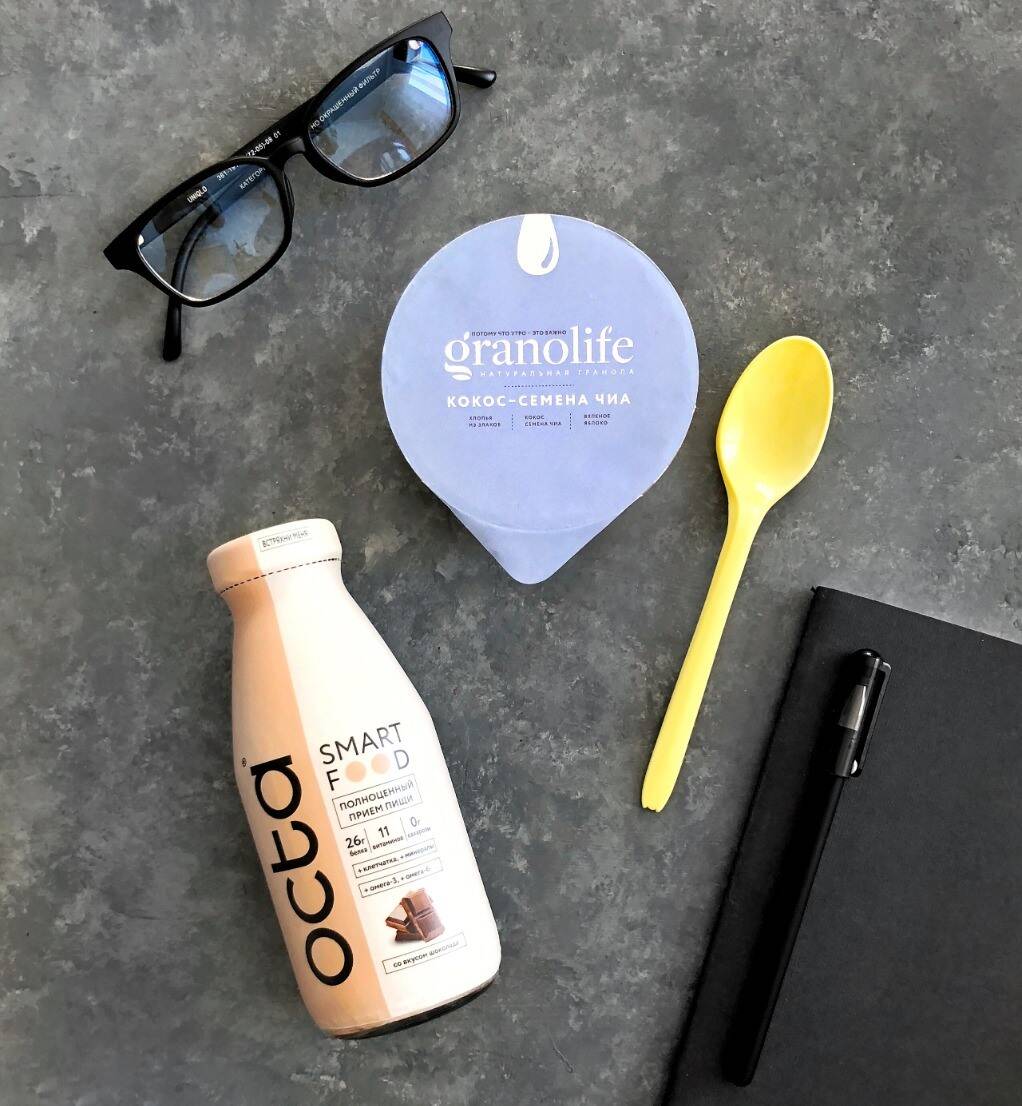 Sergey Eliseev, the founder of Granolife, has built a dizzying career in the banking sector, but hiring sooner or later ends and has a limit in profit, so he decided to start his own business. The former boss suggested Mr.Eliseev starting the production of granola in 2016. By then the product was already very popular in Europe, but in Russia, the customers didn't know anything about granola yet and it had just been emerging on the horizon along with the trend of healthy eating.
Inspired by that fact, Mr. Eliseev has planned to develop a product from scratch in two months and start selling it through Instagram. But real life turned out to be more difficult. About 60 recipes were tested, which made it possible to make a decision and to leave 4 flavors that met all the requirements and needs of even the most discerning consumers. The following top flavors became the winners in such a careful selection: strawberry-raspberry, mango-pineapple, coconut-chia seeds and almond-hazelnuts.
Having invested all his savings, taking out a loan, selling a car, firing employees, following the advice of market participants (for example, that even a healthy product should be tasty) and having operated for two years at a loss, the entrepreneur finally managed to achieve profit from the business.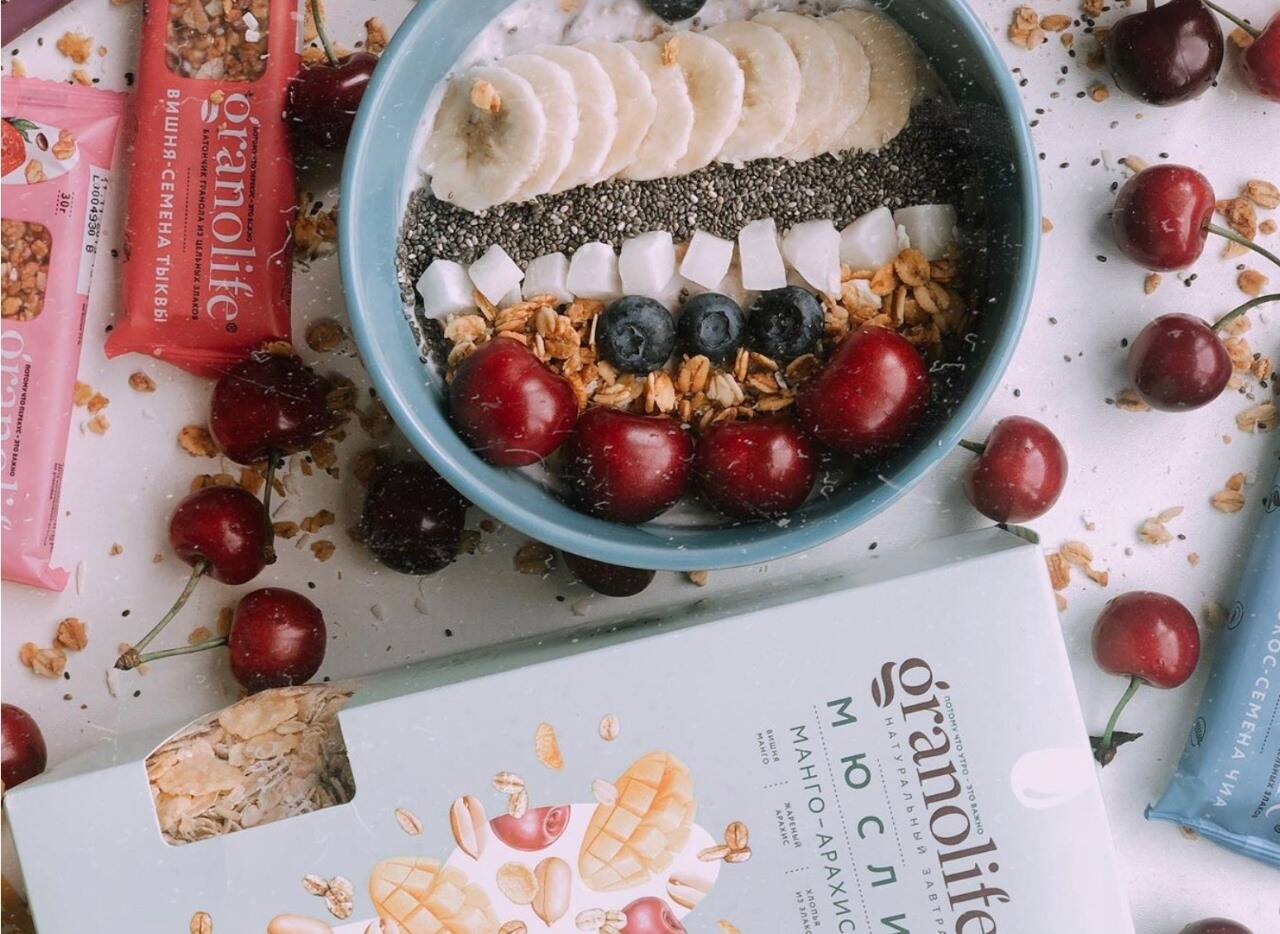 Mikhail Maksimov, the founder of OCTA, a chemist from the research and development department of Wimm-Bill-Dann, was mixing the first version of the future OCTA drink for himself back in 2016 in order to have a snack "on the run" without breaking the diet.  Due to health problems caused by the stress from studying at Moscow State University and at work, a sedentary lifestyle and unhealthy diet, his friend Andrei Reduto went heavy on homemade nutritional mixes based on yoghurt. This is when Mr. Maximov got an idea and proposed him ​​a nutritious drink that will serve as a full meal. Mr. Reduto realized that it was possible to earn money from this.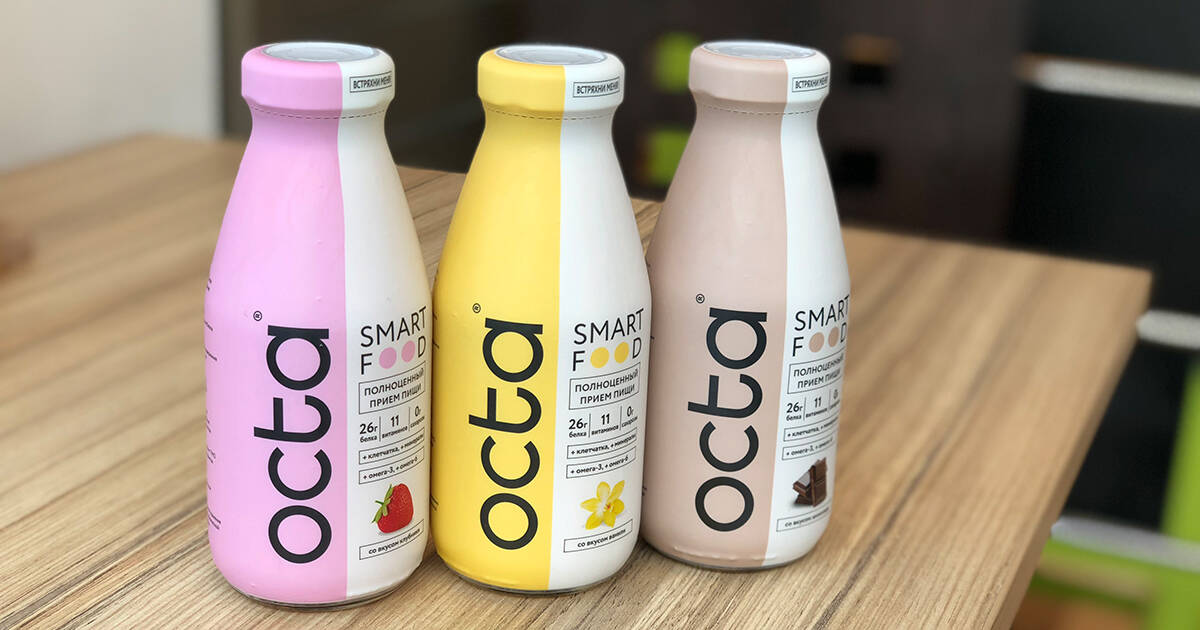 There was nothing similar on the market, only the usual snacks - yoghurts, bars, fruits. They invested their savings in the project during the student years. At that time Mr. Reduto was a sales assistant at Sportmaster and worked in public catering. Mr. Maksimov worked in the defence industry where he developed special-purpose aerostatic complexes. The first batch of 2.5 thousand bottles that came in November 2016 was sold out in a month. At the beginning of 2017, OCTA was sold in 58 outlets, at the retail price from approx. 2,5 to 3,5 euro per bottle. Over the year, sales grew to 8 thousand bottles a month. Within a year/year and a half, the entrepreneurs are planning to sell 100 thousand bottles of the drink a month.
In 2017, a new partner, Roman Pavlenko, joined the founding team as a Commercial Director. Mr. Pavlenko is responsible for export, distribution and negotiations with key clients.
PRODUCTS AND PRICES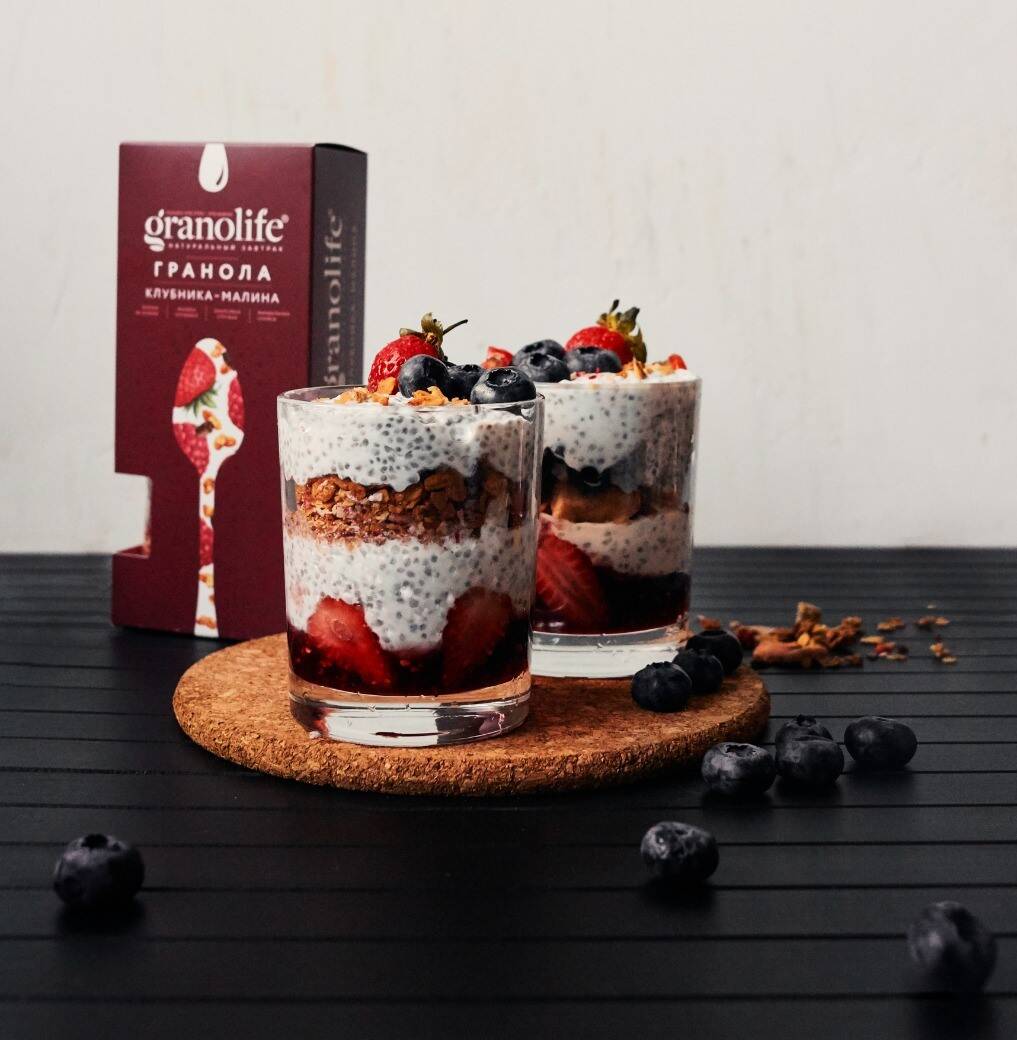 GRANOLA - A multi-grain mixture with honey, nuts, dried fruits and freeze-dried berries.
Granola is presented in 4 best flavors, among which every consumer will find the one that suits him or her:
"Strawberry-Raspberry" and "Mango-Pineapple" are bright fruit and berry flavors for lovers of luxury and sophistication combined with chocolate.
"Coconut-Chia Seeds" and "Almond-Hazelnut" - these flavors are created for those who love not only unusual combinations but also respect the traditional nutty taste, they are suitable for vegetarians and vegans.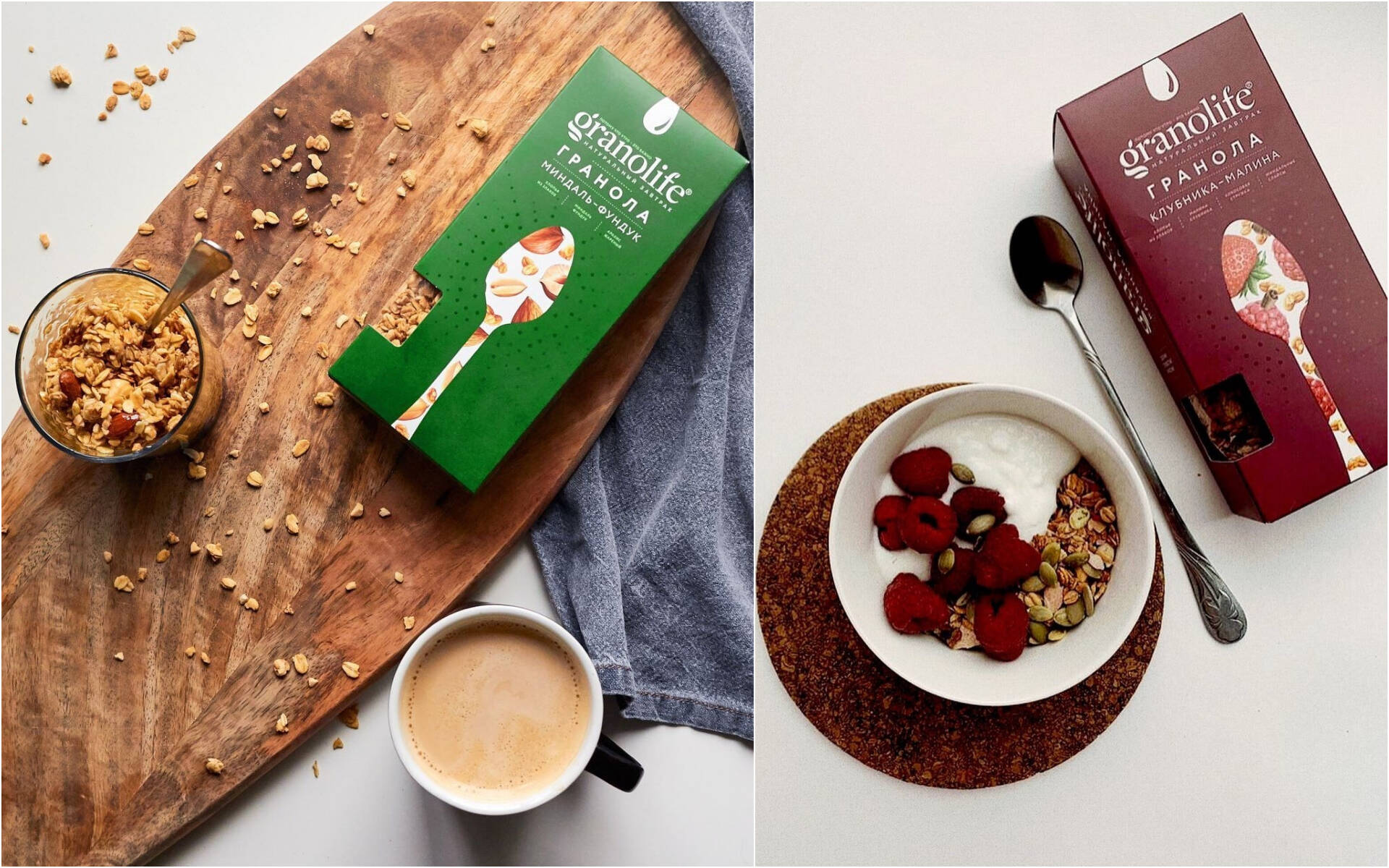 The products are presented in three formats, from an individual portion in a 60g cup to the bigger size of 200g and 400g in a bright and practical box for home or office use.
Granola is the perfect breakfast for those who are in a hurry all the time, who have an entire day planned out and don't have a second of free time. Ready-to-eat Granolife breakfasts save that precious morning time for more important things and planning. It's great to have everything under control and plan your day by making a to-do list.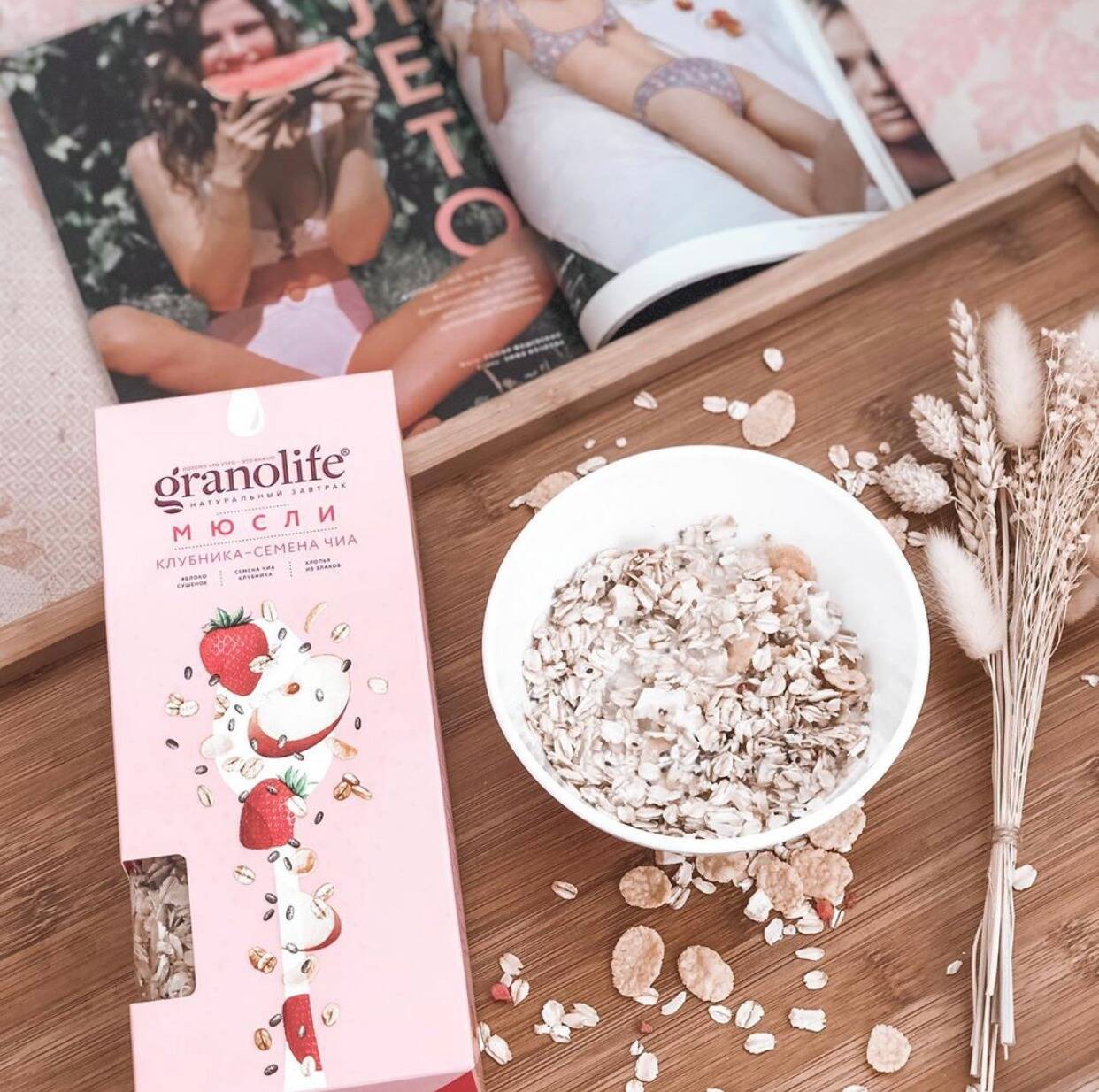 MUESLI - Cereal mixture for the best breakfast ever.
Muesli "Granolife" is a cereal mixture with the addition of nuts, dried fruits and freeze-dried berries. The products are presented in 400g packaging and four bright flavors:
Pineapple-Sea Buckthorn,
Blueberry-Apple,
Strawberry-Chia Seeds,
Mango-Peanuts.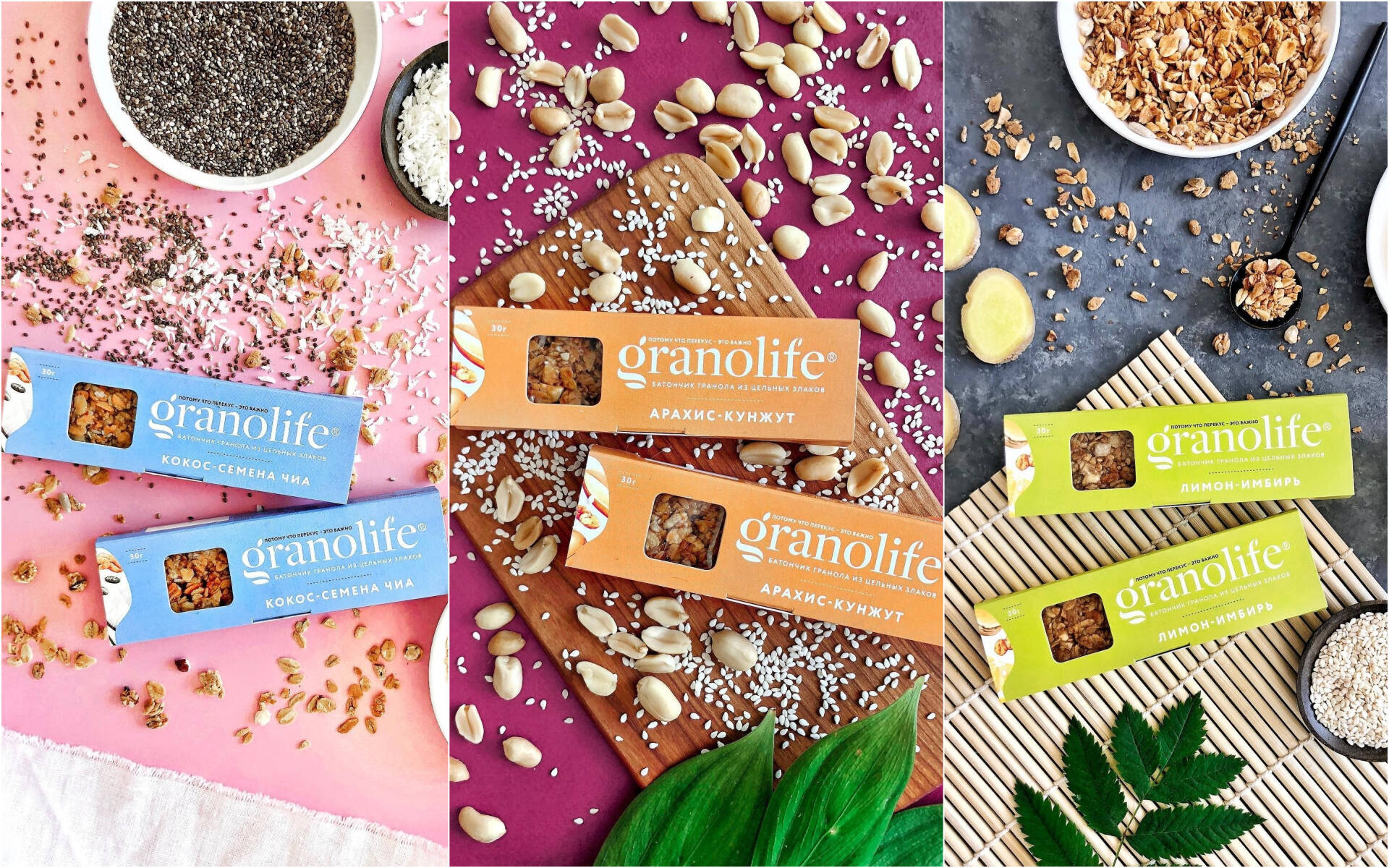 GRAIN BAR - a bar made from a cereal mixture baked with honey with the addition of nuts, dried fruits and freeze-dried berries.
Granolife grain bar is a common snack "on the go" for everyone, but unlike standard sweet bars, it contains only natural ingredients and is suitable for children. The assortment line consists of the most popular combinations, after all, eating should bring not only benefits but also a pleasure. Packing of 30g bar in a flow-pack. The gustatory line consists of six flavors:
Coconut-chia seeds,
Cherry-pumpkin seeds,
Cranberry-hibiscus,
Strawberry-flax seeds,
Peanut-sesame,
Lemon- ginger.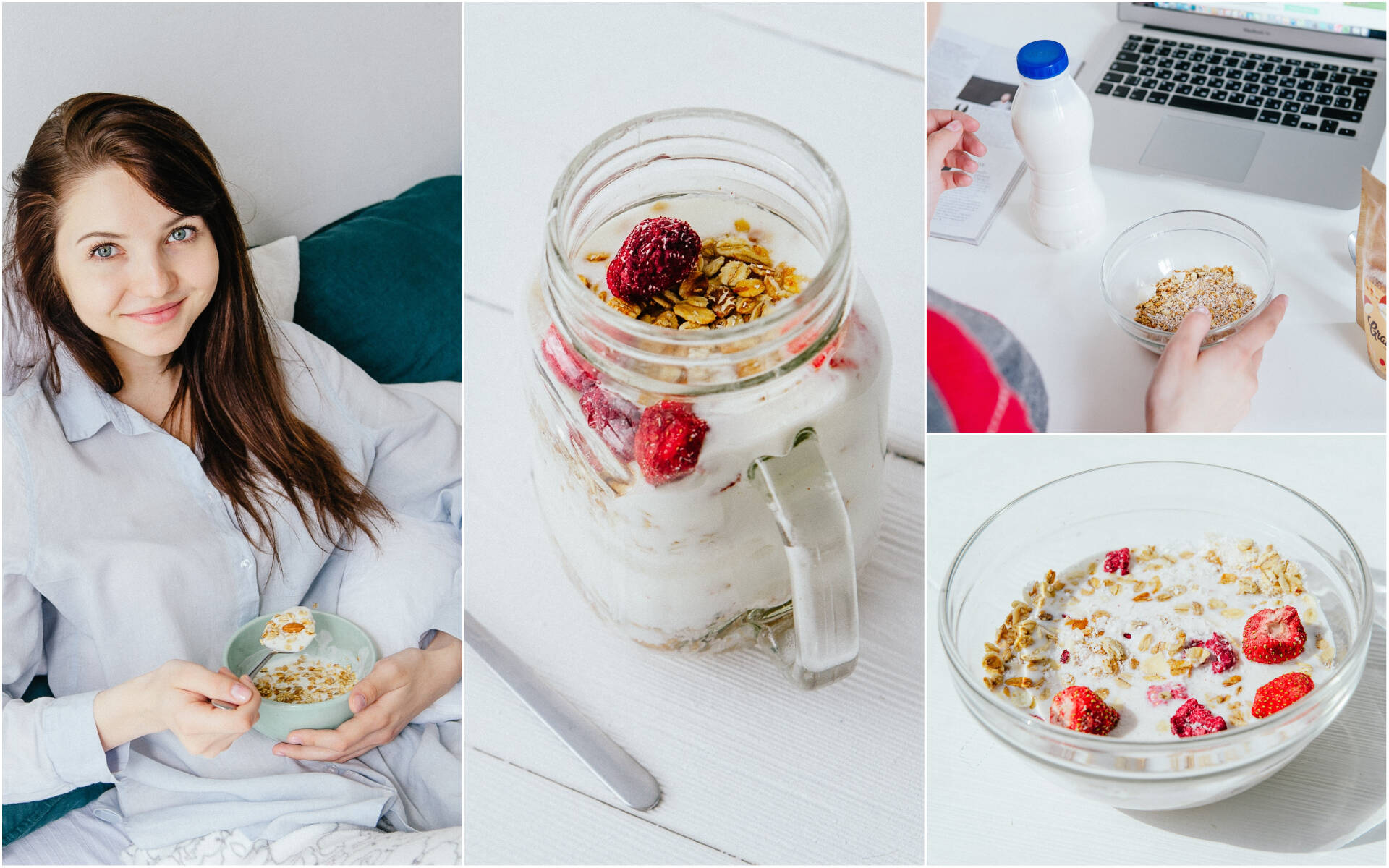 THE BEST INGREDIENTS
Oatmeal.  It is the richest source of protein and fiber, contains vitamins A, K, E, PP and B vitamins, as well as aluminum, boron, copper, calcium, magnesium, iodine, potassium, sulfur, phosphorus, nickel and iron ... It helps reduce cholesterol levels, improve kidney and liver function, as an enveloping agent, restore the mucous membrane of the gastrointestinal tract, relieve inflammation, and gently cleanse the intestines.
Honey. The company uses polyfloral flower honey, i.e. product collected by bees on herbs. Due to its high glucose content, it is of great benefit to the heart, blood vessels and blood. It also has a positive effect on immunity. This gives the body the resources to resist disease and successfully combat pre-existing ailments. And thanks to the presence of pollen, honey contains natural antibiotics that allow to cope with diseases provoked by microbes.
Berries. Freeze-dried berries, dried using a unique technology in a vacuum, retain 95% of the beneficial properties, taste and aroma of fresh berries.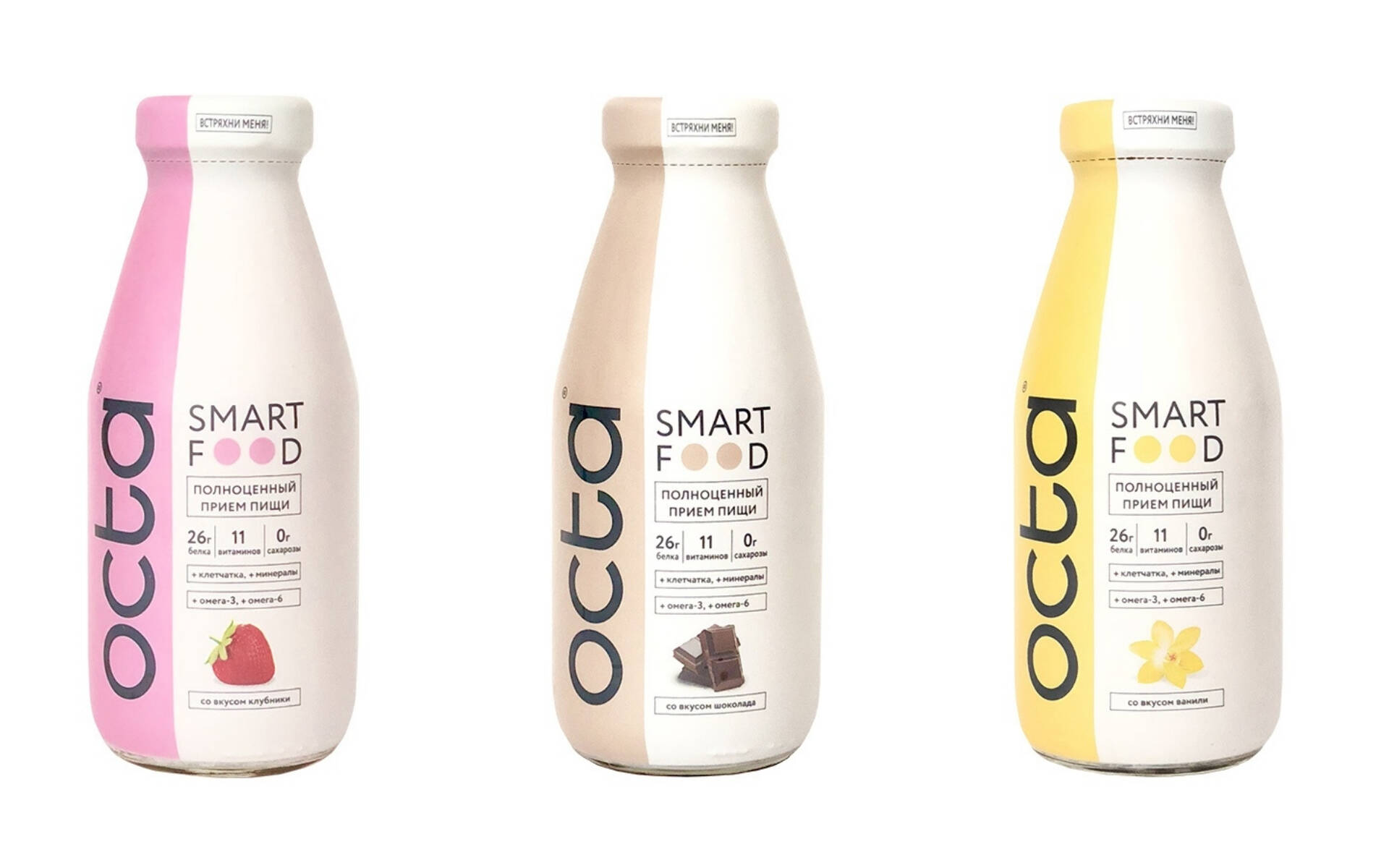 OCTA - Functional milk drink. A complete meal in one bottle. The first liquid smart food.
Mikhail Maksimov took data for calculating the nutritional value and selection of ingredients in scientific publications at the university library of Moscow State University which gave him free access. At first, the product was water-based, after which it was decided to produce OCTA with milk. OCTA is absorbed like regular food. The drink contains nutrients (essential amino acids come from casein and whey protein found in milk), fast carbohydrates and vitamins. It contains no trans fats, cholesterol, sugar (sucrose) and preservatives. The uniqueness is in the high quality of calories: the intake of nutrients into the body is optimally distributed over the time of assimilation of the product. Long shelf life is achieved by heat treatment.
Formulated using only high-quality ingredients from New Zealand, Germany and France, OСTA milk-based drink can quickly and efficiently satisfy hunger anytime, anywhere. One 330ml bottle contains all the nutrients the body needs and can replace a full meal. It is presented in 3 flavors: Chocolate, Strawberry and Vanila. Like everyone's favorite milkshakes since childhood, it contains only natural composition, and much healthier and more nutritious. OСTA is based on New Zealand protein and milk, which contains all the nutrients given to it by nature. Flaxseed, olive, sesame oils in this smart food contain Omega 3, Omega 6 and alpha-linoleic acid, which cleanses the body and promotes weight loss. It is ideal for professional athletes, sportsmen, for those who keep fit during and after training, and who are just trying to maintain a healthy diet. Low glycemic fructose and isomalt act like dietary fiber on the digestive system. Each bottle of OCTA contains 11 vitamins, potassium and magnesium. These substances are irreplaceable components of a healthy lifestyle.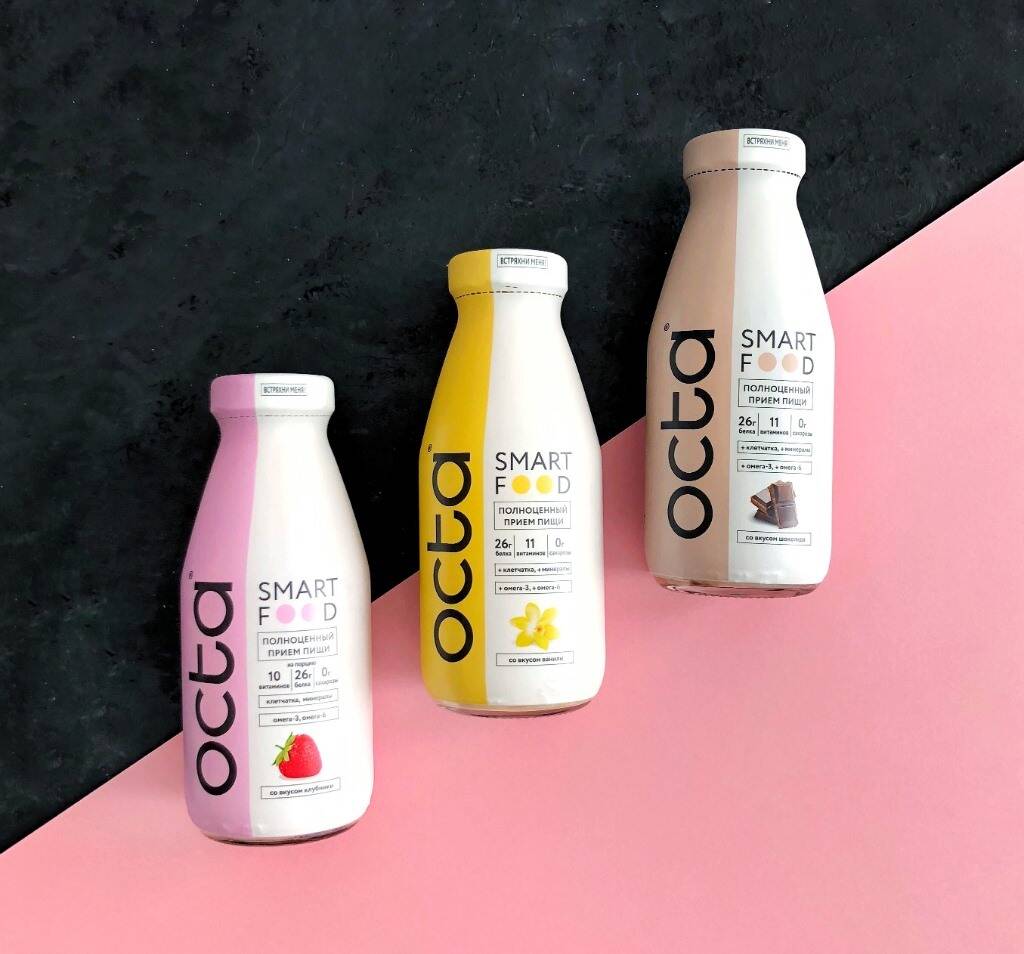 FOODTOBEGOOD
Based on the new realities that the market dictates, the team decided to launch an additional, affordable brand - FOODTOBEGOOD. Granola FOODTOBEGOOD is a cereal mixture baked with honey with the addition of nuts, dried fruits and freeze-dried berries. Muesli "FOODTOBEGOOD" is a cereal mixture with the addition of nuts, dried fruits and freeze-dried berries FOODTOBEGOOD products are available in 300g flow-packs and are presented in the following flavors: Granola "Raspberry - Flax", "Sea buckthorn - Chia" and muesli "Cranberry - Chia", "Pineapple - Sesame", combinations of understandable and exotic fruits, berries and superfoods is exactly what this brand is focused on. Also, the team is working on expanding the range of brands, which will soon include alternative milk, natural energy drink based on matcha tea and other trend products that are gaining popularity in Russia and abroad.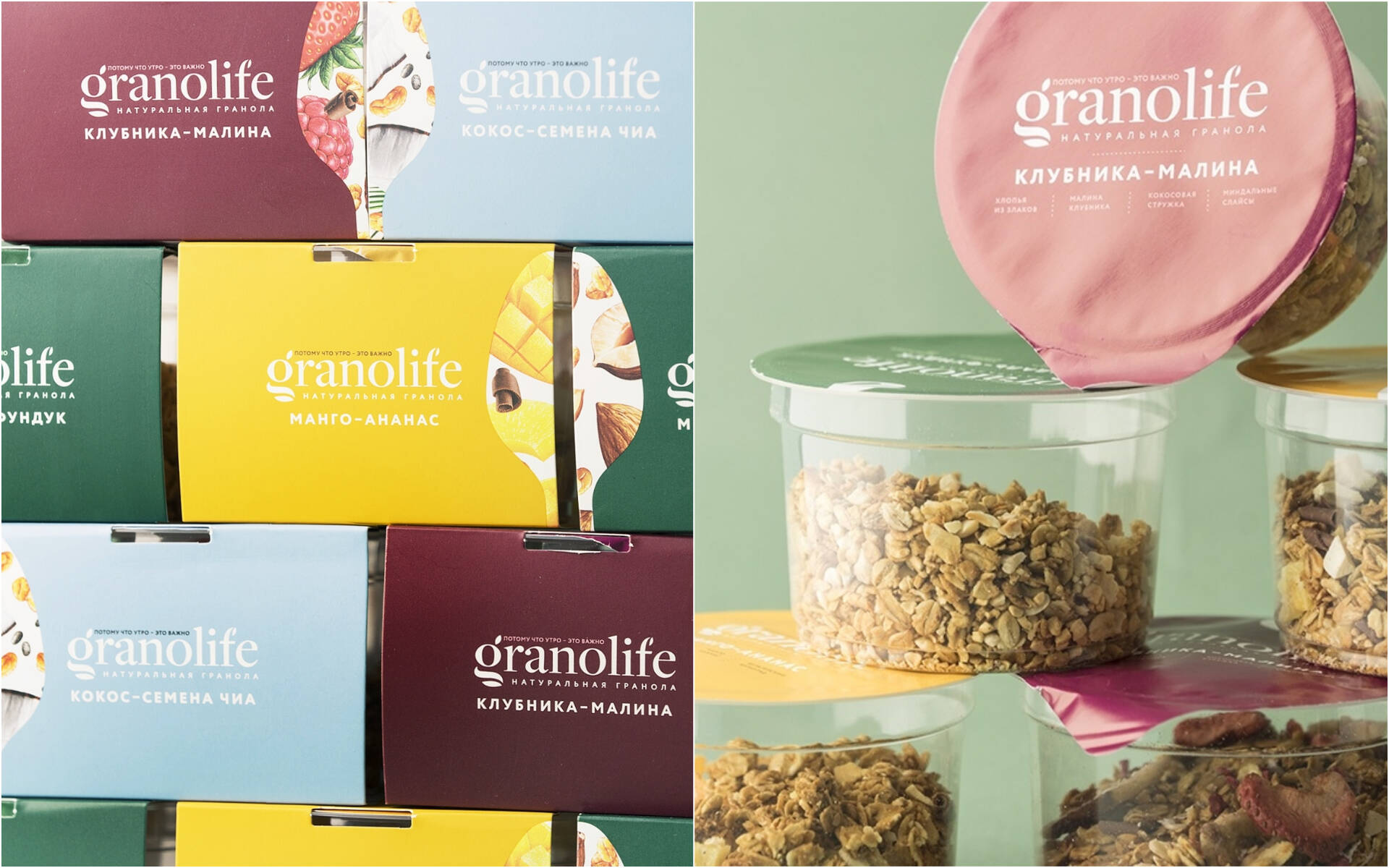 MARKETING AND SALES
GO FOODS actively uses influencers on Instagram and other social networks to draw attention to brands. Sales in FMCG are actively stimulated by promotional price reductions, which are beneficial for the end consumer (the most effective tool according to the GO FOODS team). In the summer of 2020, the company agreed on a large-scale collaboration with the artists of the BLACK STAR label, together with the leader of the Russian FMCG market X5 RETAIL GROUP, the artists will advertise the products through social networks and concerts by integrating brands into their daily life.
MEDIA AND AWARDS
GO FOODS publication in PEPSICO could be found by the link 
OCTA drink has entered the FORBES rating as a top product of 2019. More details by the link 
FORBES noted the project as one of the most promising in the Russian FMCG market. More details by the link.
GO FOODS on largest Russian media holding RBK by link
OСTA on VC by link
Granolife on Inc.russia by link
OCTA on Inc.russia by link