Invest in yourself and experience the change. This is the motto of itsme.now the top quality nutritional supplements develop by the German-based company Die NEMs GmbH. Nutritional supplements are a matter of trust - that's why quality is the company's top priority. Best raw materials, highest bioavailability and certified production, exclusively in Germany, are the basis for a claim to premium quality. The company offers to its customers a well thought-out concept with the highest quality products for health, well-being, weight loss and beauty. They can rely on competence and commitment and check themselves really good products that gain more and more trust of clients countrywide as well as worldwide.
Founders
Mara Kaiser-Kleespies and Marion Siegle are behind the German nutritional supplement brand itsme.now. The two power women are convinced that everyone can actively take their life into their own hands and grow with the demands of everyday life, school and work, regardless of age, figure or appearance. There is always a little more than one thinks can do. It just needed to be willing to change some things in life. The setting. The habits. The schedule. Sometimes just a little more awareness of one thing or another is enough to achieve greater well-being, balance and productivity. Of course, the topic of nutrition should be at the top of the list. But what gives us humans energy and should be the most efficient fuel is most often neglected. This is where the nutritional supplement concept from itsme.now can provide perfect support by helping to optimize inner strength and physical performance. Well thought-out and high-quality products complement the diet in a targeted manner and can be perfectly harmonized with daily challenges. The two founders place special emphasis on the trust of their customers and the premium quality of their supplements, which are produced exclusively in Germany.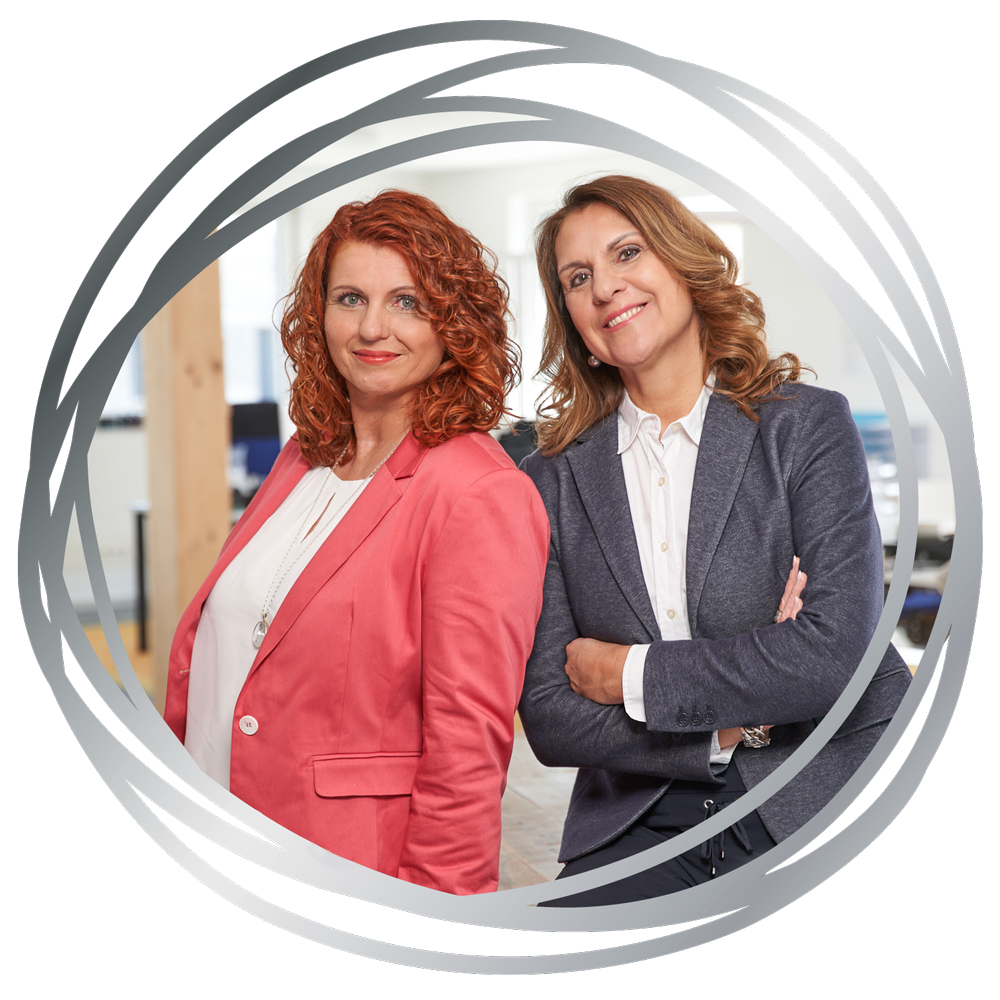 Mara Kaiser-Kleespies
Born in Göppingen, studies in Munich. Already stood on Mount Kilimanjaro as well as at the finish line of the Munich Marathon. In other words: She knows her inner pig personally. She has already experienced several times what one is capable of when mental power and an optimally supplied body work perfectly together. Experiences that were too good not to share. That's why she has made it her mission to support others in this process and is now contributing all her experience to the development of itsme.now.
Marion Siegle
Grew up in Bielefeld, studied in Paderborn. Loves skiing, red wine, humor and her family. Her daily mission: to balance job, pleasure and health. A constant multitasking challenge from which she derives real quality of life that can't be topped. That's what drives her. Now also helping others with itsme.now is the job she always wanted. Above all, to show that personal goals are not lost sight of in everyday life and that you can realize every day how much more value a life according to your own ideas is.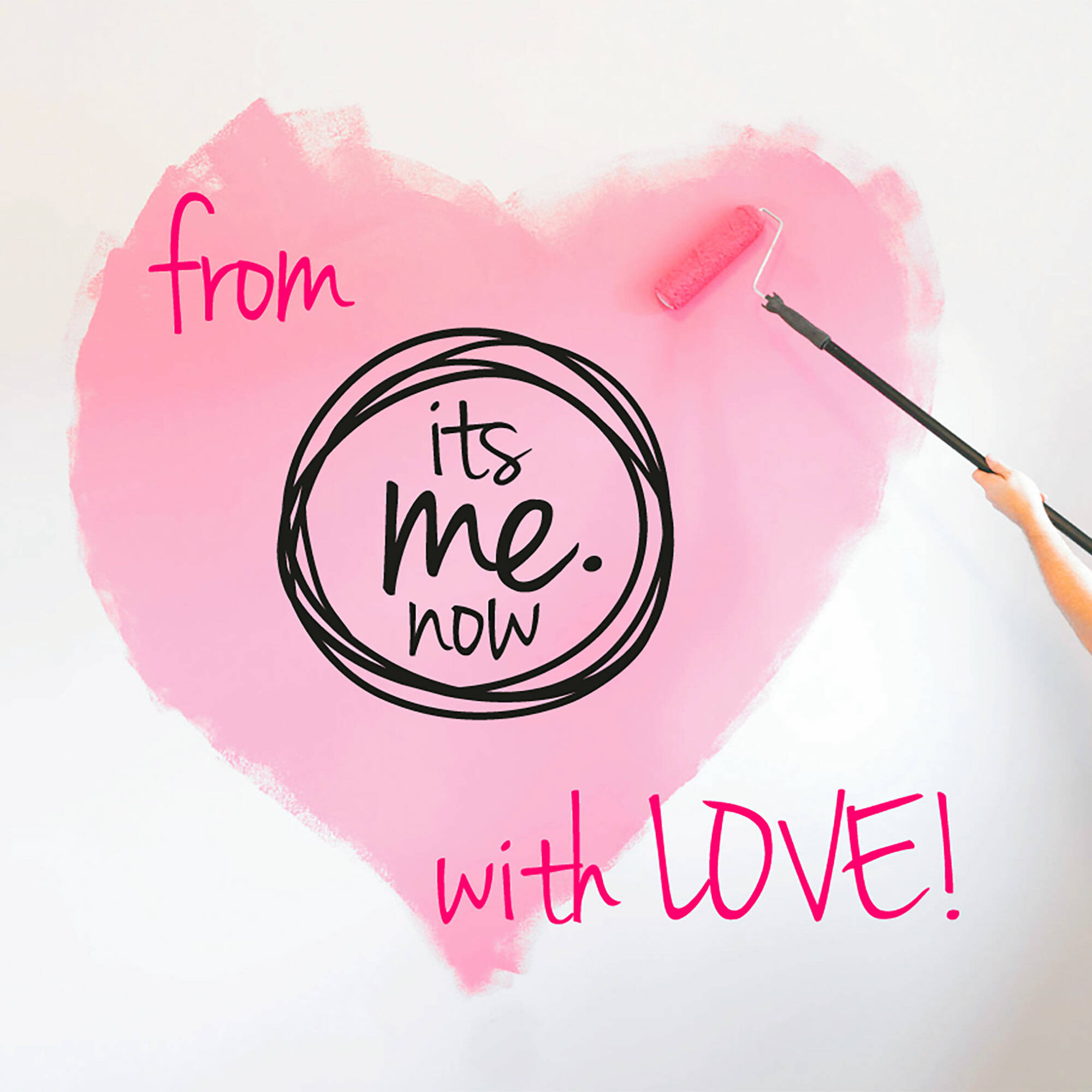 Brand
The brand's goal is one's well-being
itsme.now is a brand of Die NEMs GmbH. It is a distribution company with an extensive portfolio of high-quality nutritional supplements. What sets the team apart is the care with which it develops, produces, fills and ships the products to its customers in Germany. All of the products, whether natural vitamins, valuable mineral supplements, weight loss shakes or superfood drinks are vegan, pure, gluten-free and certified.

The company's versatile team consists of experts from the fields of nutrition, nutritional supplements, physiotherapy and alternative medicine. Together they develop products with know-how, a lot of passion and above all out of personal conviction, which has been successfully established on the German market for over 15 years.

They want to help their customers achieve a balance between the demands of everyday life and the needs of the body. This includes a balanced diet, regular exercise and sufficient sleep. But this balance is often not possible in everyday life. Here it makes sense to strengthen the body with high-quality nutritional supplements in a planned and targeted manner.

The company can proudly say: itsme.now is a clear, self-confident lifestyle brand for contemporary nutritional supplements in the premium segment. It offers every customer a holistic, well-rounded product experience of health, well-being and beauty. After all, once people have become aware of the value of their own health, they want to do something about it. Of course, they can't change everything at once. But what counts is the beginning - and that can always be: for example, now. This is exactly the philosophy of itsme.now.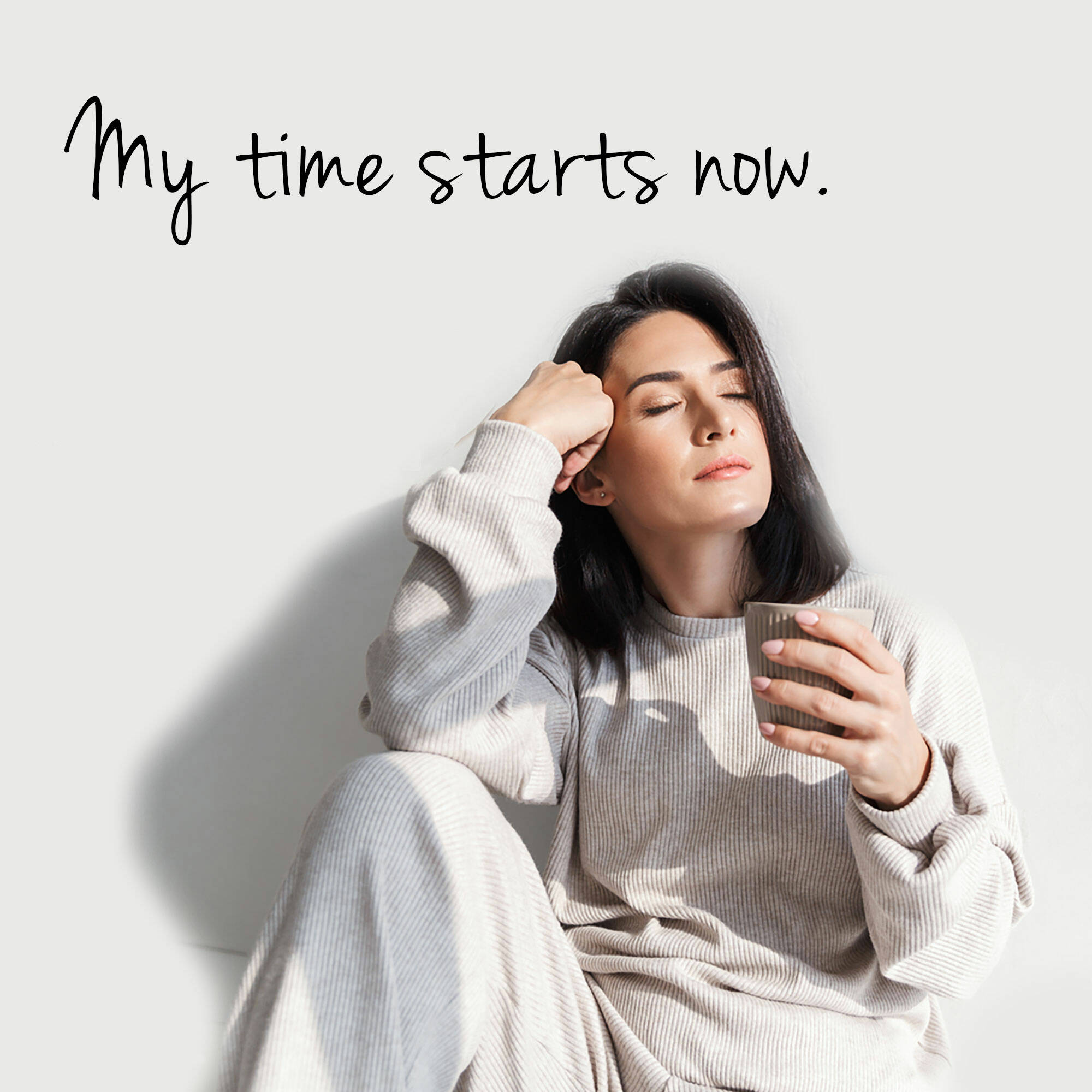 Story
Sometimes it takes a nudge to know if you're going the right way. Marion Siegle helped one of her two cats get going. The male cat, just a few months old, suddenly couldn't walk, his back legs constantly buckling. "We ran from clinic to clinic, from vet to vet, paid a bunch of money. But no one could help." A doctor finally advised Siegle and her husband to get carnitine and coenzyme Q10 and sprinkle them in the animal's food. "It didn't take a week," Siegle swears, "and the cat was moving again, becoming more and more agile, and after ten days the matter was eaten." For Siegle, this is an indication that dietary supplements can work, "because the cat doesn't know about the placebo effect."
She herself also overcame temporary sleeping problems with the help of amino acids and co. and is happy about firmer connective tissue. However, she had hardly dealt with this topic before. "The topic of nutritional supplements was more Mara's thing. She's always read a lot about it and is super knowledgeable." Siegle, on the other hand, is "the type who has to try something out and experience it for herself. And I felt that it changed many things in my body for the better."
Kleespies' interest and Siegle's experience had consequences: They founded the company Die NEMs GmbH and created the brand "itsme.now." The two friends have known each other since the 1990s. Both worked for the same Munich-based company for a good 20 years - Kleespies in e-commerce, Siegle in the press department. Colleagues quickly became good friends and business partners.
Now, the idea of selling nutritional supplements is not necessarily new. The industry is huge, and the competitive pressure great. In fact, some friends and acquaintances shook their heads. "Quite brave. How can you quit your secure jobs and get involved in a business like this,' many asked us," Siegle says. But the two friends were convinced that with their products, which were developed by experts and manufactured in Germany, they could "not only keep up with the market," but even stand out thanks to their high-quality standards and good price-performance ratio. Because a versatile team around the two founders consisting of specialists in the fields of nutrition, nutritional supplements, physiotherapy and naturopathy develops with know-how, a lot of passion and above all out of personal conviction products that perfectly complement the diet with all important nutrient concentrates.
The fact that some nutritionists and physicians doubt the necessity of food supplements in Western civilization, where every kind of food can be bought, does not bother the two friends. Theoretically, this is true, says Kleespies, "if you were to shove a home-grown carrot straight from the field into your mouth unprocessed."  But even then, constant use and overuse of the same agricultural land over a period of centuries has resulted in foods that are extremely poor in nutrients. The loss of vitamin A in apples, for example, has decreased by over 40% since the 1970s! Brand's highly cultivated vegetables contain only a fraction of vitamins and nutrients. Siegle also points out the necessary need for protein, which many people today want to cover only to a small extent through meat products.
This is where her amino acid product, which is "100 percent vegan," comes in. The two entrepreneurs are convinced of the quality of their products in the stylish, black-metallic cans anyway: They are constantly checked by certified laboratories, says Kleespies, "after all, these are products that we give to our children and take ourselves. Something else is important to her: "Our products can be combined with each other in any way, without overdosing any ingredient, for example zinc." The company completely avoids preservatives, artificial sweeteners and flavors, gluten, lactose, wheat, soy, milk ingredients, egg and the controversial magnesium stearates.
The start-up company's driving force is its aminolife system. Siegle explains how it works. "We actually have something there that no one else has! The basis is L-Amino Basix. It contains all 8 L-amino acids that the body cannot produce itself, but urgently needs every day to form vital proteins (albumin). Thus, an optimal protein supply is guaranteed and all nutrients reach the cells better and faster. This basis combined with other valuable vitamins, minerals and trace elements then makes the whole thing really efficient and really gets the body going!"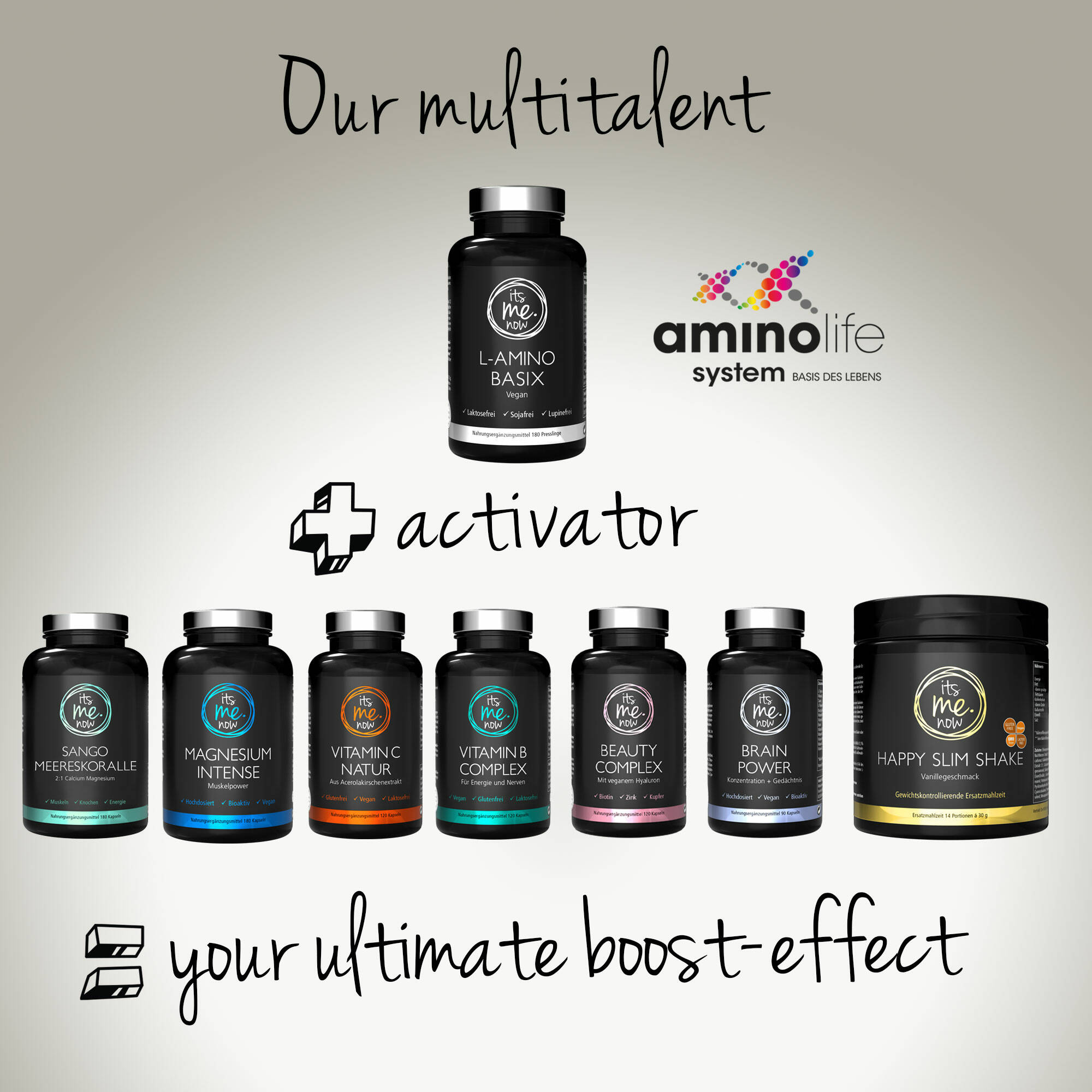 Representative products & prices
L-AMINO BASIX  => RRP 26,90 € (content 180 pellets)
A true multi-talent - Basis for protein formation
the perfect amino acid profile for strength, performance and regeneration
the ideal supply of all 8 essential amino acids
supports muscle building and fat reduction, reduces cravings
you can take it as a cure or permanently
suitable for vegans and vegetarian
The vegan L-Amino Basix consists of eight essential amino acids, which the body itself cannot produce but are urgently needed to form proteins. Proteins are many bodily functions and ensure that all nutrients reach your cells better and faster. If you combine L-Amino Basix with other itsme.now products you get a boost effect that makes you fitter, leaner and more balanced. For more info on all products, visit the official webpage of the company itsme-now.de
BEAUTY COMPLEX => RRP 26,90 € (content 120 capsuels)
Beauty from within - Awaken the goddess in you
supports a firm skin texture
with vegan hyaluron
vital hair and strong nails
protects the cells from oxidative stress
suitable for vegans and vegetarians
The balanced formula of purely plant-based raw materials moisturizes your skin, giving it more tone and a more youthful appearance. With golden millet, which has a high content of silicon (silica) and with the B vitamins vitamin B5, vitamin B6, vitamin B7 (biotin) is considered a beauty and healing food, as well as zinc (zinc contributes to the maintenance of normal nails) and copper (copper contributes to normal hair pigmentation).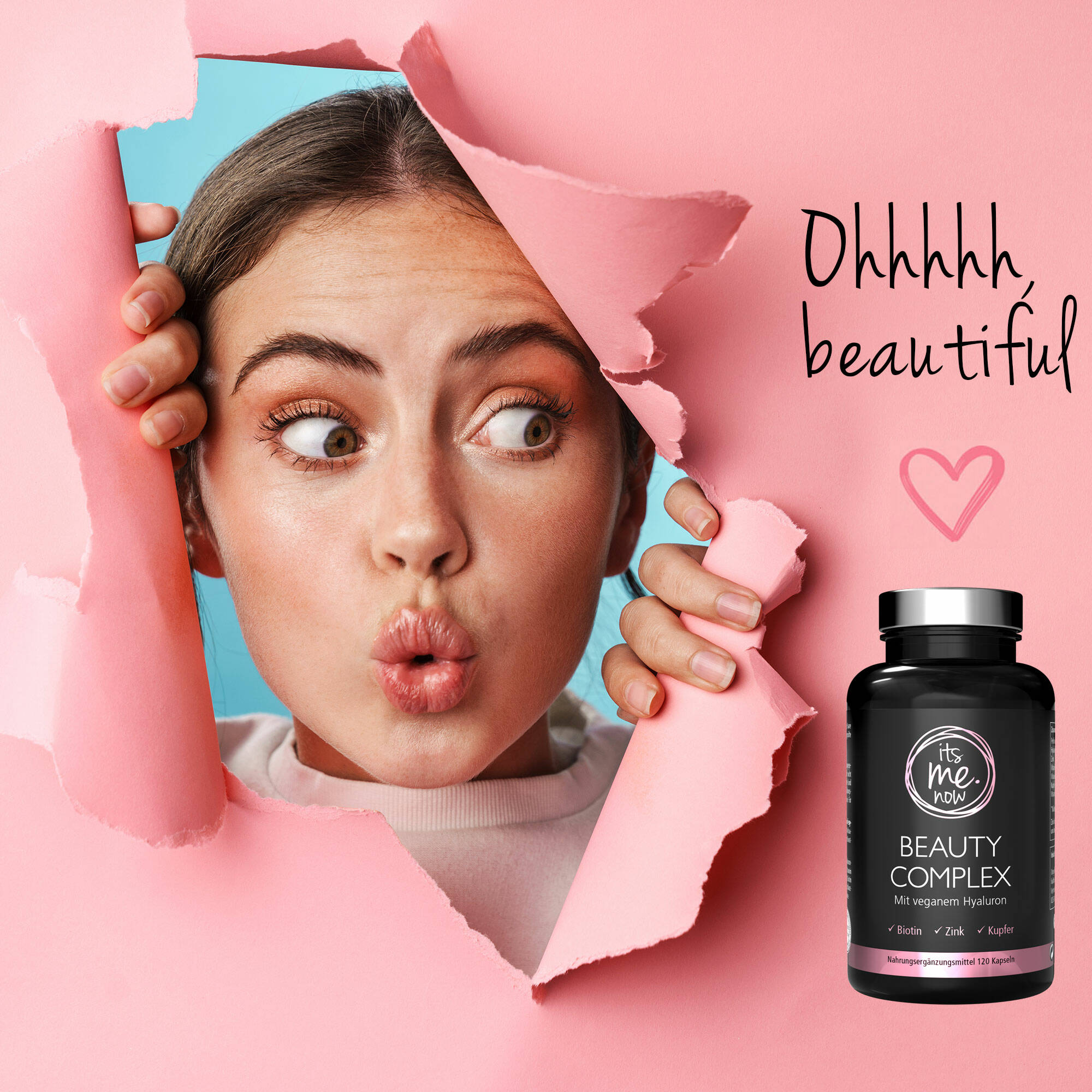 HAPPY SLIM SHAKE => RRP 17,90 € (content 420 g powder / 14 servings)
For a good shape – shake your body
VEGAN protein shake for weight loss with pleasure
Protein booster that keeps you full for a long time - with only 230 kcal per meal
vegetable protein source from rice and pea proteins
high-quality substitute meal or sweet snack for in between meals
different flavors
The well-balanced meal substitute contains everything ones body needs. This ultimate diet shake helps you reach or maintain your desired weight in a sensible way. In addition to sports, sufficient sleep and a healthy diet, the Happy Slim Shake is a tasty and effective companion that makes your life "lighter". With 22.5 g of protein per meal, you provide your body with a boost of the highest quality vegan protein gained from rice and pea proteins.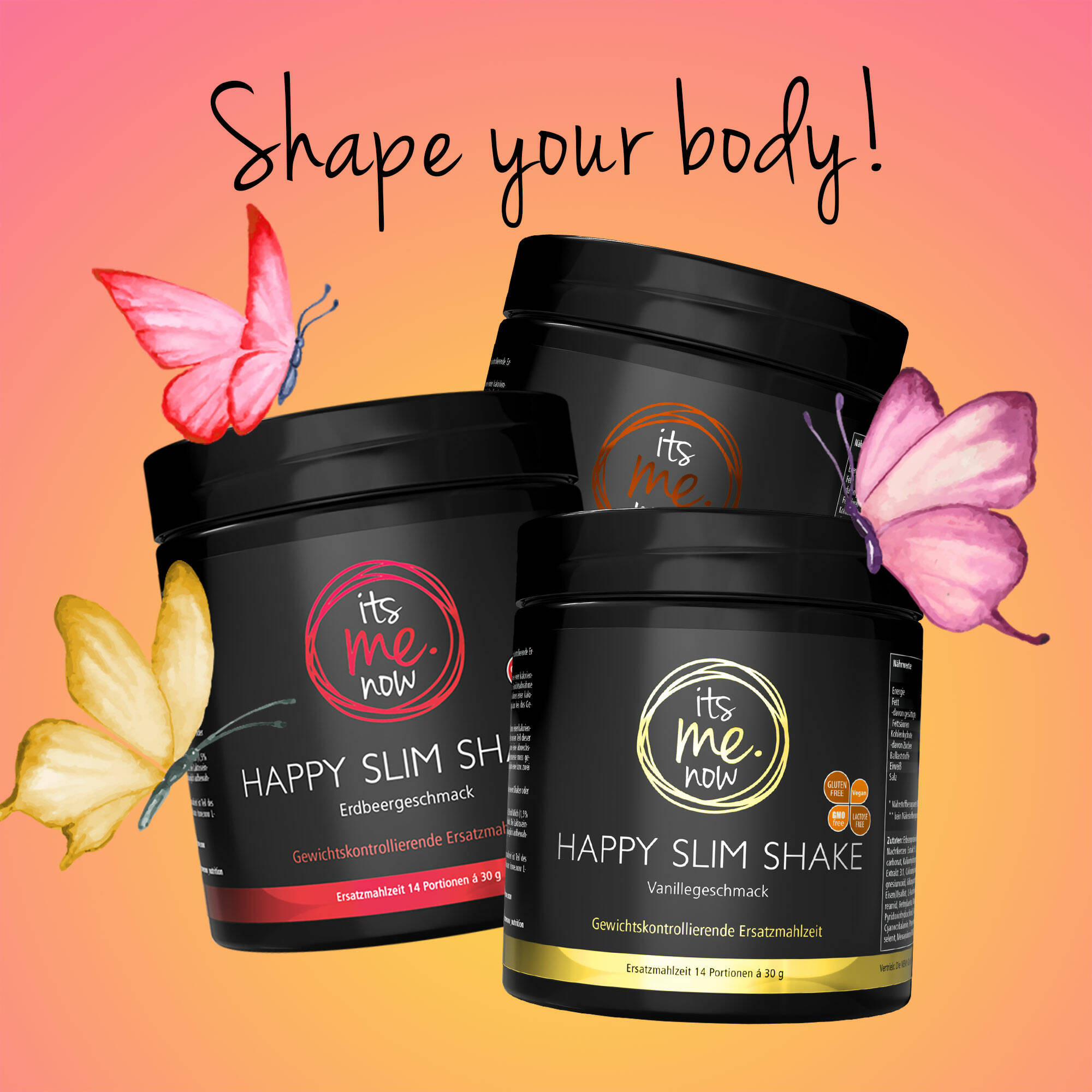 LEBER VITAL COMPLEX => RRP 24,90 € (content 90 capsuels)
Detox cleaning from inside - Detox your body and gain new energy
supports, activates and protects the liver function
promotes detoxification of the liver
contributes to a normal fat metabolism
contributes to a balanced digestion
with the super antioxidant alpha lipoic acid
The liver is the metabolic center and the central detoxification organ. It regulates over 500 vital tasks in the body. Among the most important are fat metabolism, digestion and energy balance. The such valuable and unique formula keeps one's liver healthy and powerful - it has cleansing, stimulating, regenerating and stabilizing effects.
OPC NATUR PREMIUM => RRP 26,90 € (content 180 capsuels)
Grape seed extract - the concentrated power of nature
very high OPC content of 440 mg per daily dose
made from premium quality French grapes
optimum bioavailability
pure vegan and natural
the perfect combination to Vitamin C Natur
OPC (oligomeric proanthocyanides) is an excellent antioxidant that protects your cells from free radicals and oxidative stress. The vital substances of grape seeds can also have a positive influence on the skin, the cardiovascular system, or the fat metabolism. If you combine OPC with Vitamin C Natur you increase the positive effect of the grape seed extract.
GREEN MORNING => RRP 27,90 € (content 450 g powder / 22 servings)
The green superfood drink - natural energy for your day
100% vegan plant power
perfect coffee substitute
rich in micronutrients
satisfy hunger quickly due to high protein content
fruity delicious & quickly prepared
The concentrated green power combo is the high-quality energy dispenser for body, mind and soul. The superfood drink kicks your metabolism and makes you perky - in the morning or in between: with barley grass, hemp seeds, maca, moringa, green tea extract, spirulina, reishi - the king of mushrooms and fenugreek.
IMMUN COMPLEX => RRP 19,90 € (content 120 capsuels)
Immune tuning - strong natural protective shield
exquisite combination of zinc, selenium and chromium
source of supply for a strong immune system
vegan and with an ideal bioavailability
tested quality with satisfaction guarantee
small, easy-to-swallow capsules
Essential micronutrients like zinc, selenium and chromium assume an outstanding function in the processes of the immune system and are involved in over 5000 metabolic processes. Zinc, for example, is needed for cell division and reproduction. Selenium contributes to the normal functioning of the thyroid gland, is important for hair and nails, and protects the cells from oxidative damage. Chromium controls the carbohydrate metabolism and influences cholesterol level, protein metabolism and cell division.
KURKUMA SUPREME => RRP 19,90 € (content 60 capsuels)
The golden turmeric root - namasté, a wonderful gift of nature
helps neutralize free radicals
boosts the immune system
suppresses appetite
gastrointestinal health
anti-inflammatory
Turmeric is THE superfood and it is impossible to imagine Ayurvedic medicine without it. It has a lot of valuable healing potential and provides in the form of curcumin and many other vital substances and delievers real added value for beauty and health. Purest turmeric extract with its premium partner fenugreek and manganese guarantees the most effective absorption of curcumin in the body.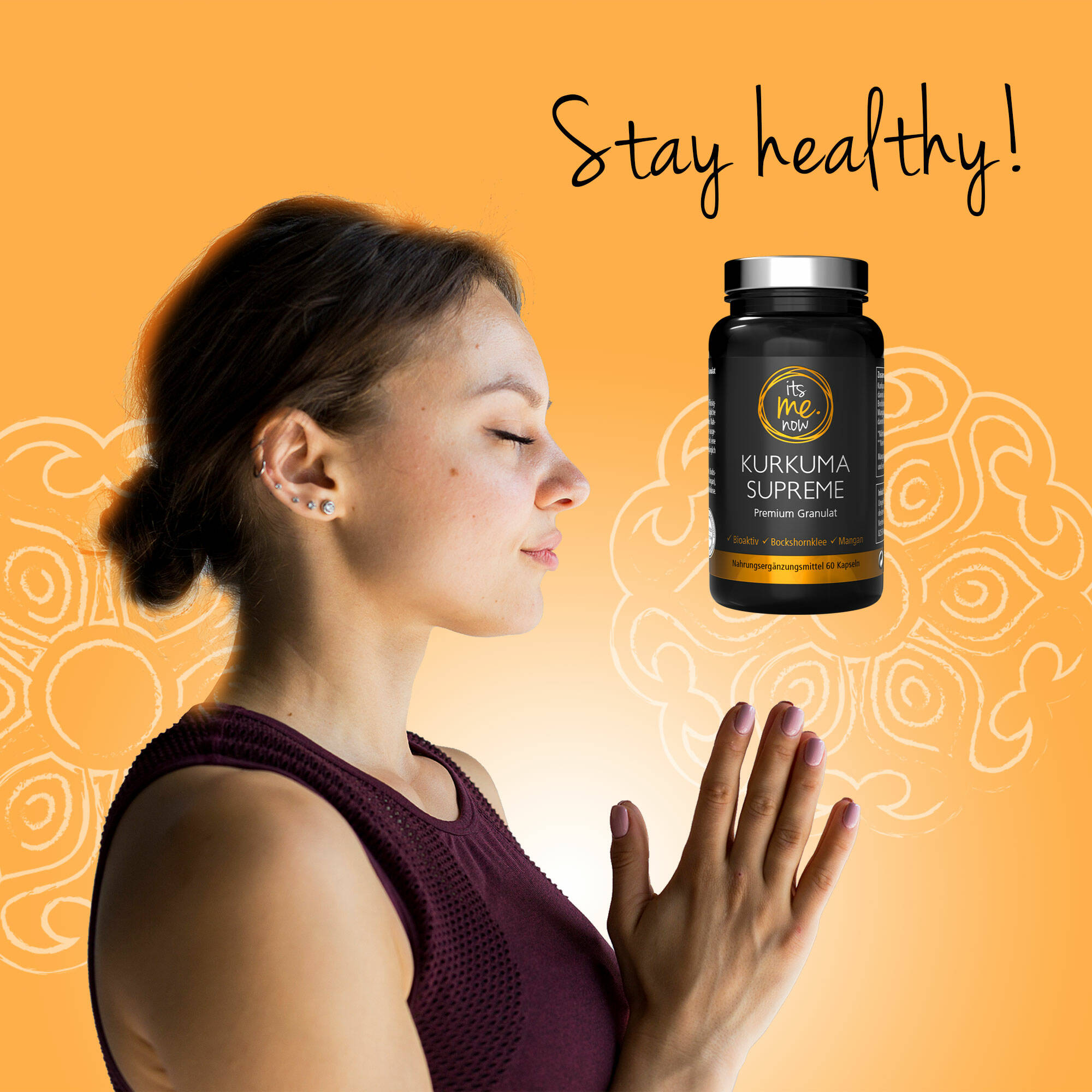 BRAIN POWER => RRP 27,90 € (content 90 capsuels)
Strong brain tuning - focus & memory
high-dose nutrient combination
for mental performance
focus and memory
reduction of fatigue
vegan and bioactive
No matter what situation you have to manage, mental strength is always required. The high-quality plant compounds we carefully composed such as Bacopa monnieri (herb of grace), vitamins and amino acids help you to perfectly exploit your potential - at work, in everyday life or in sports.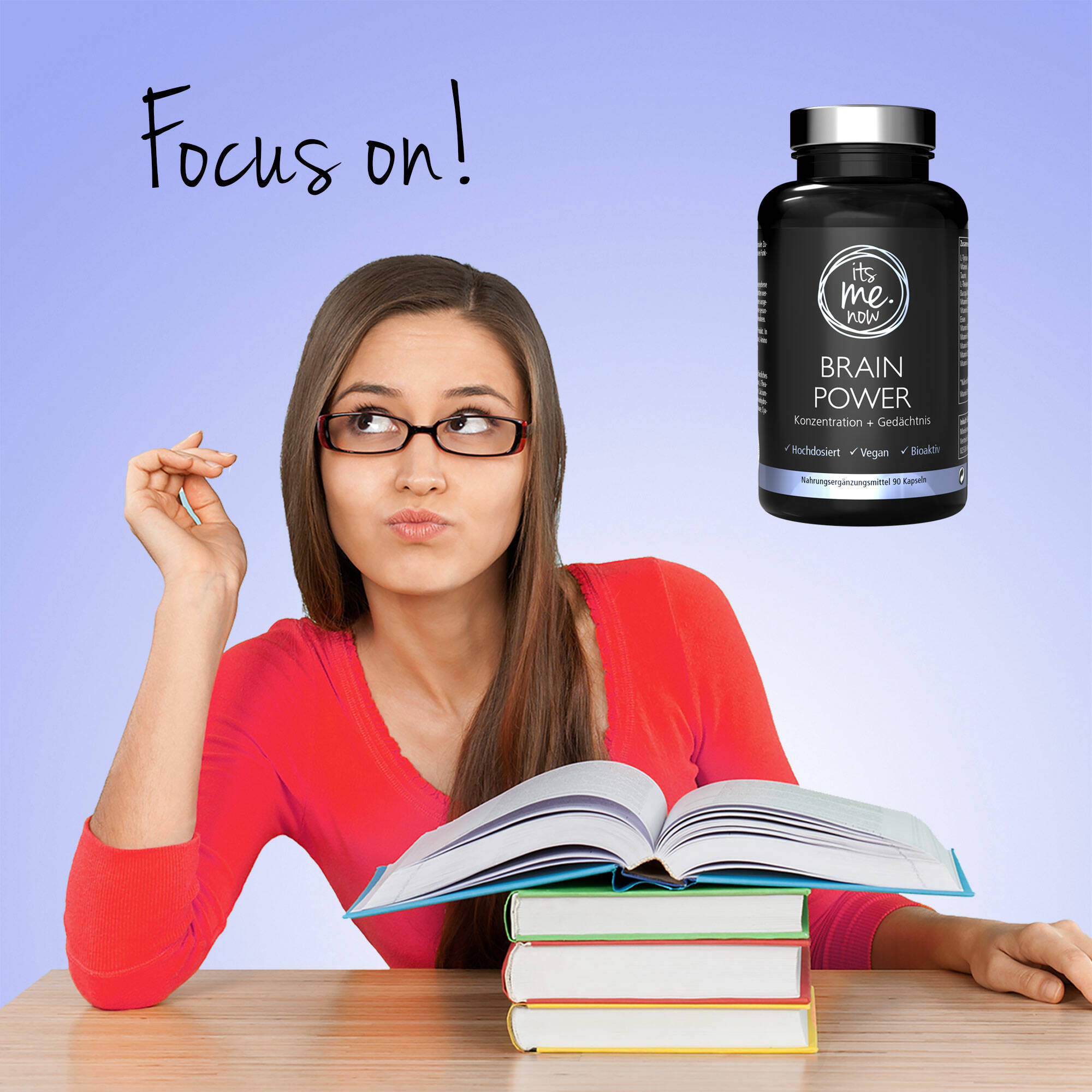 MAGNESIUM INTENSE => RRP 17,90 € (content 180 capsuels)
The power mineral - the cell's power plant
supports muscle and energy metabolism
high dosage of 600 mg per daily intake
particularly high bioavailability
suitable for vegetarians and vegans
tested quality with a satisfaction guarantee
Magnesium is one of the most important minerals in ones body. Whenever energy and muscles are involved, the metabolism needs the right kind of power. That is why magnesium deposits should be specifically enriched on a regular basis. This product contains magnesium oxide, which is particularly bioavailable, i.e. it can be very well absorbed and utilized by human organisms.
Branding & Design
Brand message: it's time to take care of you. When, if not now?
The brand helps each one become the best version of themselves - be special, not perfect.
Goals: 
Health satisfaction: New life awareness - self-determined
Inspirations and solutions to increase the quality of life for body and soul through targeted nutritional supplementation.
Self-confident - I feel good in my body
Self-responsible - I am ready to do something for it myself
Self-optimized - I am getting closer and closer to my goal
The responsibility for my health, my well-being and for my performance lies with myself. I choose to live well, to be my best ME and focus on strengthening my resources. 
Reason why
itsme.now products appeal to everyone, because the focus is on the "I"
The noble packaging appeals to me
Quality Made in Germany creates trust
Natural raw materials
Free from: Lactose, soy, gluten, artificial sweeteners etc.
Consumer insight / reaction
itsme.now is cool, modern and inspires me.
itsme.now seems credible & competent to me, so I trust them.
itsme.now has an extensive assortment, here I get a real desire to store.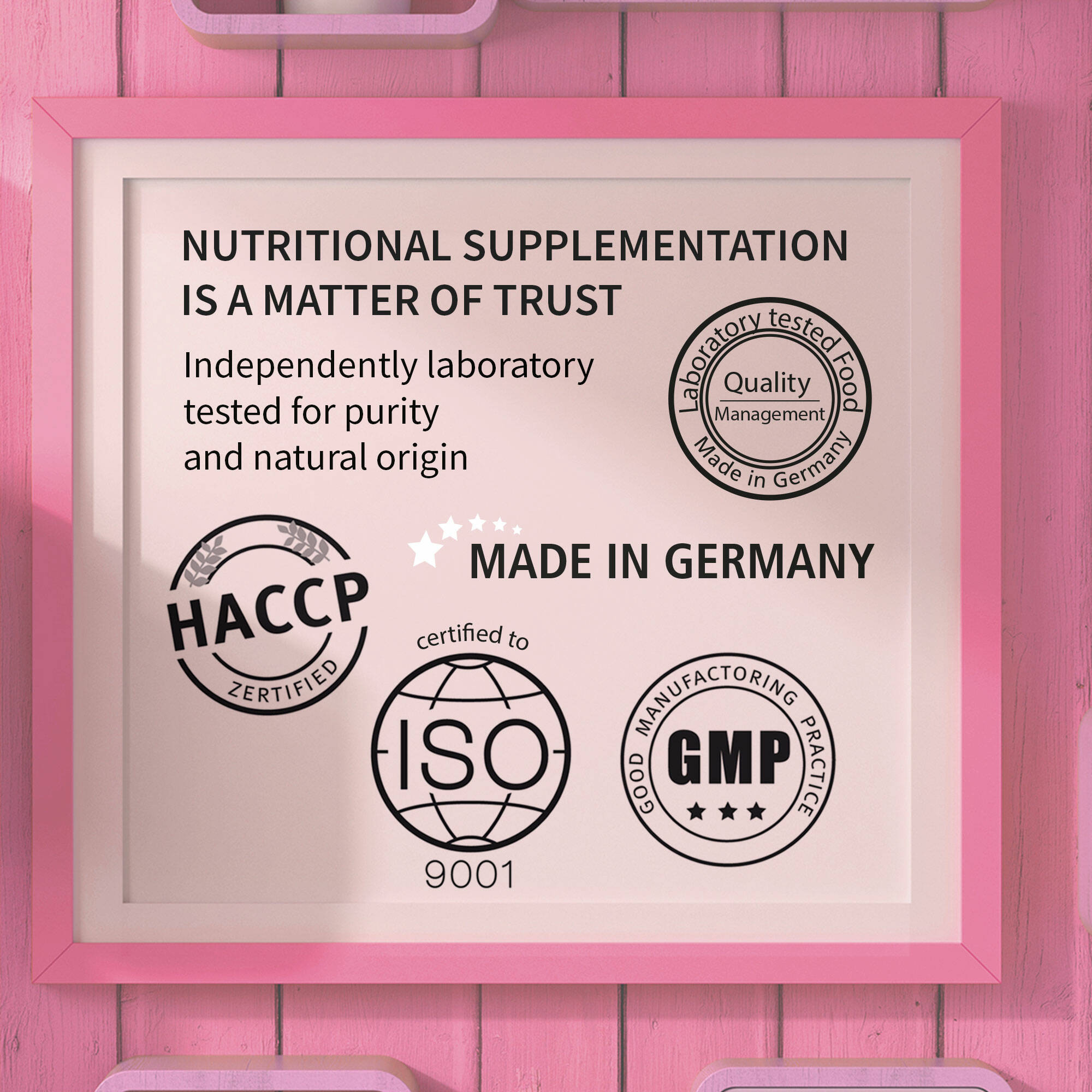 Marketing & Sales
The lifestyle brand its me.now belongs to Die NEMs GmbH. This was founded in 2018 and is based in Geretsried, south of Munich. Die NEMs GmbH is a distribution company (B2B and B2C) with an extensive product portfolio of high-quality nutritional supplements that stand for quality Made in Germany. The team consists of experts in the field of nutrition & dietary supplements as well as physiotherapists & alternative practitioners. It develops products with a lot of know-how and passion, which have been very successfully established in the German market for over 15 years. In the B2B sector, it specializes in private label. Here, individual label designs are developed for all products in the range at the customer's request, but also customized formulations for completely new products - all info on www.die-nems.de.
In the B2C sector, the brand itsme.now was created and launched in early 2019. It will be sold in its own online store, via Amazon, at Flaconi and soon at Douglas.

The main marketing channels are:
Marketing activities in social media such as Facebook and Instagram
Google Ads
Google Shopping
Cooperations with micro-influencers and product testers
A PR agency supports us in the cooperation with journalists (PR publications, press appointments, trade fairs)