LUNA MICROCARE® is a London-based innovative skincare brand born in 2019, which utilizes the patented Micro Channel Patch technology and revolutionary formulations with clinically proven results. Its pioneering formulations aim to provide a surgery-free solution for various skin concerns. The focus at Luna Microcare is understanding changes in the skin's appearance and creating solutions that overcome the limitation of conventional skincare products. All brand products are based on natural hyaluronic acid in the form of self-dissolving micro-cones. The microstructure concentrates and precisely delivers the active ingredients to target areas of concern for improving the targeted skin condition. Luna's products address various skin conditions, including ageing, wrinkles, expression lines, dark spots, hyperpigmentation, acne, hormonal breakout, and whiteheads. The fact that they address a wide variety of skin concerns makes it possible for everyone to use the products, making Luna Microcare an inclusive brand.
THE BRAND
All science-backed products are a result of  Imperial Bioscience Laboratories, a research and development company specializing in Aesthetic Medicine Solutions. Imperial Bioscience Limited was founded in 2016 by Dr Muhammet Avcil and is a biopharmaceutical company committed to developing and commercializing innovative therapeutics to provide life-enhancing treatments. Imperial Bioscience has grown rapidly over the last five years, with a dedicated research and development team of professionals in biotechnology and transdermal delivery systems. The development of new products is science-led, driven by research and results. The core values of the company are innovation and invention; its products reflect these ideologies through the continued creation and use of new, patent-protected technology to produce best-in-class therapeutics that make real, palpable differences in the lives of many. Imperial Bioscience is unique in its market, producing clinically proven products with results published in highly regarded journals.
The founding principle of Imperial Bioscience is closely connected with the biotechnology researchers; aspirations to transform ideas confined to academic papers or remaining in the laboratory into practical products. Traditional methods of delivering drug substances (active ingredients) into the human body include orally administered medicines, injections, ointments, and patches.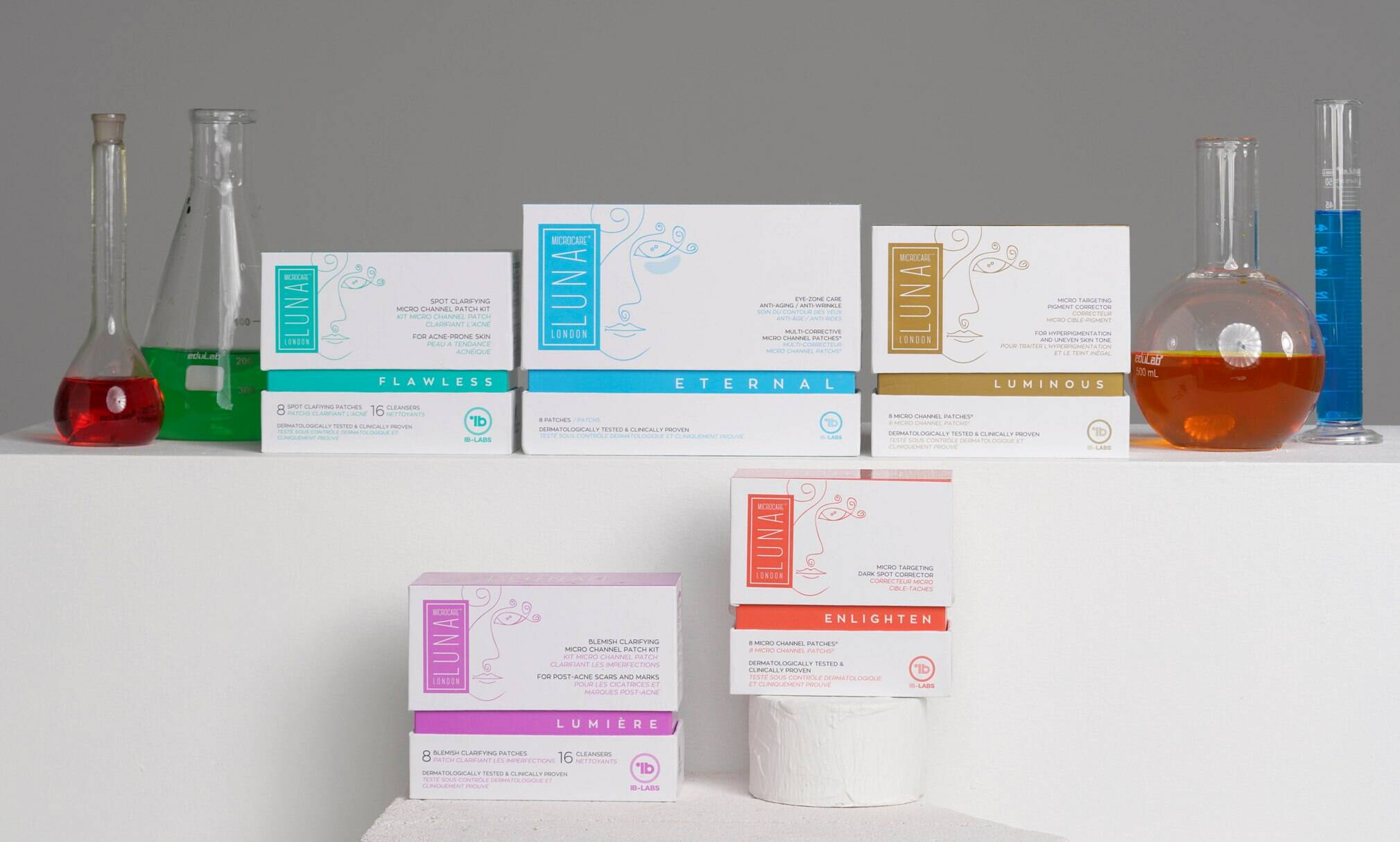 The "dissolving microstructure" developed, produced, and commercialised by Imperial Bioscience has enhanced the existing drug delivery system, making it not only safer and more convenient but also more efficient in the delivery of active ingredients. This new delivery system developed by Imperial Bioscience will lead to significant change and maximize convenience in peoples' daily lives. This will allow many people to maintain their youth and beauty by delivering active ingredients more effectively than conventional methods as well as more safely and conveniently than medical procedures and treatments.
Imperial Bioscience sells under the Luna Microcare® brand. The brand prides itself on helping people to maintain their youth and beauty more effectively than through traditional cosmetic applications, more safely and conveniently than clinical interventions. The company always strives to bring together science, technology, and beauty.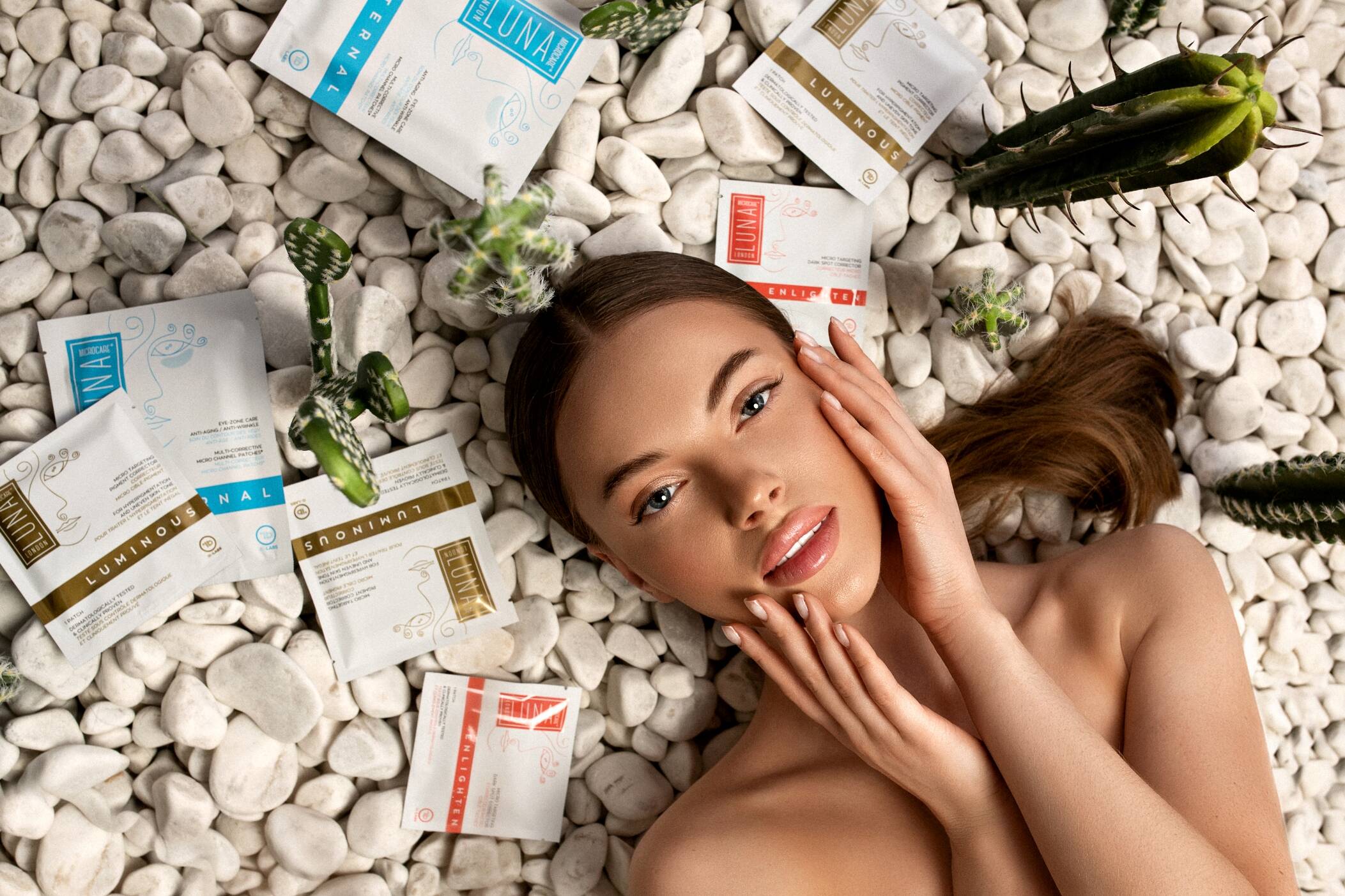 PRODUCTS AND PRICES
SELF-DISSOLVING MICRO-CONES
Ingredients-filled microstructures are gently dissolved within two hours of application.
REVOLUTIONARY FORMULATIONS
Luna's vegan formula is made of a specialized synergistic blend, which includes ingredients such as salicylic acid, hyaluronic acid, tranexamic acid, marine extract mix, and etc.
HOW AND WHY THESE PRODUCTS WERE DEVELOPED?
In all topical applications, the main complication appears to be the absence of effective delivery of the active ingredients to where they are needed most. Nutraceuticals can provide vitamins, carotenoids, and fatty acids to help with many skin issues. However, with the wrong application, they can result in a lack of stability and poor diffusion of most compounds through human skin. Specifically, bioactive proteins and peptides, which do not normally permeate through the skin due to hydrophilic nature and molecular weights and thus, have not reached their full potentials in cosmetic industry.
With hyaluronic acid-based microneedle patches, the possibility of effective delivery of active proteins and peptides has presented great opportunities for achieving desired results for skin care. The patches provide subtle and sentinel means to delivery bioactive ingredients deep into the skin with retaining intact and active forms. The formula of the micro needle was also unique and required extensive research by the team at Imperial Bioscience to ensure the ingredients and bio-actives chosen were effective at reducing various skin concerns. Furthermore, the ingredients had to be compatible with each other when formulated and the correct ratios were determined to optimize the tangible skin benefits.
In recent years, an innovative transdermal delivery technique has attracted great interest for its ability to distribute cosmeceuticals for several applications, including biomolecules for skin-related problems. The new developments in both biomolecules and micro needle delivery system have presented an opportunity for tackling skin concerns varying from acne to premature skin ageing. In addition, the innovative microstructure technology overcomes the skin diffusion limitations for optimum results that raise the bar for performance and safety. The brand is proud to call itself cruelty-free and vegan!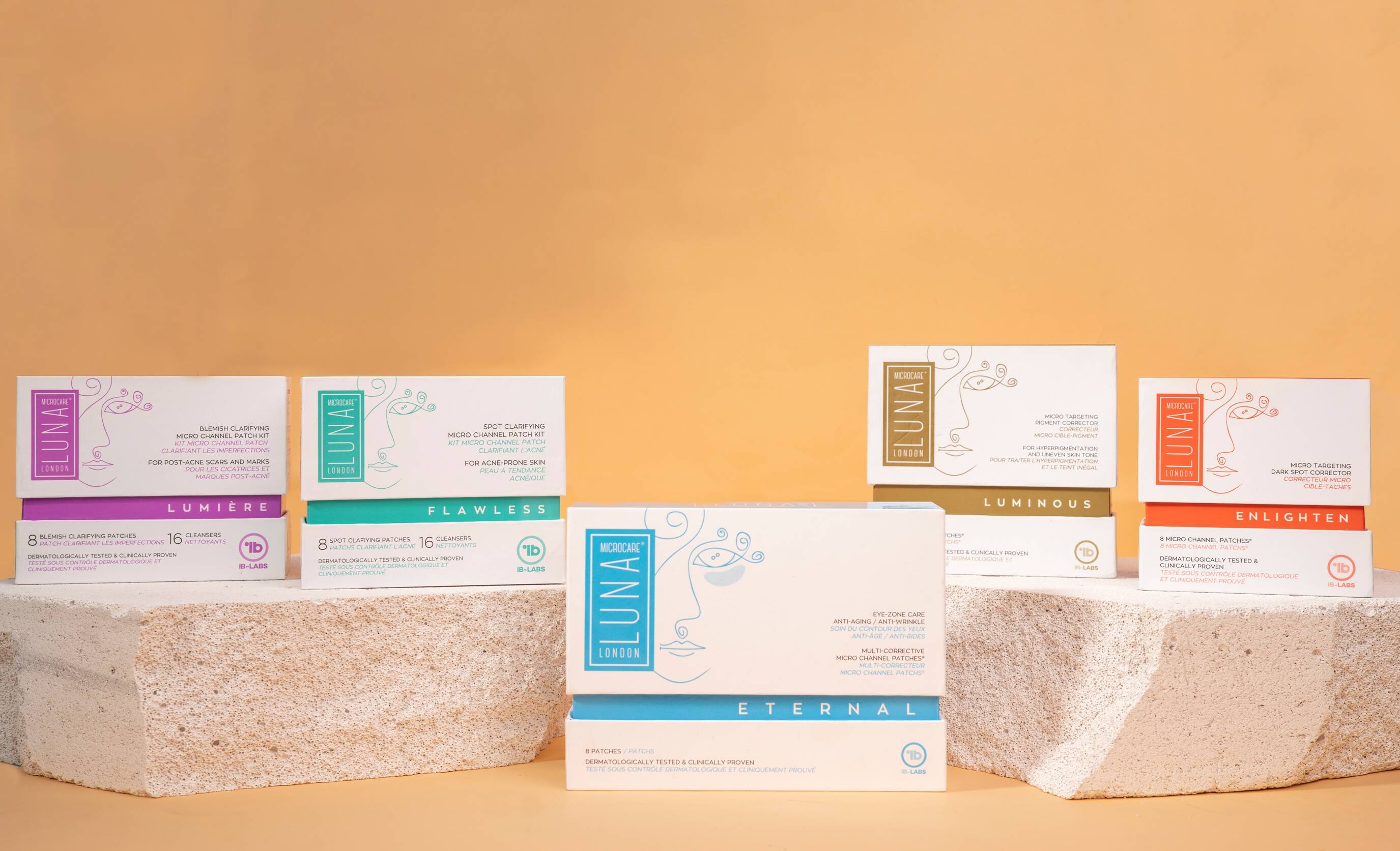 PRODUCTS
1. ETERNAL (8 patches) Recommended Retail Price (RRP) £120
Properties:
Eye-zone care
Anti-aging
Anti-wrinkle
Action:
Reduces the appearance of fine lines
Visibly smooths wrinkles
Improves hydration
Restores skin density
Improves skin thickness
Collagen boosting actives
Nourishes and strengthens
Created as a non-invasive treatment, it releases the unique and synergistic blend of active ingredients into the skin via microchannels to ensure an immediate and long-lasting youthful look and beauty.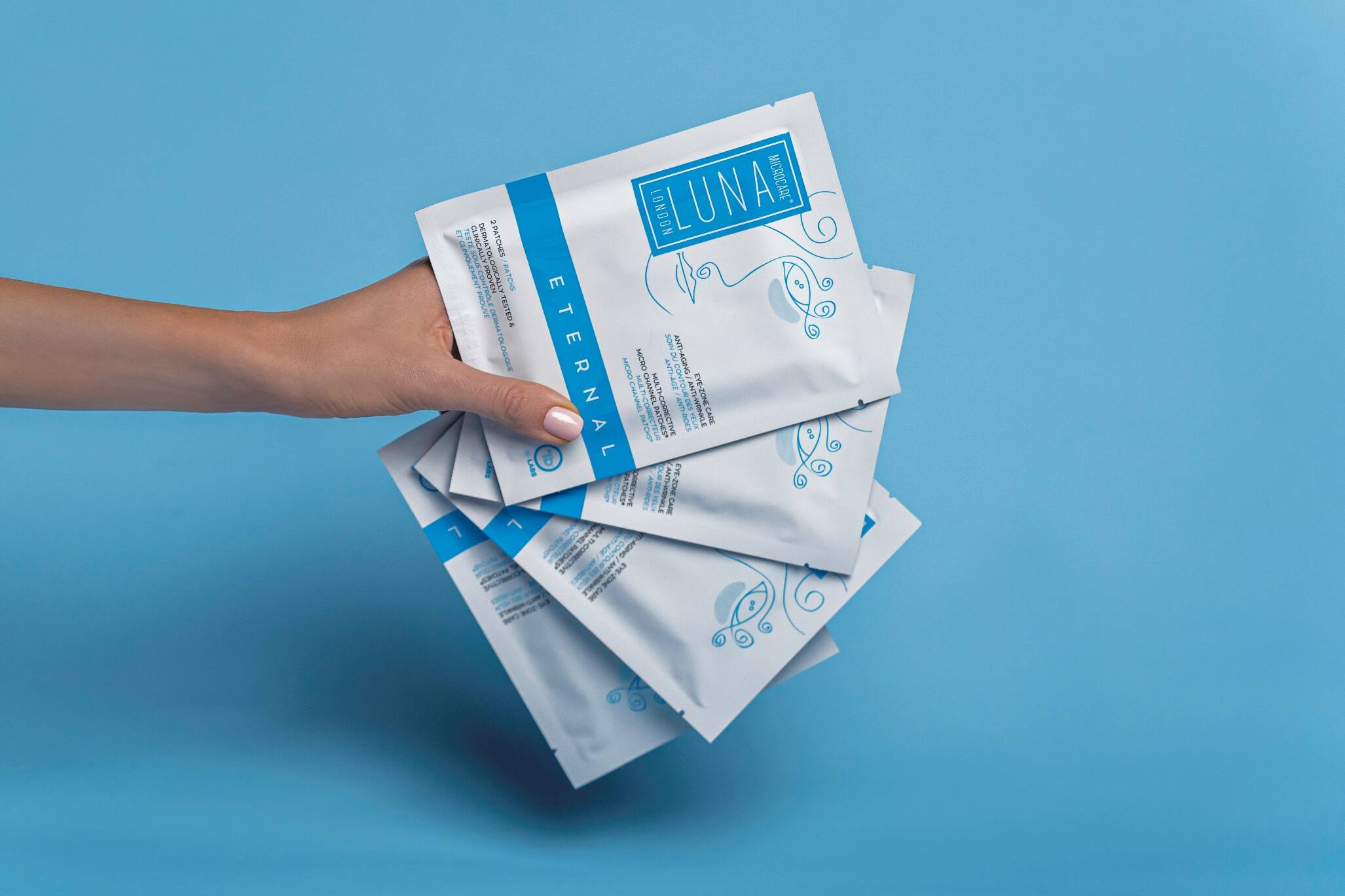 2. LUMINOUS (8 patches) RRP £115
Micro Targeting Pigment Corrector
Action:
Visibly reduces the appearance of hyperpigmentation
Improves the look of uneven skin tone
Actives prevent reappearance of discoloration
Improves hydration
Protects against free radicals
Nourishes and strengthens
An innovative solution for hyperpigmentation and uneven skin tone. Delivers the exclusive complex of brightening ingredients directly into the skin via micro-channels. Improves skin brightness, texture, and evenness.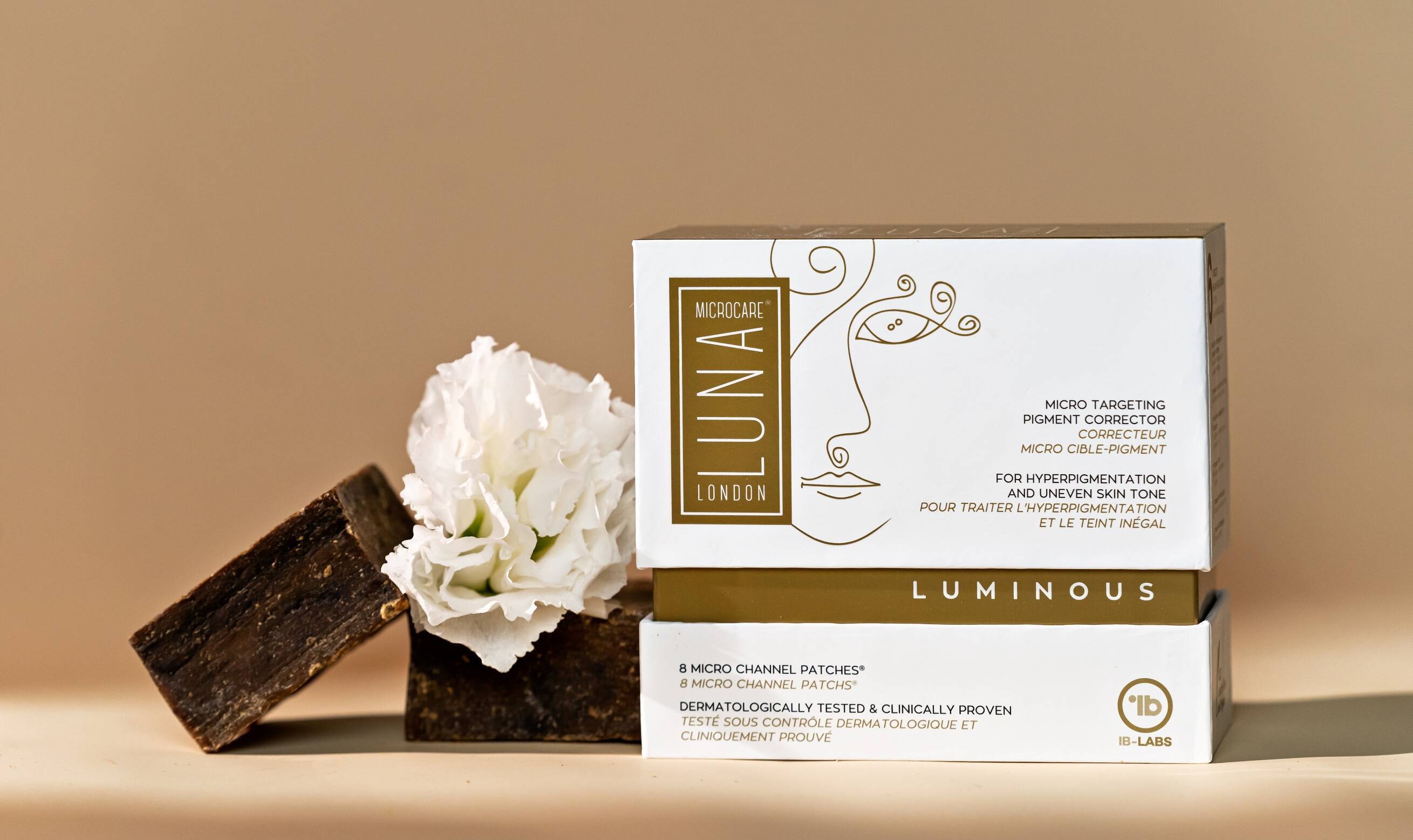 3. FLAWLESS (8 patches & 16 cleaning swabs) RRP £40
Spot Clarifying Micro Channel Patch Kit
Action:
Visibly reduces blemishes
Balances sebum level
Adjuvant in reducing skin redness
Improves hydration
Nourishes and strengthens
An innovative solution for acne-prone skin. An active complex of scientifically proven ingredient is delivered via self-dissolving micro-cones. It works from the inside-out to fight spots leaving the skin clear, smooth, and hydrated.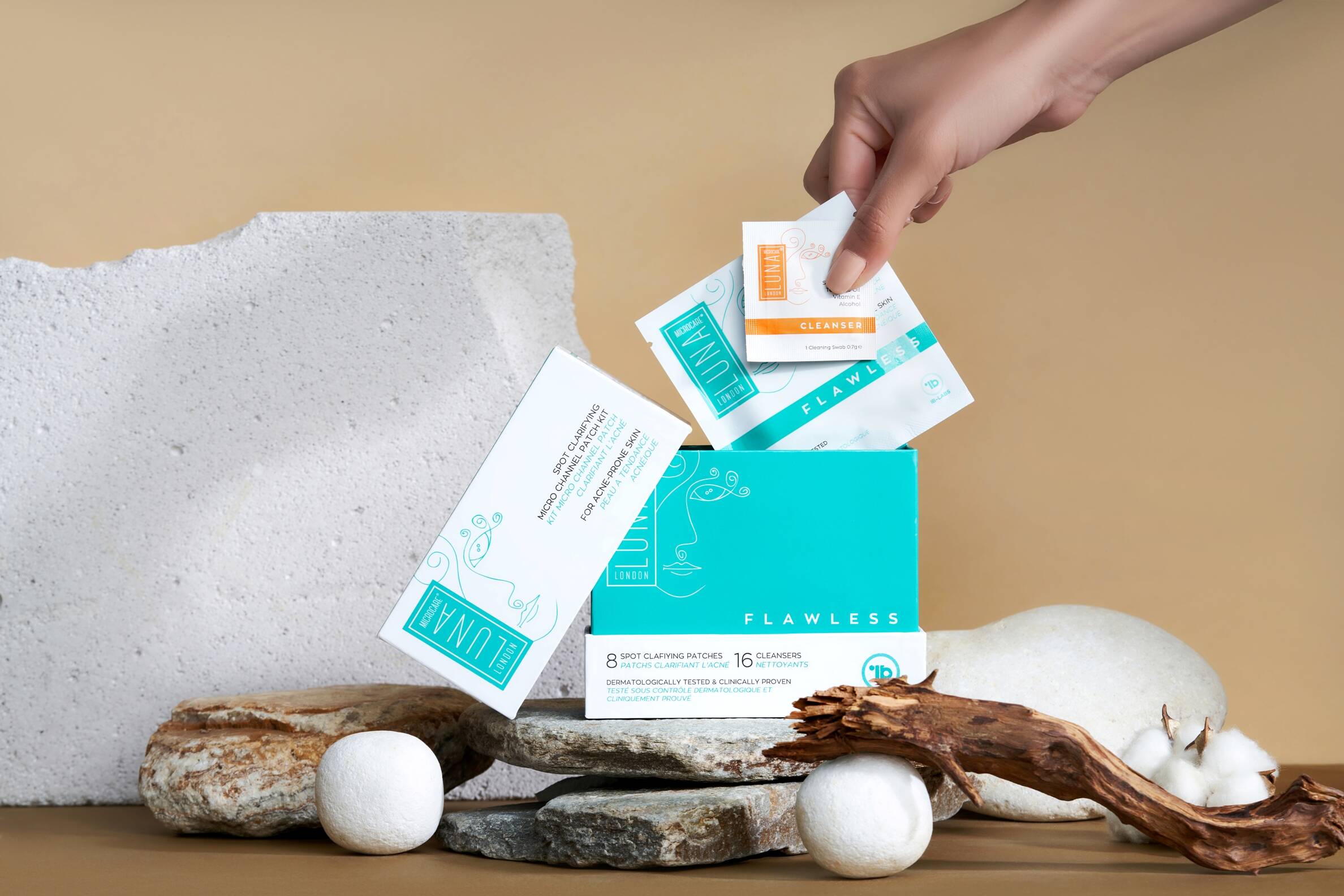 4. LUMIERE (8 patches & 16 cleaning swabs) RRP £45
Blemish Clarifying Micro Channel Patch Kit
Action:
Diminishes the appearance of acne-related scarring
Blurs away blemish marking
Improves the look of uneven skin tone
Improves hydration
Nourishes and strengthens
An innovative solution for post-acne scars and marks. The blemish clarifying formula targets imperfections via self-dissolving micro-cones, assisting in reducing the visibility of acne marks and spots in a few applications.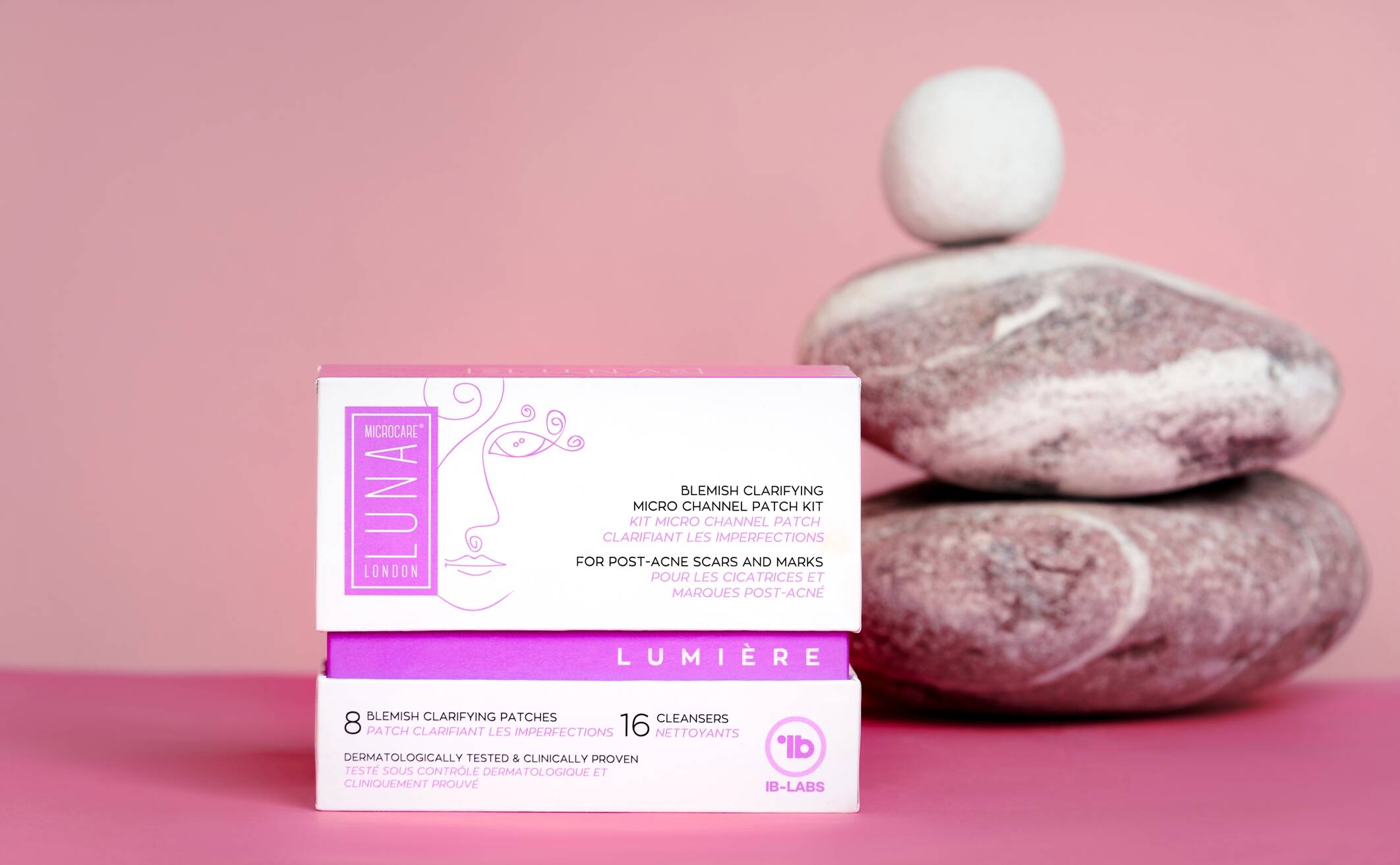 5. ENLIGHTEN (8 patches) RRP £110
Micro Targeting Dark Spot Corrector
Action:
Reduces signs of dark spots
Blurs away blemish marking
Free radical neutralising actives
Improves hydration
Nourishes and strengthens
An innovative solution for dark spots and uneven skin tone. These self-dissolving micro-cones of anti-pigmentation actives target dark spots at their sources, enhancing the skin's radiance and illuminating from within.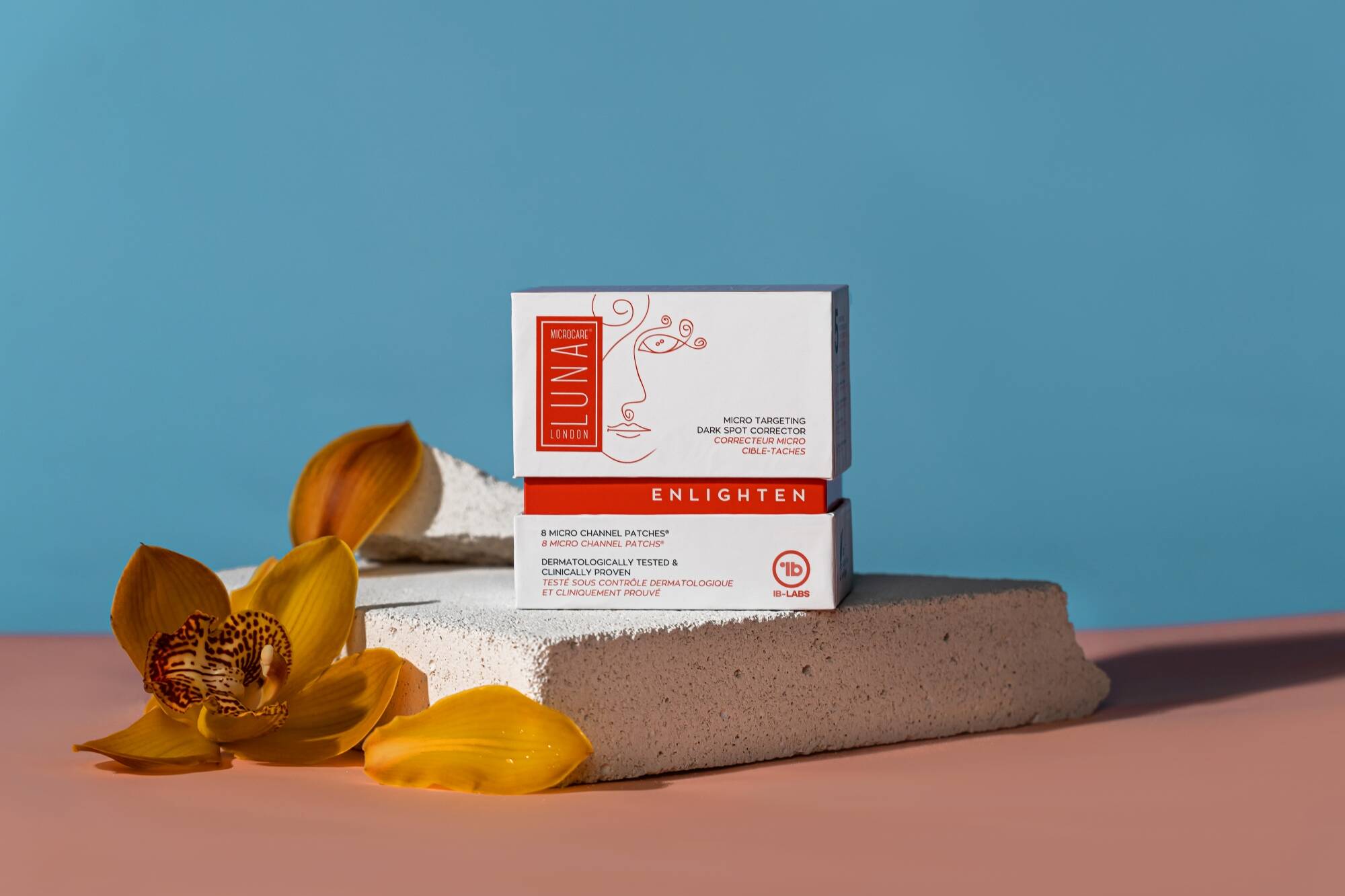 BRANDING & DESIGN
LUNA MICROCARE® design is clean, simple, yet elegant. The face of Selene, goddess of moon, infused with our brand name, we have obtained timeless and chic logo. The name Luna was inspired by the goddess of the moon, Selene. Selene falls in love with a mortal called Endymion, which infuriates Zeus, exiling Endymion to the depths of the Mediterranean Sea. However, this doesn't help, and Endymion requests immortality from Zeus so that he can be with Selene forever. Later on, Zeus accepts Endymion's wish and grants him immortality. Selene and Endymion's love lasts forever. Taking inspiration from this story, we created the brand name, hoping that the beauty and solutions that Luna Microcare provides will be as forever as Selene and Endymion's love.
The brand likes to put emphasis on the products' effectiveness and results, so LUNA MICROCARE® ensures to point out the clinically proven results that each product has to offer.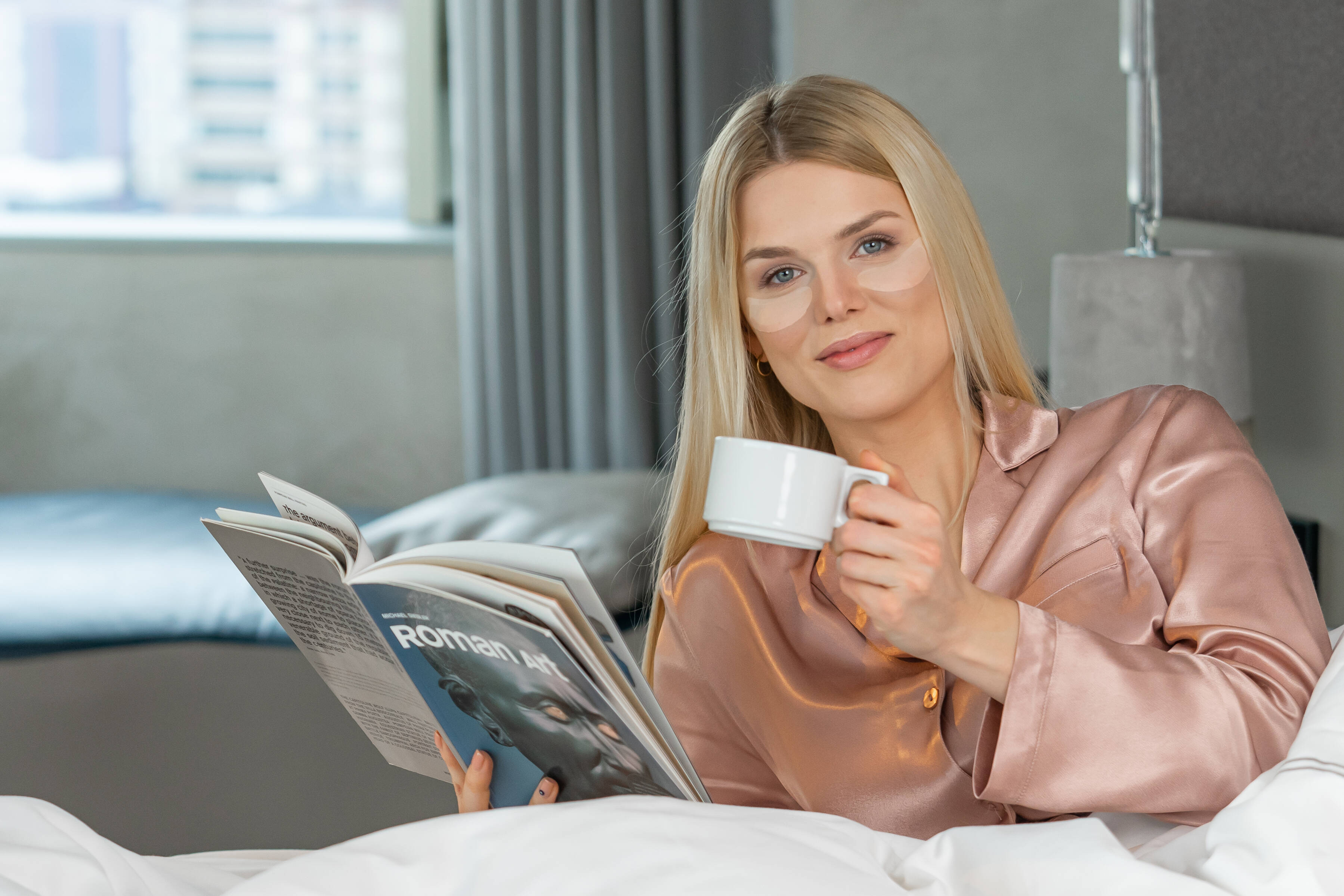 MARKETING & SALES
Today the products are available in the UK, Germany, France, Switzerland, Italy, Denmark, Belgium, Netherlands, Luxembourg, Romania, Iran, Turkey, Iraq, Hong Kong, Russia, and Cyprus.
MEDIA & AWARDS
Women's Health Skincare Award Winner 2022
Women's Health Innovation Award Winner 2022
Aesthetics Awards Finalist 2022
COSMOPROF Awards Finalist 2022
Vogue Editor's Pick 2021
Luxury Lifestyle Awards Winner 2021
Also featured in:
Vogue
BeStyle
Capital
CNN
Tatler
Aesthetics
Women's Health