SOVA is an affordable luxury hair and skincare brand that promises to seed goodness, nourishment and unequivocal beauty into everyday life. Driven by honesty and backed by equal parts nature and modern science, SOVA bottles together the mysteries of Indian Ayurveda and modern research. Part of the same Vedic culture as Yoga, Ayurveda emphasizes on healing, rejuvenating, and maintaining all aspects of health and beauty using nature. SOVA presents a user-friendly face of Ayurveda in sensorial formulations for luxurious performance in daily rituals. Using only clean ingredients from natural sources, every SOVA formula is potentiated with the goodness of therapeutic Ayurvedic botanicals, oils, plant proteins, vitamins, etc. in eco-friendly packaging, supported by rigorous scientific testing like material compatibility and real time shelf life validity, to offer you an uncompromised approach to natural beauty care.
"Saundarya, the blissful form of inner beauty is every woman's celebration! Beauty manifests as splendour, magnificence, exquisiteness and loveliness of the heart, mind, body, soul, and spirit." 
 M. Kshirsagar, Ayurvedic Dr.
THE STORY
Vasu Gandhi and Sneha Jhaveri  are the two self-driven, passionate women entrepreneurs behind SOVA. Vasu graduated from the Fashion Institute of Technology (FIT), USA has over twenty years of experience across women's fashion, Ayurvedic sciences, and as a Director of her family's natural health care company. Sneha is a Singapore trained hairstylist with over fifteen years of experience at her extraordinarily successful salon catering to an elite clientele.
However, ironically SOVA was born out of a grandfather's concern for his granddaughters. Anxious of the chemically-laden hair and skin products in the market that would mar the quality of hair of his young grandchildren, he put to use his immense love, determination, and fifty years of excellence in pharmaceutical, healthcare and Ayurveda experience to create something unique.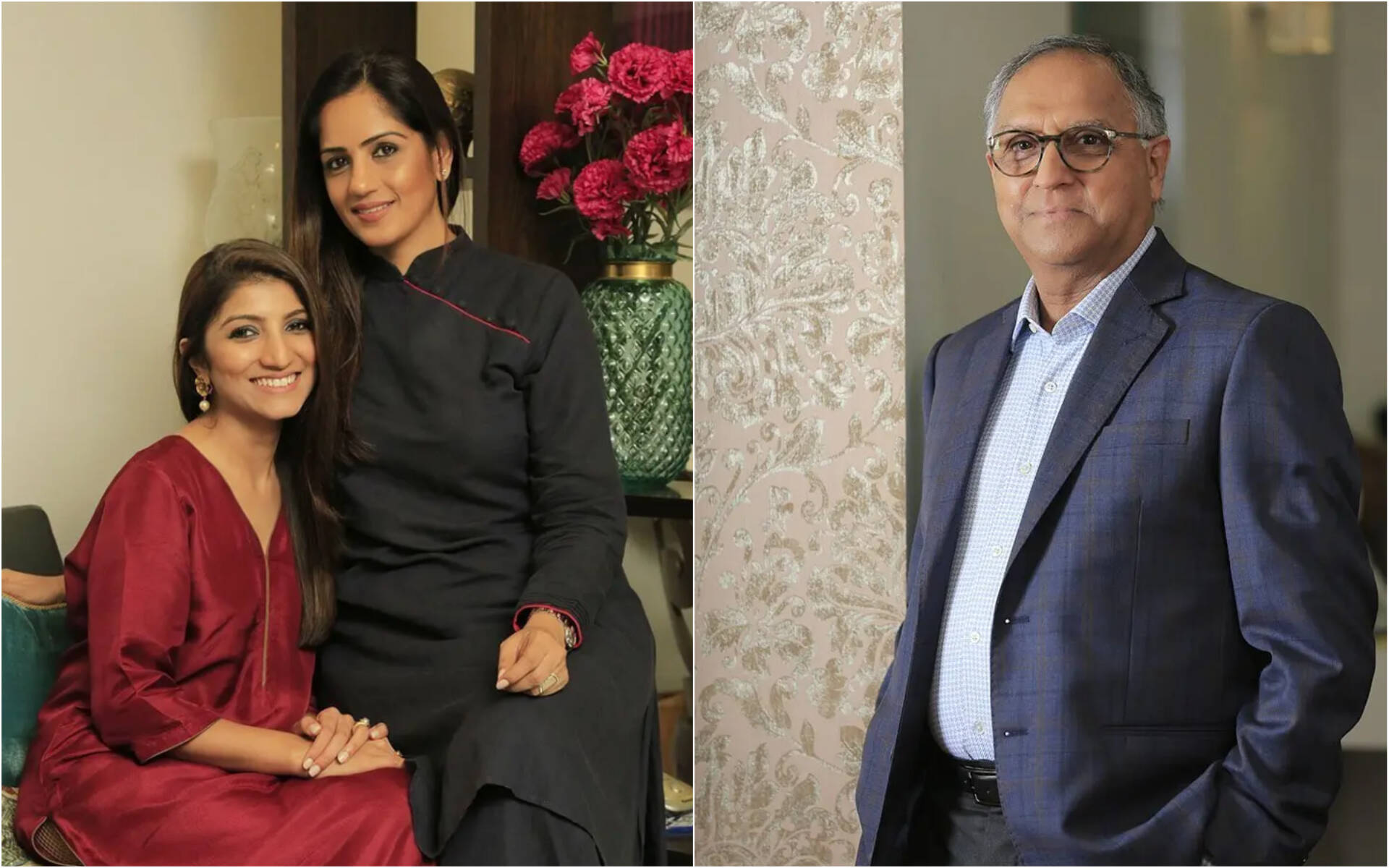 After almost three years of dedicated research, trials, validations, and collaboration as a family – that included the grandfather, Vasu, and Sneha, SOVA was launched in early 2018.
The best quality raw materials sourced only from qualified and certified manufacturers with rigorous checks and balances at every stage of manufacturing, ensure that SOVA products offer consistent quality from the first to the last use. This innovative blend of nature and science has allowed the brand to be widely recognized as a thought leader in the Ayurveda hair care space with products that focus on delivering performance without compromise on quality. The sustained benefits from the judicious and professionally researched combinations of botanical and scientific nutrients have earned SOVA a large repeat user base. Team SOVA has been working tirelessly to create the next suite of Ayurveda inspired beauty products to be launched in Q3 2021.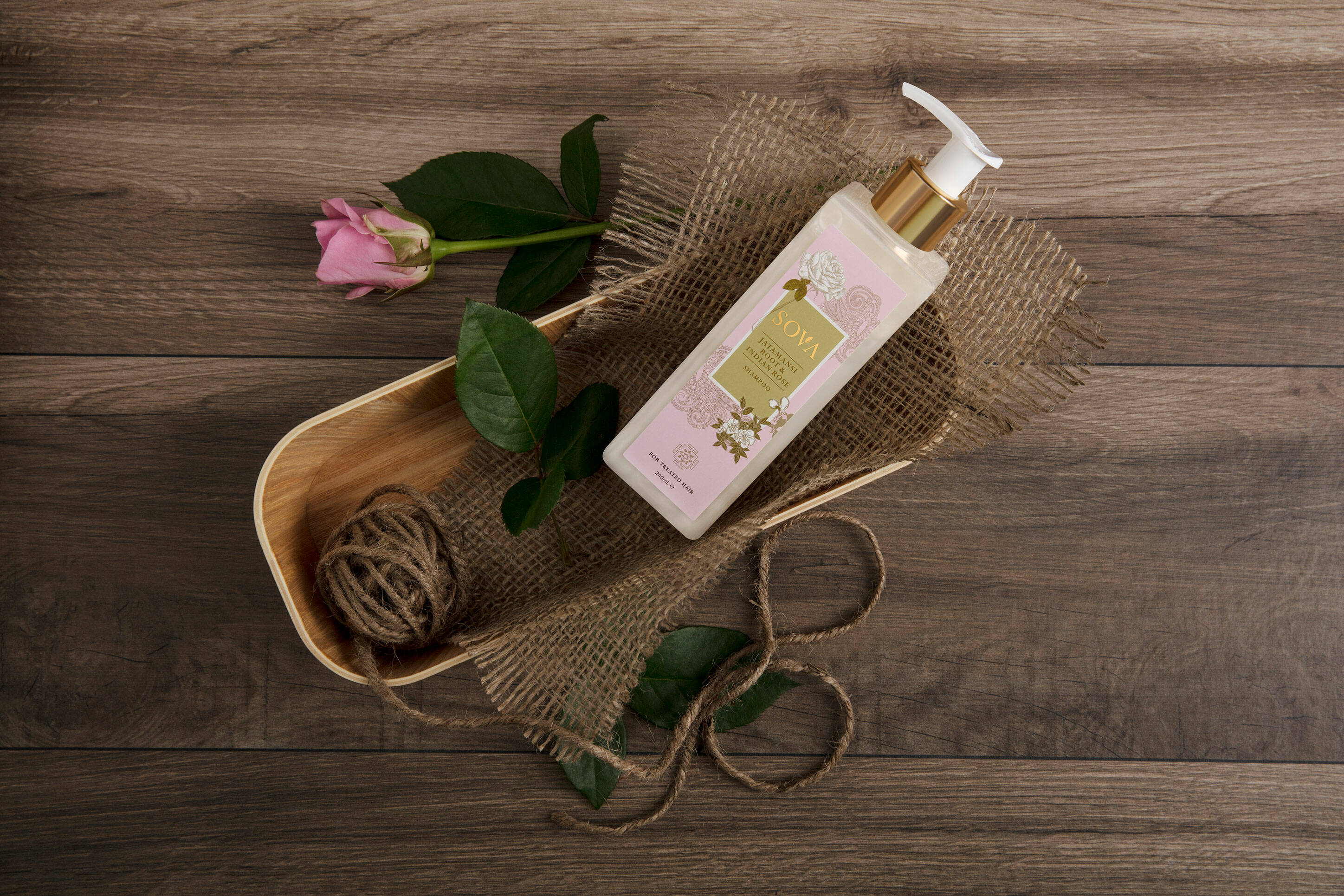 PRODUCTS & PRICES
SOVA JATAMANSI ROOT & INDIAN ROSE SHAMPOO FOR TREATED HAIR
With Jatamansi (Nardostachys jatamansi) root sourced from the upper reaches of the Himalayas and Indian rose ( to gently caress and cleanse your hair, this shampoo will give your roots strength and leave your treated hair feeling shiny, healthy and strong.
Key Ingredients: Bhringraj, Beetroot, Hibiscus, Jatamansi, Vitamin E, Vitamin F, Ceramides, etc.
SULPHATE FREE 
PARABEN FREE 
pH BALANCED 
UV PROTECTANTS 
Size: 100mL, 240mL                         Suggested Retail Price: 22.90 € 
SOVA PATCHOLI & SWEET ALMOND CONDITIONER FOR TREATED HAIR
Let your hair soak in the goodness of sweet almonds and musky Patchouli oil. Combined to add strength and shine, this conditioner will soothe your chemically treated hair, absorbing the goodness and will leave your hair feeling divinely smooth and shiny.
Key Ingredients: jojoba oil, aloe vera extract, almond oil, sunflower oil, olive oil, guar gum, wheat protein
SULPHATE FREE 
PARABEN FREE 
pH BALANCED 
UV PROTECTANTS 
Size: 60mL, 240mL                            Suggested Retail Price: 24.90 €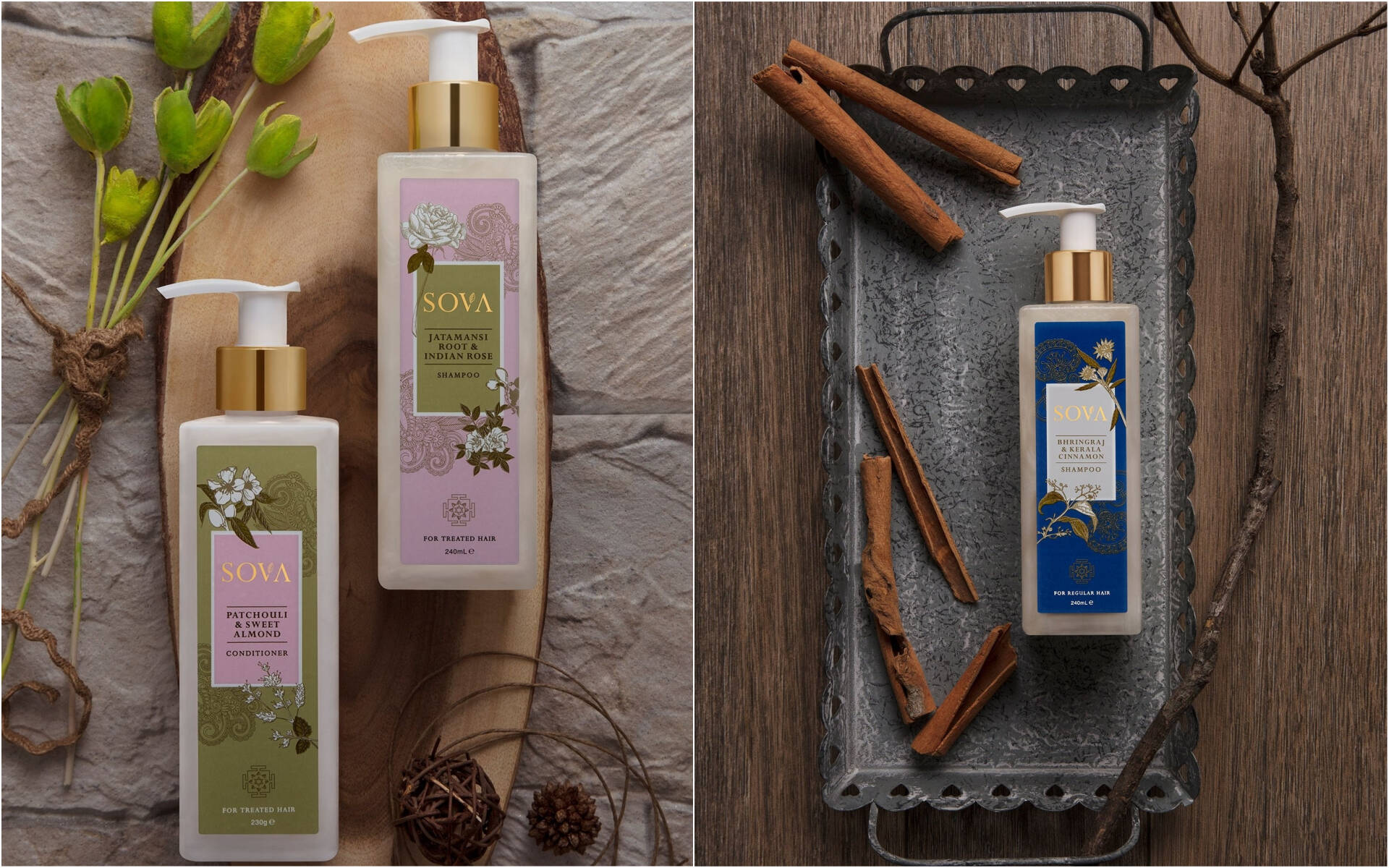 SOVA BHRINGRAJ & KERALA CINNAMON SHAMPOO FOR DAILY USE
Bhringraj (Eclipta alba) or the "Maharaja of Hair" was recommended by age-old ayurvedic sages for healthy hair. Especially combined with Cinnamon from Kerala, this shampoo gives your hair nature's best and significantly reduces hair fall. It is gentle enough to use daily and will leave your hair with a rich natural sheen.
Key Ingredients: jojoba oil, aloe vera extract, almond oil, sunflower oil, olive oil, guar gum, wheat protein
SULPHATE FREE 
PARABEN FREE 
pH BALANCED 
UV PROTECTANTS 
Size: 100mL, 240mL                         Suggested Retail Price: 19.90 €
SOVA WILD MOGRA & OLIVE CONDITIONER FOR DAILY USE
Everyday use, this mild sulphate free conditioner strengthens and instantly delivers detangled healthy and shiny hair. Now available in a 100 gm size tube, ideal for your travels, an easy fit your gym bag. It's mild treatment makes it highly suitable for children.
Infused with the goodness of Olive oil, this conditioner tantalises your tresses with the incandescent whiff and delicate caress of wild Mogra (Jasmine). It deep-moisturises and detangles, with Sunflower oil and Baobab that give deep conditioning and almond oil for divine lustre, this conditioner will leave your hair glossy, graceful and fit for a true Goddess.
Size: 60mL, 240mL                            Suggested Retail Price: 21.90 €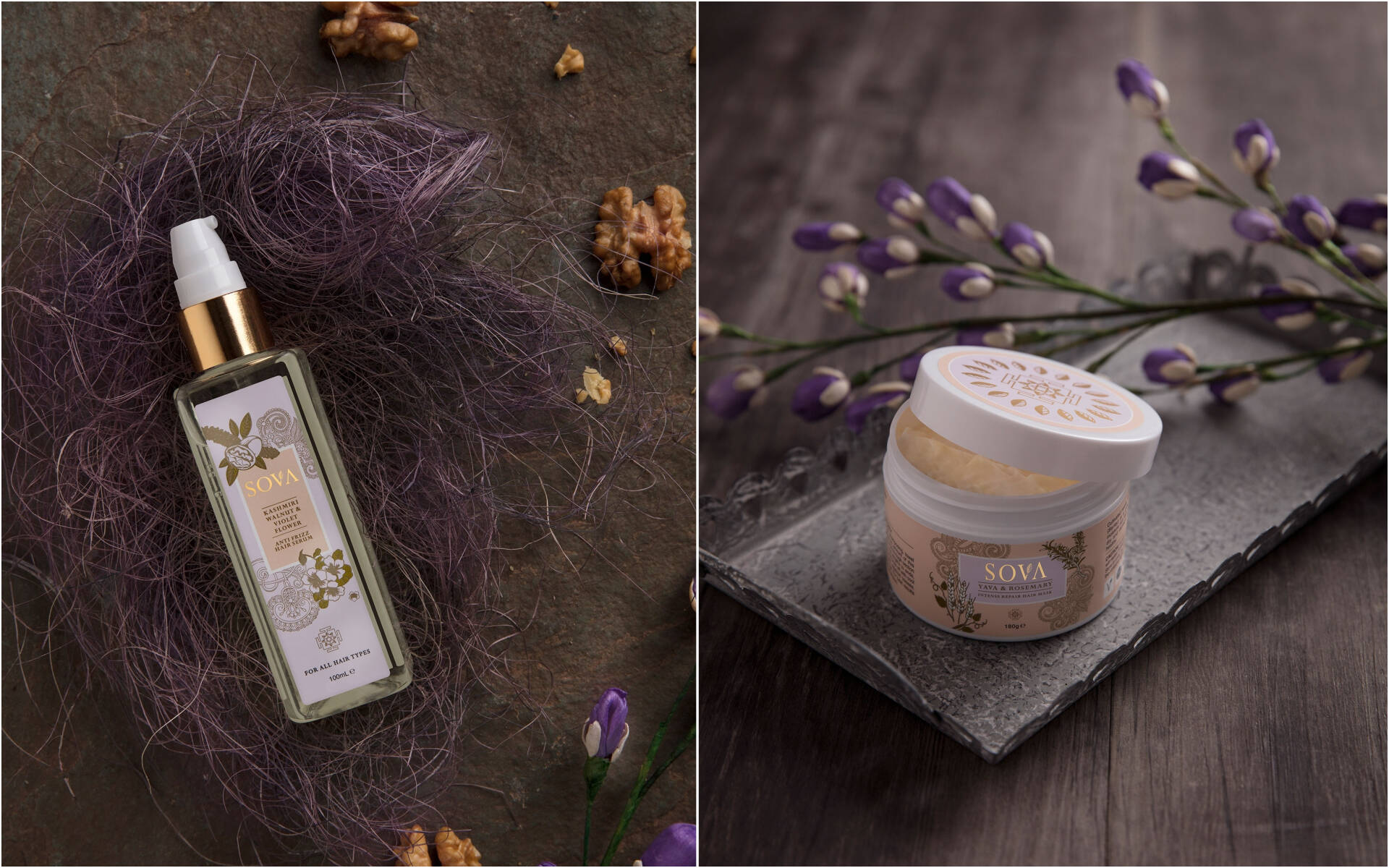 SOVA KASHMIRI WALNUT & VIOLET FLOWER ANTI FRIZZ HAIR SERUM
Revolutionary hair serum that delivers anti-frizz, shiny, smooth and divinely smelling hair instantly. Ideal for all hair types. A protective shield for your hair against pollution, heat, preventing further damage.
Reinstate softness, sheen and health to your weak, frizzy, dry & damaged hair with this anti-frizz hair serum infused with the richness of natural fresh Walnuts grown in the valley of Kashmir that deeply nourishes your hair shaft and instantly transforms dull and dry hair into beautifully smooth, glossy and frizz-free hair, While the perfect blends of gentle oil from mysterious herbs like Argan and Jojoba fortifies your hair with extra moisture and protect it from dryness and damage. The gentle floral aroma of the Violet flowers makes the hair smell absolutely divine.
UV PROTECTANTS
COLOUR PROTECTANTS
PARABEN FREE
Size: 100mL                                         Suggested Retail Price: 21.90 €
SOVA YAVA & ROSEMARY INTENSE REPAIR HAIR MASK
Packed with proteins, peptides and goodness of Ayurveda's best! Intense, deeply nourishing hair repair mask that delivers dramatic effects in a single-use. It truly brings life back to your dry and damaged hair. A step up in your hair care regimen.
Fall in love with your soft and luscious hair with this intense hair repair mask specially formulated with selected exotic herbs that deeply nourishes and moisturizes each hair strand and instantly transform your dry, damaged hair into luxuriously smooth, shiny-looking healthier hair.
Cultivated nearly 13,000 years ago in Eurasia, Yava deeply conditions and fuses your hair with the richness of essential amino acids to repair your damaged hair shaft, leaving your hair soft, shiny and frizz-free. While Rosemary collected from rolling hillsides of France promotes hair growth by stimulating the hair follicles and enabling nutrient-rich blood to reach every hair follicle on the head.
UV PROTECTANTS
COLOUR PROTECTANTS
PARABEN FREE
Size: 180gM                                        Suggested Retail Price: 39.90 €
SOVA BRAHMI & HIBISCUS HAIR MASSAGE OIL
Lightweight, deeply restorative hair massage oil that delivers lustrous, healthy hair. Reduces greying. Boosts blood circulation and creates a calming effect.
Enriched with the goodness of 16 Ayurvedic herbs, this massage oil nourishes the hair, strengthens roots and works towards keeping the hair healthy. Ideal combination of Brahmi and Hibiscus improves circulation in the scalp, relaxes and de-stresses the mind.
MINERAL OIL FREE
PARABEN FREE
SILICONE FREE
Size: 100mL, 240mL                         Suggested Retail Price: 17.90 €
SOVA DRAKSH & BITTER ORANGE FLOWER LUXURY HAIR OIL
This luxurious non-sticky hair oil deeply nourishes and makes the hair grow thicker. Radiant and uplifting, this is liquid sunshine that promises to come off in one wash. An ideal hair tonic that works wonders with just a few drops on the scalp.
The unique combination of Draksha cultivated from Grapes capital of India Nashik deeply nourishes each strand of your hair leaving it instantly soft, smooth, and shine to perfection, while bitter orange flowers hand-plucked from Himalayan mountain range rejuvenates your thinning hair infusing it with a tangy refreshing fragrance. This is a light golden elixir fortified with exotic ayurvedic herbs.
• MINERAL OIL FREE • PARABEN FREE • SILICONE FREE
Size: 100mL                                         Suggested Retail Price: 24.90 €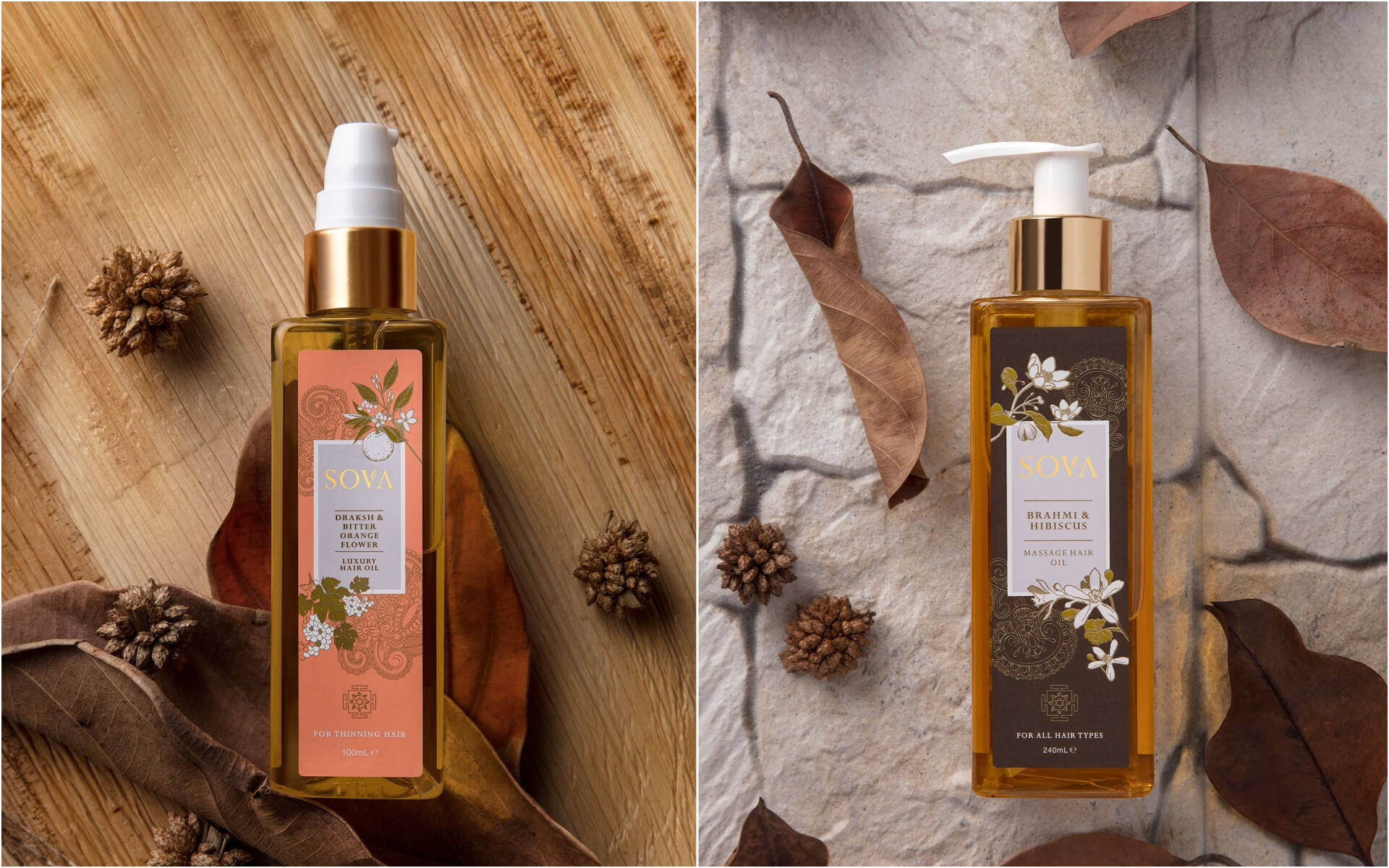 SOVA SAFFRON AND KALPAVRIKSHA SEED OVERNIGHT HAIR REPAIR MIST
This revolutionary overnight saffron-infused hair repair mist tames down frizz, reduces split ends and repairs damaged hair in 12 hours.
The golden spice saffron plucked from Kashmir valley intensively repairs the damaged hair follicle and smoothens rough and dry hair to give you shiny, frizz-free tresses. While Kalpavriksha, the tree of desire nourishes and restores moisture in your hair and combats the harmful effects of dust, sunlight, chemicals, and hard water to give you strong and split end free hair.
MINERAL OIL FREE
PARABEN FREE
SILICONE FREE  
Size: 100mL                                         Suggested Retail Price: 26.90 €
SOVA CHAMOMILE & COORGI NARANGI, BODY WASH FOR NORMAL TO DRY SKIN
An invigorating body washes, that cleanses the skin layer by layer leaving it fresh and hydrated.
Reveal your beautiful and healthy-looking skin with this nourishing and moisturizing body wash, enriched with tiny daisy called Chamomile. It gently cleanses your skin layer by layer leaving it fresh and hydrated, while Coorgi Narangi from western ghats of India restore your natural skin glow by exfoliating the dead skin cells.
The perfect blend of different ayurvedic herbs like Aloe Vera, Hops, Jojoba, Olive and Macadamia deeply nourishes and moisturizes your skin giving it healthy appearance and soft to touch.
SILICONE FREE
PARABEN FREE
Size: 100mL, 240mL                         Suggested Retail Price: 13,90 €
SOVA SHEA BUTTER & KUMARI, BODY LOTION FOR NORMAL TO DRY SKIN
A lightweight body lotion with moisturizing shea butter and vitamin E that soothes and hydrates skin.
Get the desired soft, healthy and youthful-looking skin with this nourishing and moisturizing body lotion specially formulated with shea butter extracted from the nut of the African Shea tree. It intensely hydrates your skin, leaving it divinely silky-smooth and supple to feel, while traditionally used in Ayurveda, aloe vera nourishes and replenishes your skin cells increasing its radiance and youthfulness.
This body lotion exudes a warm sweet almond fragrance, the natural vibrancy of this scent makes your skin smell oh-so-gorgeous.
MINERAL OIL FREE
PARABEN FREE
Size: 100mL, 240mL                         Suggested Retail Price: 13.90 €
SOVA WILD MUSK & SANDALWOOD BATHING BAR
An ayurvedic bathing bar, infused with sandalwood, wild musk and vitamin E. This bathing bar moisturizes the skin leaving a heavenly fragrance.
Get the flawless and healthy glowing skin with this gently cleansing and nourishing  ayurvedic bathing bar enriched with the richness of royal organic sandalwood a traditional beauty secret of India that soothes your skin and enhance its complexion, while the Wild Musk obtained from himalayan deer intensely moisturizes your skin and infusing it with a heavenly fragrance.
Size: 125gM                                        Suggested Retail Price: 4.90 €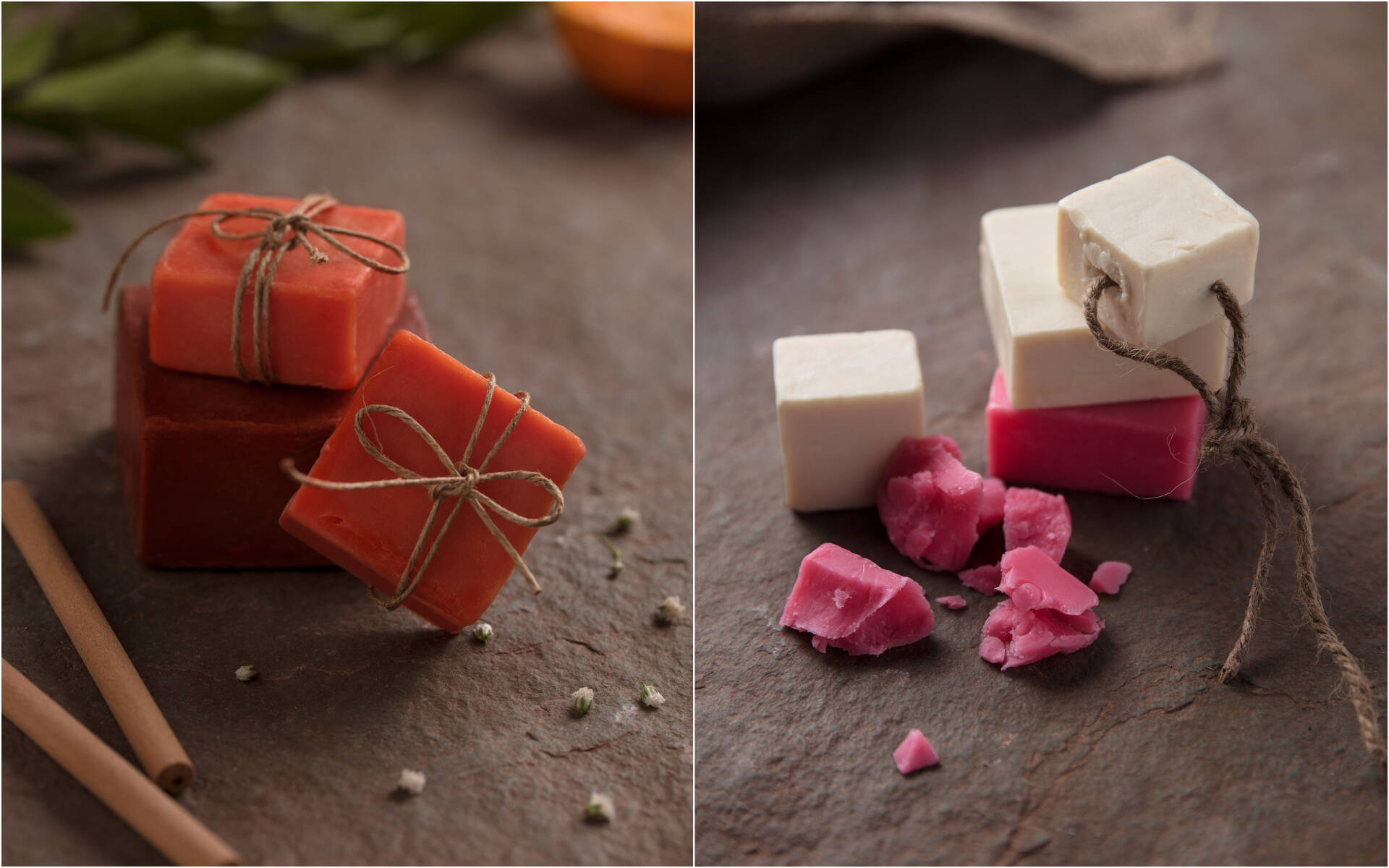 SOVA SAGE & RHUBARB BATHING BAR
An ayurvedic bathing bar, infused with Rhubarb, Sage and vitamin E. This bathing bar makes the skin soft and supple and tones uneven complexion.
Keep your skin looking healthy and clear with this nourishing and healing natural bathing bar enriched with medicinal sage and exotic rhubarb that detoxify and ekove daily regeneration of skin cells making it soft and supple,While the additional blend of mystical herbs like Aloe Vera, Jojoba and Grapes maintains fresh and youthful looking skin by nourishes and moisturize it.
Size: 125gM                                        Suggested Retail Price: 4.90 €
SOVA COCONUT & WARM VANILLA BATHING BAR
A long-lasting, ayurvedic bathing bar infused with refreshing Coconut, Vanilla and Vitamin E. Deeply nourishes and hydrates skin.
Pamper your skin to keep it soft and youthful with this cleanser and nourish ayurvedic bathing bar infused with the richness of vanilla a warm and fragrant spice from the pod of an orchid gently cleanses and soothe irritated skin, while coconut collected from sea coast of India deeply nourishes and hydrates your skin leaving if feeling soft and moist.
Size: 125gM                                        Suggested Retail Price: 4.90 €
SOVA BERGAMOT & ORANGE BATHING BAR
A long-lasting, ayurvedic bathing bar infused with citrusy Orange, Bergamot and Vitamin E. This bathing bar removes oil and dirt from the skin, leaving it fresh and rejuvenated.
Get the citrusy wake up in the morning with this invigorating zesty cleanser infused with organic tangy bergamot and orange collect from the tropical forest of Asia that deeply cleanse oil and dirt from your skin leaving it fresh and rejuvenated. While the additional blend of mystical ayurvedic herbs like aloe Vera, jojoba and grapes maintains smooth and youthful skin by nourishing and moisturizing it.
Size: 125gM                                        Suggested Retail Price: 4.90 €
SOVA NEEM LEAF & OLIVE OIL, MOISTURIZING HAND WASH
Introducing the first sulphate-free hand wash! An ideal hand wash that contains anti-inflammatory and antibacterial properties that deep cleanses hands leaving it fresh, clean and supple.
Since centuries, Neem leaf has been used to cleanse and purify the skin due to its anti-bacterial and anti-inflammatory properties. Sova's Neem Leaf and Olive Oil Moisturizing Hand Wash, also infused with Lime, is rich in antioxidants. Tea tree oil helps in deep cleaning and Olive Oil makes your skin supple, while Turmeric and Vitamin E work their magic on your hands, brightening and rejuvenating them with every wash!
PARABEN FREE
SULPHATE FREE 
SILICONE FREE
Size: 240mL                                         Suggested Retail Price: 9.90 €
BRANDING & DESIGN
SOVA's branding and packaging evoke its true brand values – luxury, distinctiveness, natural goodness, environmental responsibility, and ownership pride. The name SOVA has its origin from the Sanskrit word "sav" which means "one's own". The product names reveal clear inclination to Ayurveda – names of exotic plants native to India. The Indian Ayurvedic system consists of the "Panchabhutas" or the 5 elements, which represent Earth, Water, Air, Fire and Ether, and constitutes the composition of the human body. The packaging of SOVA represents a color theme inspired from these 5 elements while being attractive to international customers.
In Indian Vedic traditions, the Shri Yantra is the symbol of the great divine mother principle, the source of all energy, power, and creativity, one simple representation of the universe as well as the body of the goddess related to the feminine principle shakti or energy. This powerful motif has been modified as part of SOVA's brand language representing another powerful message "Nature is our only true power and wealth" signifying SOVA's reliance on natural ingredients to deliver the best of the balance of performance and nourishment.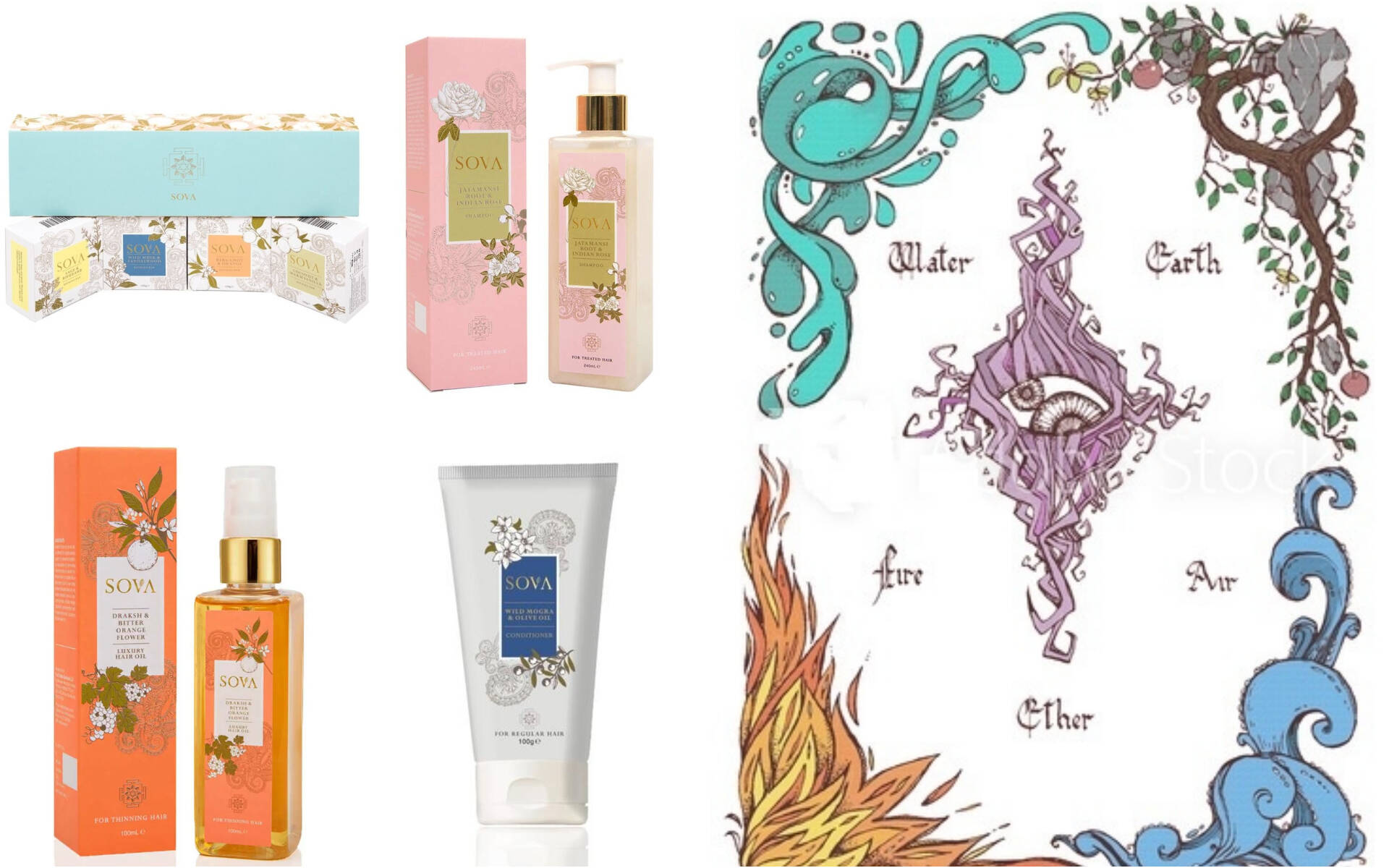 The SOVA bottle uses an ideal superior quality 100% recyclable PET-G packaging that makes it more pliable and shorter degradation than its PET counterpart while giving a lustrous glass-like finish. The square shape and overall form give a luxurious and comforting feel when held in the hand. It is familiar to all users, but clearly not generic. Each SOVA product comes in a 100% recyclable, high GSM paper carton, displaying elements for identification and user ownership – drawing the user to feel like the product belongs to them while exuding the very premium quality of the actual product.
Team SOVA constantly innovating with newer technologies to make SOVA as environmentally friendly as possible, and this has been an ongoing process, where significant time and effort is spent on brainstorming innovations that could help lower carbon footprint of current and prospective products. Fast-moving SOVA products were recently launched in small 100mL bottles, for 'pump free' packaging for travel-friendly SOVA pouches. The reusable pouches themselves are made up of 100% natural muslin as part of an effort to create awareness about conscious use and to considerably reduce the use of plastic. SOVA uses 100% recyclable waterproof stickers and the products are carefully shrink-wrapped by hand into cartons that provide adequate protection against potential transport leakage.

MARKETING & SALES 
SOVA has primarily been a digitally native brand in India and Singapore, with availability on retail shelves of exclusive cosmetic and beauty stores. Launched in early 2018 in the pink city of Jaipur by the Chief Minister of the State, the brand made a grand statement embodying the most beautiful part of Indian culture and heritage. The event got significant coverage in domestic TV and print media.
To enhance brand visibility and sales, there has been continuous marketing and promotional activities across key urban markets in India. Beyond the digital spends on online advertisements, some of the brand activations have included:
Print advertisements in leading lifestyle magazines
Digital wellness and lifestyle blogger associations
Endorsements by Bollywood celebrities
Endorsements by wellness and beauty gurus
Live interactive sessions with Ayurveda, hair care, and beauty experts
Product sampling at retail counters, pop-up shows, live events, etc.
Part of subscription beauty boxes
Part of hampers and gift boxes from large corporates, media houses, wedding celebrations
For international markets, the brand plans to introduce several marketing support plans. These will be linked to the initial purchase value and include:
Multiple training sessions on products USPs
Digital spend support for online promotions
Access to the evolving library of brand creatives
Online support for editing brand creatives
Miniature product samples for both, retail and online channels that list/place SOVA
Gifting paraphernalia like branded organic muslin bags
Printed promotional literature, like posters, brochures, brand reminders, etc.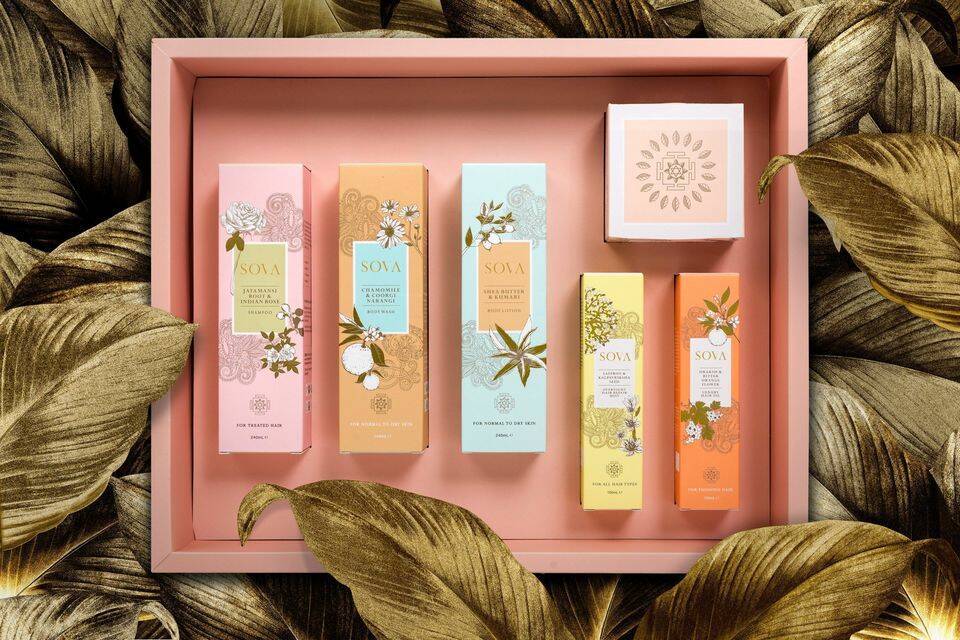 MEDIA
In this short time, SOVA has won numerous positive reviews from leading beauty editors in magazines such as Vogue, Cosmopolitan, Harper's Bazaar, Elle; beauty experts on social media, salon owners, and women entrepreneur groups. The common theme of recognition revolves around the integrity of the brand, strength of formulation and delivery of the product.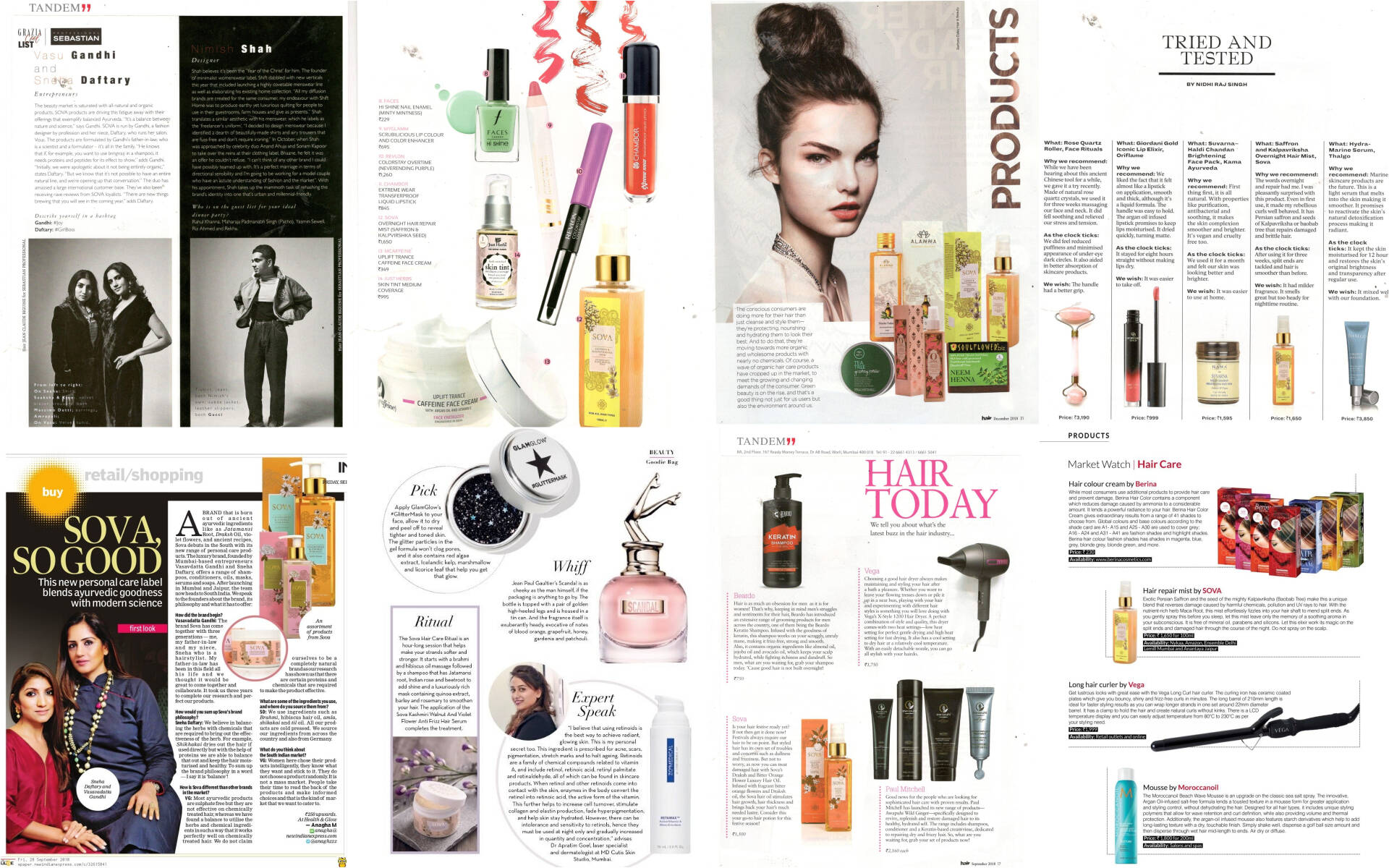 SOCIAL MEDIA